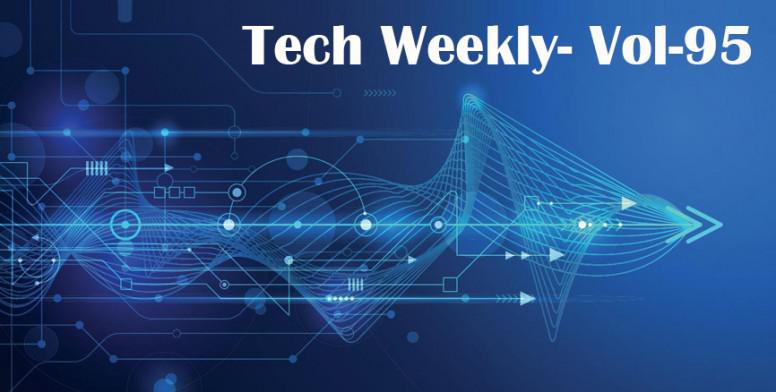 Hello Mi Fans,
Technology refers to methods, systems, and devices which are the result of scientific knowledge being used for practical purposes. The purposeful application of information in the design, production, and utilization of goods and services, and in the organization of human activities Technology can be described in many ways. So without wasting time let's check out what we have for you this week from our Techie Team.
Mutrics: Stylish Smart Sunglasses With Surround Sound!
By- Solver13
Hello Mi Fans!

Sunglasses are the most fashionable accessory which people loves to wear and music is another thing which people likes to listen very much, but how it'll be if we combine these two and make it a music sunglass? Yes, it's possible. As technology is improving now you can enjoy music with your favourite fashion accessory using Mutrics smart sunglasses!

We all while listening to the music we basically used to feel it but with the Mutrics smart sunglasses, while listening to the music you will not just feel it, you will experience it. The Mutrics uses surround sound system and it keeps your cool style as it is everywhere and most importantly the Mutrics keeps the ability to fit a wide variety of faces. Know More-

http://in.c.mi.com/thread-1807256-1-0.html
World's First Immersion-On-Demand Wearable Experience!
By- BHARATKUMAR BHAGAT



Hello Mi Fans!

When it comes to our personal entertainment, we want to be immersed in what we're watching while simultaneously avoiding any distractions. Having a big TV with a sound system is great, but having a cinematic headset is even better. If those options aren't enough for you, if you ever wished you had a personal place; a stunning, realistic world where you could totally immerse yourself, then LUCI is your answer. Luci is unveiling a new kind of entertainment virtual reality headset, dubbed the Luci Immers, that promises crystal-clear viewing of VR films and other content, thanks to dual micro-organic-light-emitting displays (Micro-OLED).LUCI lets you enter an amazing world based on any movie you select. With LUCI, you become an action hero, adventurer or a traveler in the Lord of the Rings Middle Earth. The company just launched a revolutionary new lightweight wearable headset called LUCI immers, which delivers an incredible visual experience for movies, games and much more. So, let's talk about LUCI immers, World's First Immersion-on-Demand Personal Wearable now. Know More-

http://in.c.mi.com/thread-1807651-1-0.html
CLIP: Transform Any Bike Into An E-Bike!
By- A.Akbar
Hello Mi Fans,

You all quite well know that there have been overwhelmed craze in the technological field. Due to the same, E-bikes have become increasingly popular and also they are fascinating people with their amazing features. Although it comes with a lot of amazing features, it has some disadvantages too. They're heavier and bulkier to bring on the bus or train and also they are very expensive, almost doubles than the price of a standard bicycle. By considering all of these situations a company named CLIP have created an e-motor that can easily convert any bike into an e-bike. Know More-

https://in.c.mi.com/thread-1803260-1-0.html
POW Audio Mo: The Expandable Bluetooth Speaker!
By- Hari Sankar G
Hello Mi Fans!

If you ever dream of turning your smartphone into a boombox of sort, POW Audio Mo Expandable Speakermay just be right up your alley. Mo is Bluetooth speaker designed to adhere to the back of your phone magnetically and expands to allow for fuller sound. Now, expandable Bluetooth speaker isn't new, neither is Bluetooth speaker that sticks to back of your device. Know More-

https://in.c.mi.com/thread-1808102-1-0.html



eMMC Storage VS SSD Storage: Differences Explained!
By- J C Paul




Hey Mi Fans,

How are you doing? This is J C Paul, backed in action with another interesting thread. You might already guess from the title what we're going to discuss today! So, without wasting any more time, let's kickstart the topic. We always need a better storage solution to fulfill our every need. Thanks to the improving tech, we always get what we demand most; they're already a variety of storage types out in the market. eMMC and SSD are the two popular storage types that we still use nowadays. These two are pretty much similar, yet they've numerous differences. Let's see 'em all!! Know More-

http://in.c.mi.com/thread-1812867-1-0.html
Aurora: Artificial Intelligence Supercomputer
By-PPM2
Hello Mi Fans,

A government laboratory in Illinois will receive the fastest supercomputer in the United States in 2021, and it will be the first to hit what's called exascale-level processing. The mammoth machine, called Aurora, will live at Argonne National Laboratory and will be able to accomplish tasks like simulating complex systems, running artificial intelligence, and conducting materials-science research. So what's the point of a supercomputer? Experiments like crash-testing a car are expensive, complicated, and sometimes dangerous. A supercomputer simulation, however, allows researchers to carry out those tests virtually, and track and change countless variables as they play out. Some supercomputers even simulate nuclear blasts, which is best done virtually, and not in the real world. Know More-

https://in.c.mi.com/thread-1812555-1-0.html
Thanks to the authors for your contribution and sharing updated technology information to Mi Fans.
Please Vote and share your feedback in reply.
Rate