Hello Mi Fans!
Hey Friends, How are you today? You all have you seen the wireless speaker and mostly you can use it too. Today I have to talk about the best wireless speaker with wirelessly charging your phone. Meet MoTra, retro Multimedia Player with Wireless Charger for Phone. MoTra is a multipurpose Bluetooth Multimedia Player. It supports the latest version Bluetooth 5.0. Bluetooth 5.0 ensures high quality and stable connection which results in better sound quality. There is no audio drops or any static noise to disturb the audio. The Bluetooth range of MoTra goes up to 15 meters. MoTracomes with wireless charging so, no cords. With a simple swipe of the speaker surface, it can easily be turned on or off. So, without wasting your time let'stalk about Retro Multimedia Player with Wireless Charger now.
➤ Technical Specification:
Speaker Size: 50mm X2
Speaker Impendence: 4Ω
Speaker Power: 5W X2
Dimension: 254 x 100 x 100mm
Frequency Response: 160+ -20HZ
SNR: 75dB
Bluetooth Distance: 15M
Working Time: 4-10 Hours
Charging Voltage: 5V / 1A
Battery: 6000 mAh
Wireless Charging: 5W
Net Weight: 1KG
➤ Features:
● Bluetooth Speaker:
MoTra is a Bluetooth 5.0 speaker seamlessly aligns modern functions such as wireless charger and phone stand on to a vintage-looking structure without compromising on sound quality. A wireless charging pad embedded inside the middle portion of its front surface is dedicated to hold and charge a smartphone at an adjustable angle while you stream music or video from it. You can turn or press the knobs to control volume, tracks, and modes.
● Classic And Minimal Design: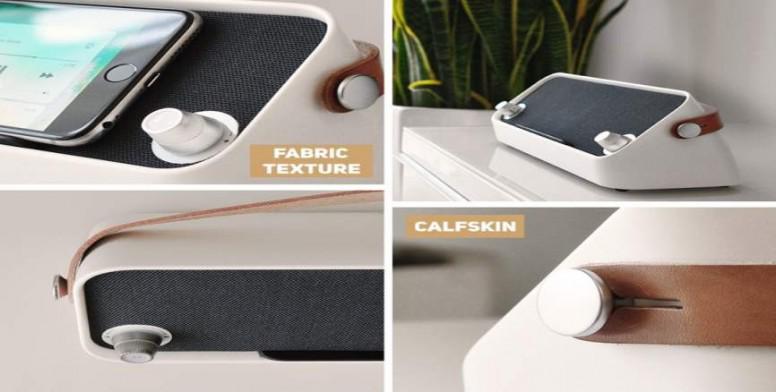 MoTra is a Bluetooth speaker retaining the look and feel of vintage radios that carries the grace of the past. It is mounted on four non-slip stubs for secure elevation. The front face has a slanting grille made from dark, soft rubber, and two knobs sitting symmetrically on the bottom. The other faces are covered in a white, matte vinyl material. A brownish strap made with genuine leather is placed over the top for easy carrying.
● Wirelessly Charge Device:
A wireless charging pad embedded behind the middle portion of the front grille responds to a simple touch to turn on and off. MoTra can support and wirelessly charge phone up to 6.9". There are also lights to indicate charging status.
● Adjustable Phone Holder:
The front grille can be adjusted within 10° by rotating the capped hinges used to fix the strap on both sides of MoTra to hold your phone at preferred viewing angles. When paired with and propped up byMoTra, your smartphone is transformed into a front panel of a desktop a multimedia player that can not only play your favorite tunes but also stream movies, help you FaceTime with a friend and refer online recipes while cooking in a more comfortable position.
● Control Knobs:
The face of MoTra is adorned with two silver-colored retro dials for the control functionality. Turn the left dial to play the next/previous song; press it down to select between different music modes. Turn the right dial to volume up/down; press it down to play/pause the music.
● Hands-free Calling:
MoTra features a high definition speakerphone so that you can route your calls to it and use it for a conference or group chat. It's the perfect retro device for enjoying the day with a loved one, with the favorite songs, TV shows, movies, and other entertainment nonstop.
Check out the RetroMultimedia Player With Wireless Charger here
MoTra is a retro multimedia player that boasts a Bluetooth 5.0 speaker and a wireless charger for phones. They hybrid charging pad is also a magnetic phone holder with an adjustable screen angle, to make it easy to stream music and videos from it. With the enhanced bass, the sound quality is uncompromising. The MoTra features over 4 hours of playing time per charge, making it perfect for parties and trips. In addition, the speaker boasts a 3.5mm AUX port and a TF card reader to allow connections to other playback sources. The retro multimedia player also allows users to dial and receive calls hands-free with is perfect for remote conference calls. Moreover, the speaker includes a handle, to make it extremely portable and travel-friendly.
Copyright Disclaimer: The data and imagery provided in this article belongs to their original creators!
Be the first to be informed: Follow us