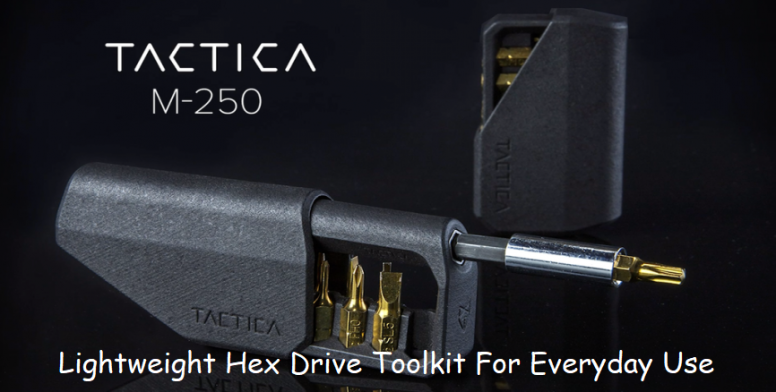 Hello Mi Fans!
Hey friends. How are you all today? You are all seen the drive toolkit for repair person all the time. Some friends have in-home somewhere a drive toolkit. Its use some time you need to fix the little stuff. I know you understand so I do not explain how and what you fix. Let'stake you to Tactica has a long history of creating interesting stuff for your everyday adventures. The latest product is the M250 hex drive toolkit, a compact, lightweight and TSA-approved toolkit it means you can bring it with you in an airplane. The M250 is made of durable composite material that won't scratch things in your pocket and sized to be compact with it being less than the size of a credit card. Each M250 comes with its own holster that keeps the toolkit magazine in place and allows you to carry it wherever you want. So, without wasting your time let's talk about Tactica M250: Lightweight hex drive toolkit now.
➤ Technical Specification: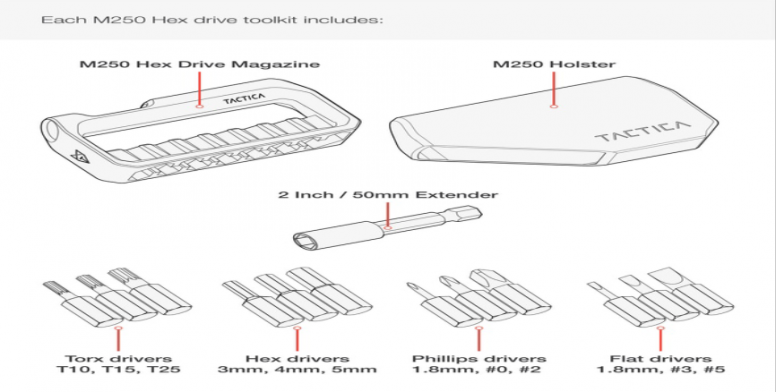 M250 Hex Drive Magazine:
Width: 75mm
Height: 40mm
Depth: 17mm
Weight (Unloaded): 41g
Weight (loaded): 112g
Tool Clip:
Weight: 75mm
Height: 44mm
Depth: 45g
Maximum torque: 10Nm
Main Body: Engineered Composite
Holster: Glass-reinforcedNylon
Tool Bit Retention: Shore A95 (TPU)
Tool Bits: S2 Tool-grade steel, Coated in Titanium Oxide
Hex Bit Driver: Stainless Steel
Hex Extender: Tool grade steel
Complete screwdriver set: 12 of the most common hex bits you might need. Phillips hex drive – 1.8mm*, #0, #2 (* 1.8mmsuitable for most eyeglasses). Flat hex drive – 1.8mm*, #3, #5 (* 1.8mmsuitable for most eyeglasses). Allen hex drives – 3mm, 4mm, 5mm. Torx HexDrives – T10, T15, T25.
Extended Reach: 2″/ 50mm hex bit extender
M250 Magazine: holds your habits and includes heavy-duty driver
M250 Holster: Pocket, belt oron the fridge, the choice is yours
➤ Features:
● Easy Loading + Unloading:
The patent-pending storage system allows you to take your hex bits in and out with ease. The TPU retention elastomer ensures your bits stay in place securely. So no need to worry about pieces falling out in your bag or pocket. The innovative tool is compact enough to stash on your belt loop or even your pocket and carries up to 14 hex bits in its magazine. Made of advanced composite material, the M250 offers more torque than other pocket drivers and packs inside its own magnetic-backed holster clip. Each toolkit comes with 12 of the most common hex bits and a 2"/50mm extender.
● Hi-Torque Socket:
Similar to the M100 multitool, the M250 features hardened stainless steel insert to ensure you have the necessary strength to budge even the toughest of screws. Combined with the wider body, the M250 also gives you the leverage you need. The Tactica´s M250 carries up to 14 hex bits in its magazine, features a hardened stainless steel insert to ensure you have the necessary strength to budge, and packs inside its own magnetic-backed holster clip.
● Extend Your Reach: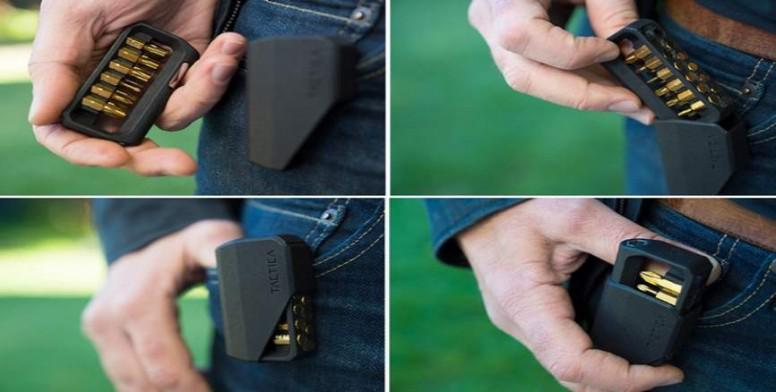 Each M250 comes with an integrated 50mm/ 2"hex bit extender. Perfect for getting to those hard to reach places or when you can't get your tool in the right spot. The extender features a magnetic tip to ensure your bits stay in place when in use. The design of the M250 allows for easy access of those bits, as they pop right out of the frame when you need them. At the tip of the tool, there's a hole for the bits reinforced stainless steel and enhanced with magnets so the screwdriver bits don't fall out when you're working.
➤ Highlights:
● Flight Friendly: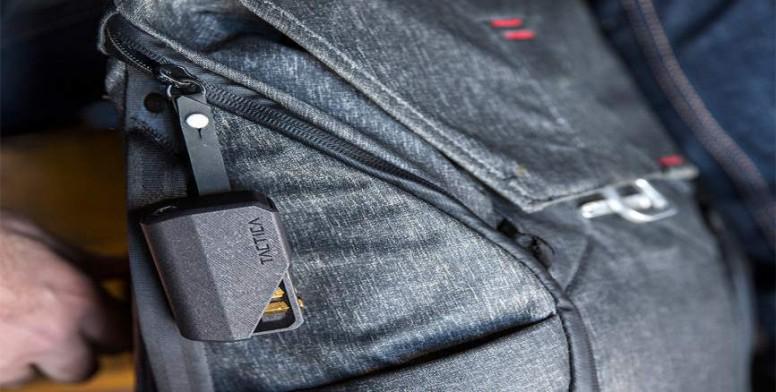 Traveling interstate or to another country? No need to worry as the M250 complies with current TSA regulations for air travel.
● Tech-Friendly:
The M250 uses an engineering-grade composite that makes it not only 40% lighter than titanium but also doesn't scratch your technology. So now your iPad, iPhone, and other technology are safe from scratches next to your M250
● There When You Need It: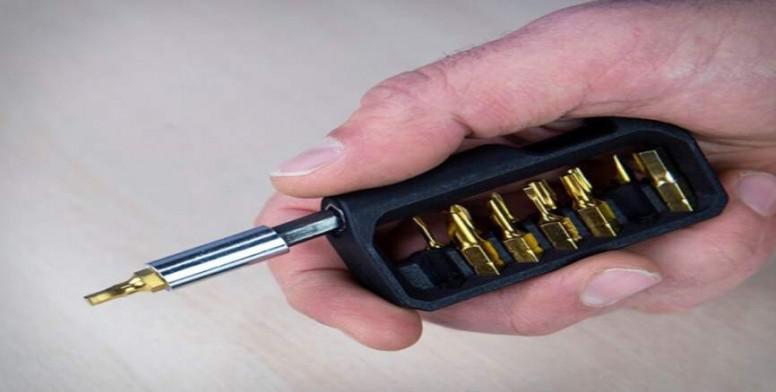 No matter what you do from work, sport, and hobbies or around the house, it's the small things that can become BIG and stop you in your tracks. The M250 was created to help keep you doing what you love and to get through the things you don't, quicker.
Check out the Tactica M250 Lightweight hex drive toolkit here
The Tactica M250 is a TSA-approved multi tool for travelers and adventurers alike that will offer them a way to stay prepared for anything that might come up. The unit comes with 12 hex-bits that can be docked within and also accommodates two additional bits to let users integrate their own bits to ensure they can make adjustments to anything when out of the house. The bits are crafted from steel with a titanium oxide coating that helps them maintain enhanced durability and a shiny finish. With its small footprint and sheet number of applications, the Tactica M250 represents a one-stop-shop solution for tackling any screwdriver task you might face, no matter where you are. You really can take it anywhere. If this sounds like the great handy tool for you.
Copyright Disclaimer: The data and imagery provided in this article belongs to their original creators!
Be the first to be informed: Follow us
Recommended Threads:
Big Thanks to
Thanks to Admin @R0user And Thanks to Our Beloved SMod @Furqaan Saikh And Our Mods @Harisankarg & @Snedn For Continuous Inspiration and Guidance and Supervision.
Thanks
for
Reading
So, what do you think about this about Tactica M250 Lightweight hex drive toolkit? Please share your thought in the comment section below.