Hi Mi Fans,
Xiaomi's official keyboard - "Mint Keyboard", is here! Have you guys wonder What makes this keyboard unique and different from others? My answer would be the support of varieties of Stickers and GIFs. These stickers actually bring life and true feeling while having an conversation either in a group or with dear ones. Stickers helps you to express yourself in a better way and makes others feel that you are important.
You all would be now convinced that stickers and GIFs are so special and an important channel to express your feelings! Let's quickly understand how to enable them:

✒ Here is a fun tour of Stickers and GIFs:

Simply open any chat and look for the "Mi Bunny" in the right top-most corner of the keyboard.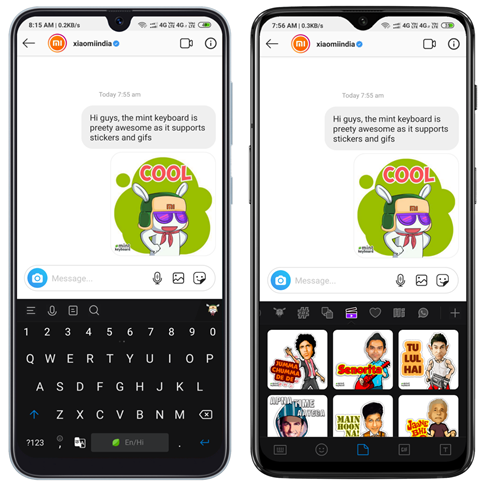 You can now send different Stickers and GIFs from the pre-loaded sticker packs. Don't worry we have more than 60+ sticker packs. Some of my favourite sticker packs are - "Bollywood", "Mi Bunny", "Indian Wedding", "Let's chat".
Open Mint Keyboard Settings.
Tap on Stickers - You can add/remove the sticker pack according to your choice and interest.

Please Note: Stickers and GIFs are not supported in every apps, as many apps still have limitations.
Do leave your valuable feedback and suggestions regarding Mint Keyboard in comments below!
Do let me know your favorite sticker pack too!
Regards,
MIUI Moderator,
Apiyush265
✒ Related Threads
Rate