Hello Mi Fans,
Welcome back to Tech Class, In the previous tech class you learn about USB, in this tech class, you will learn about Power Banks.

What are Power Banks?

Portable Power Banks are comprised of a special battery in a special case with a special circuit to control power flow. They allow you to store electrical energy (deposit it in the bank) and then later use it to charge up a mobile device (withdraw it from the bank). Power Banks have become increasingly popular as the battery life of our beloved phones, tablets, and portable media players is outstripped by the amount of time we spend using them each day. By keeping a battery backup close by, you can top-up your device(s) while far from a wall outlet.
The Power Banks we're talking about are good for almost any USB-charged devices. Cameras, GoPros, Portable speakers, GPS systems, MP3 players, smartphones and even some tablets can be charged from a Power Bank - practically anything that charges from USB at home can be charged from a Power Bank - you just have to remember to keep your Power Bank charged, too!

Components used in Typical Power Banks

A typical power bank has these components:

Charging circuit: it implements the complete charging logic for a Lithium-Ion/Lithium polymer battery
Battery Protection circuit: it takes care of overcharge and over temperature protections during charging and over discharge, overload and temperature protections during discharge.
Boost Converter: it steps up the 3V - 4.2V battery voltage to 5V.


Controller functions:
Monitors output voltage and controls the pulse-width of gate drive of the MOSFET in the boost converter.
Measures battery voltage and disables the boost converter when the battery voltage reaches the low voltage threshold.
Monitors the load current, turns off the boost converter when the load is disconnected or when there is an overload.
Drives status LEDs to display battery level and charging or load status.

How does a Power Bank work?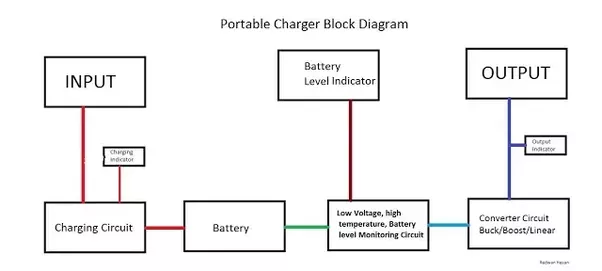 Most power banks can charge any device that can be charged via USB. They also come in different flavors, some are slower than your wall charger, trickling down power at a snail's pace, while some are faster, able to charge your devices in a very brief period. Like phones, the bank's batteries are also rated in mAh or milliampere-hour. So, the bigger the number, say 10000 mAh, the more juice they hold. And just like phones, these too need to be charged to have enough electrical energy to sufficiently charge a device.
Think of it as a transaction, you deposit power into a bank when you charge it and withdraw power when you need to charge a device with it.

Types of Power Banks
Power banks either use Lithium-ion or Lithium-polymer cells to charge any device. Lithium-ion cells are a type of rechargeable battery which is made of lithium-ions whereas lithium-polymer cells are packed in a soft pouch which makes them more lightweight than the Lithium-ion cells. Let's understand the difference between lithium-ion and lithium polymer cells used in power banks –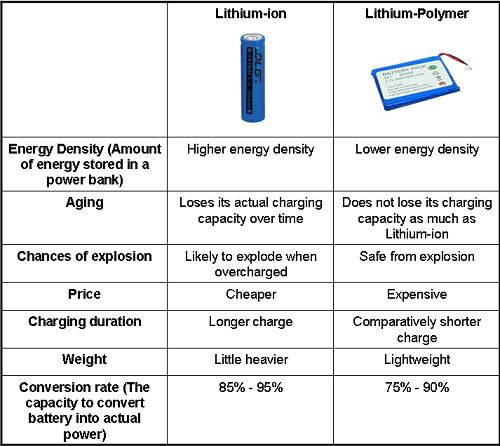 Actual Capacity of a Power Bank
You have an original real capacity 10,000 mAh power bank, and that should charge your 1500mah phone about 6 times, right? Well, here is where the confusion begins.
Inside power banks are 3.7V batteries, but the USB standard is 5V. Between the battery and the USB socket is a conversion circuit and this changes the 3.7 V into USB friendly 5V. When converting to a higher voltage, you must also convert the mAh into the new voltage.

A simple equation can be used to convert the 3.7V into 5V.
ACTUAL 5V mAh = 3.7 X Advertised Capacity / 5
For a 10,000mAh powerbank – 3.7 X 10,000 / 5 = 7,400 mAh
So a 3.7V 10,000 mAh powerbank really only supplies 7,400 mAh at the 5V USB connection. So straight out of the box is a 23% reduction in the stated mAh.

| | | | | | |
| --- | --- | --- | --- | --- | --- |
| Company | Product Name | Capacity | Conversion Rate | Actual Capacity | Price |
| Xiaomi | Mi Power Bank 2 | 10000 mAh | 93% | 6900 mAh | 1199 |
| Xiaomi | Mi Power Bank 2 | 20000 mAh | 93% | 14000 mAh | 2199 |
| Anker | Powercore 13000 | 13000 mAh | 93% | 8900 mAh | 6499 |
| Rapoo | P200 | 10000 mAh | 93% | 6900 mAh | 1299 |
| Intex | IT-PB 11K | 11000 mAh | 92% | 7500 mAh | 999 |
| OnePlus | Power Bank | 10000 mAh | 90% | 6700 mAh | 3599 |
| Ambrane | P-1000 Star | 10400 mAh | 80% | 6200 mAh | 1999 |
| Huawei | AP007 Powerbank | 13000 mAh | 78% | 7500 mAh | 1999 |
| Asus | ZenPower ABTU005 | 10050 mAh | 70% | 5200 mAh | 1999 |
Tips for Effective Power Bank Use

Know What You Buy

Not every power bank is created equal. Some are capable of charging a phone once or twice, while others are capable of charging multiple devices multiple times. Some are much bigger and heavier than others, while others are much more portable. In addition to different capacities and sizes, the type of battery can also differ in power banks. Lithium-ion batteries are cheaper but can have a limited capacity, whereas lithium-polymer are generally more expensive, but are better in terms of capacity and longevity.

Use it Regularly

If you want your power bank to operate as best as possible, you should be sure to use it fairly regularly. However, if you leave it sitting for too long without using it, it can negatively affect the bank's ability to charge at full capacity. So if you don't need to use it, it can be valuable to run a simple charge and discharge cycle once a month. This will help to maintain the battery and keep it in the best condition possible.

Use in the Right Weather and Temperature

Just like many electronic devices, power banks perform best in normal or neutral temperatures. If you are trying to use it in the freezing cold or in the boiling hot, you will likely be doing damage to the device, even if you don't notice it. For the best result and least possible damage, you should use it in a ventilated area, between the temperatures of around 30-90 degrees. Anything hotter or colder and you run this risk of damaging the power bank. When it comes to storage, you should always aim to store it in a cool and dry place, as well.

Ensure it is Compatible With Your Device

Different devices and gadgets have different requirements for charging. Most phones need a current input of 1A to charge, while larger devices might need up to 2.1A to charge. As a result, you need to find a bank with the right input current for the device you are wanting to use it for. Many power banks will have two separate ports so they can charge everything, but not all of them have that second port. Keeping an eye out for voltage outputs is also important. Alternatively, you can look out for power banks with adaptive charging technology like our iSmart 2.0 technology. It ensures that no matter the input your device needs, our power banks supply it. It's handy and automatic.


Technical Term Glossary
What does mAh mean?
Batteries common to mobile devices and Power Banks are rated on their ampere-hours, measured in milliamps to create non-decimal numbers. The mAh ratings denote capacity for power flow over time.

Li-ion & Li-Polymer
Lithium-Ion and Lithium-Polymer batteries are the most common rechargeable cell types found in Power Banks. Lithium-Ion cells are generally cheaper and limited in mAh capacity, while Lithium-Polymer cells can be larger and don't suffer from a memory effect over time.

Efficiency
When power is transferred, there is always lost due to resistance. Power Banks are not able to transfer 100% of their actual capacity to a device, so we factor in this loss when calculating how many times an average device can be charged from a fully powered Power Bank of any given size. Efficiency ratings differ between Power Banks based on their cell type, component quality and environment. Ratings between 80% and 90% are the current industry standard. Beware of suspiciously low-cost options claiming efficiency ratings of over 90%.

Device Depletion
This is the state of the battery in the device you wish to charge. The lower its power, the more a Power Bank has to work to bring it back to life. We consider charging from 20% to 90% a full charge, as the efficiency loss increases beyond these points, leading to wasted charging potential. Going from 5% to 100% can take exponentially more power.

In Case You missed Previous Tech Class:
Chapter 50: All About USB
Chapter 49: All About Airplane Mode
Chapter 48: All About Wireless Charging
Chapter 47: All About LED TVs
Chapter 46: All about Palm ID
Chapter 45: All About GLONASS
Chapter 44: All About Equalizer
Chapter 43: All About NFC
Chapter 42: All about Mobile Camera - In detail
Chapter 41: All about Mobile Earphones
Chapter 40: Android Source code - What we need to know
Chapter 39: All about Retina Display & Pixel Density
Chapter 38: Mobile Touch panel - An Android Input
Chapter 37: Android Voice Recognition - In Detail
Chapter 36: More about on Internet Protocol (IP)
Chapter 35: All about Factory reset
Chapter 34: All you need to know about ADB
Chapter 33: All About Gi-Fi
Chapter 32: All About Fast Charging
Chapter 31: MIMO Technology Explained
Chapter 30: All about USB Debugging
Chapter 29: All About Smartphone's Heat Up And How To Stop it.
Chapter 28: All About IP (Ingress Protection) Ratings
Chapter 27: All You Need To Know About APN
Chapter 26: All You Need To Know About Virtual Reality (VR)
Chapter 25: All About QR Codes.
Chapter 24: All About Barcodes
Chapter 23: All About Display
Chapter 22: All About Sensors
Chapter 21: All about Speakers
Chapter-20: All About Batteries
Chapter 19: All About Data Cables
Chapter 18: All about Memory Cards
Chapter 17: All About RAM
Chapter 16: All About TWRP
Chapter 15: All about CPU Cores
Chapter 14: All you need to know about Wi-Fi
Chapter 13: All About Kernel
Chapter 12: All About Rooting
Chapter 11: All about Network Bands
Chapter 10: PDAF and its difference with CDAF
Chapter 9: Megapixels and Photo Quality
Chapter 8: CPU Architecture, CPU, GPU
Chapter 7: (IR) Infrared Blaster
Chapter 6: Internet of Things & Mi Home
Chapter 5: All About Activity Tracker & Fitness Band
Chapter 4: All You Need To Know About Charging Cycle
Chapter 3: All You Need To Know About Augmented Reality
Chapter 2: All About Processor and Multi-Core Processing
Chapter 1: Introduction to Smartphone Specifications

Rate