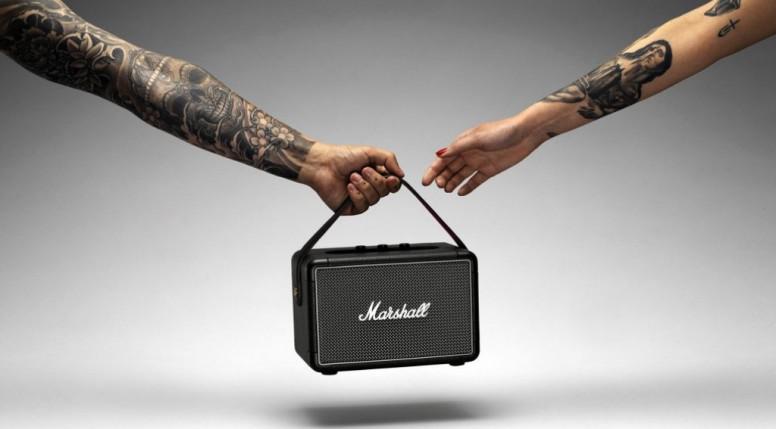 Hello Mi Fans!
Previously we all used to hear songs and music through speakers and at that particular time those speakers came up with long wires also there was a headache on the people's mind that how they will take the speaker with them wherever they go. Then slowly we get to see wireless and portable speakers coming and now, a speaker known as Kilburn II has been introduced which is not only wireless and portable but it is also water-resistant as well.
Marshall Kilburn II
is a portable Bluetooth speaker which is crafted like a classic Marshall amp. It supports some high-resolution apt-X and has 30 metres of wireless range. The company of this portable speaker claims that Marshall Kilburn II is the
loudest speaker of its class
. Designed in such a way which makes it look like a small amplifier and stylish and most importantly it sounds pretty good as well.
Highlights:
Provided with the looks of a small amplifier but it's stylish and the sound is good as well.
Consists of a 3.5mm line in and a socket which lets you plug in your guitar.
Has an apt-X Bluetooth, which allows higher quality streaming but it's only for Android not for IOS.
Has an over 20 hours of battery life which is a plenty.
The Bluetooth connectivity of the speaker is about 30 feet which means it allows you to move freely on your house.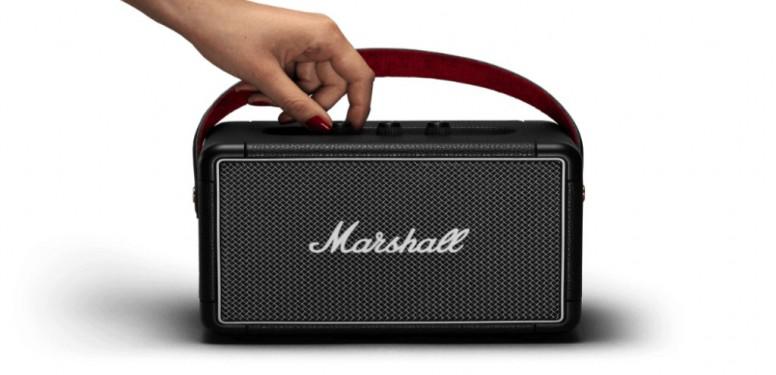 The Marshall Kilburn II
Being a Portable speaker the Kilburn II is pretty big. It
weighs about 2.5kg
and terms of dimensions it is nearly 10 inches long, 6.5 inches tall and 5.5 inches deep. In short words, it's a chunky little beast. It consists of a handle using which it makes the portable speaker Ideal for taking it to the garden or to pop in the boot of a car and take it to the park. There will be no compromise in its power and sound quality. It
promises over 20-hours of portable playtime
on a full battery charger.
The connecting process to the Kilburn II is very simple - just hold down the Bluetooth button and search the device on your phone and interestingly it also supports multi-host, which lets two devices get connected to the speaker at the same time. It also
contains a 3.5mm jack
on the back of the speaker so that if you want to connect less modern devices you can easily connect it to the speaker.
Features:
20-Hours of Portable Playtime,
Multi-directional Sound,
Bluetooth 5.0 APTX,
Durable and Roadworthy Design,
IPX2 Water-Resistant Design,
Multi-host Functionality,
Quick Charge.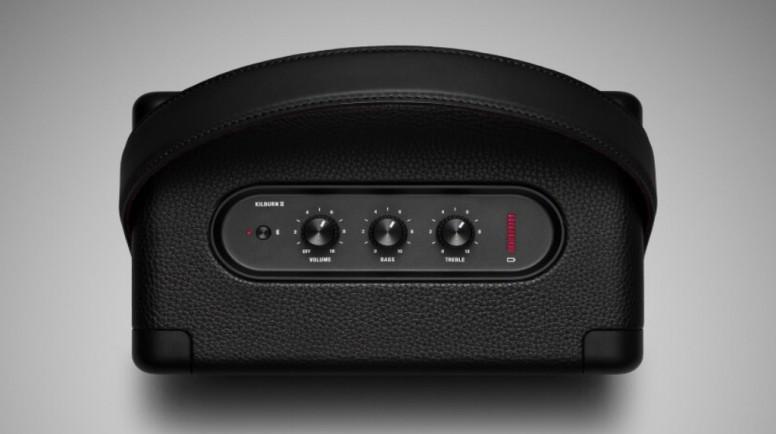 Consists of three knobs at the top of the speaker
The Bluetooth connectivity which it consists is
having a range of 30 feet
, which means you are generally free to walk anywhere on your house with your phone in your pocket without losing the connection. It also
consists of some few knobs
at the top within which a volume control, as well as the knobs to adjust the bass and treble, is present. Alongside control knobs on the top of the unit is a battery gauge, which helpfully shows how much power is left in the unit.
The Kilburn II
produces impressive sound
. It consists of speakers which are on both the front and the back of the unit, making for wider and more immersive sound. The
wattage of the portable speaker is
not massive - there's 25-watt class-D amplifier, and two 15 watt amplifiers, and it keeps the ability to utilises these excellently. Kilburn II provides loud sound when at full but the speciality of it is, the sound doesn't losses it's quality.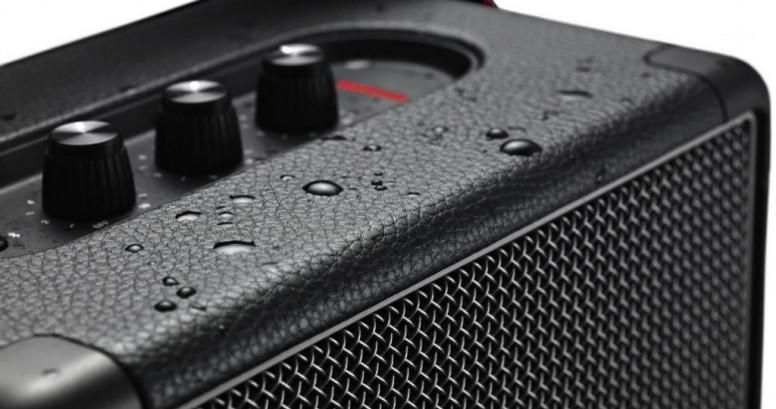 Water-resistant design
The Build quality of the device is excellent and
it feels solid and robust
. It also supports
water-resistant of IPX2
which means it can withstand drops and splashes. It has a solid metallic grill which pays homage to the steel mesh grille found on many microphones and a guitar inspired carrying strap for easy portability. Its flush-mounted corner caps and water-resistant design make it supremely rugged and durable. Kilburn II is able to withstand even the longest days on the road.
Kilburn II
enhances the size and reassembles signals
in such a way that can be projected in all directions. The experience is completely different to other portable speakers on the market and results in a rich, multi-directional sound that immerses the listener in their music and gives them a true
360° sound experience
– indoors or outdoors.
Check out the Kilburn II here
So Freinds, this was the information regarding the wireless, portable and water-resistant speaker, the Kilburn II. So what are your Thoughts regarding this speaker? Don't forget to share it in the Comments below.
Thank You For Reading!
Rate