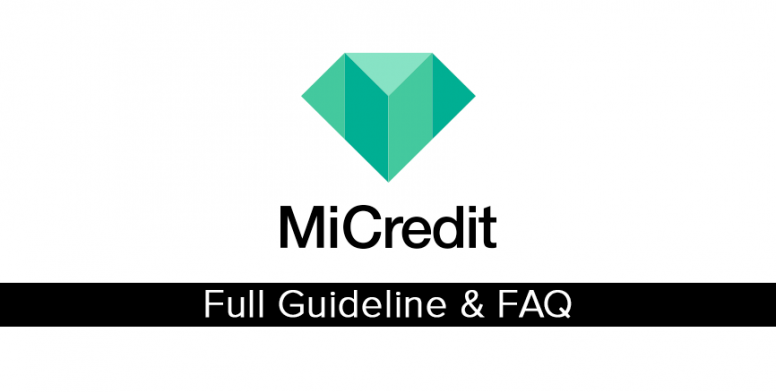 Mi Fans!

Mi Credit is a platform that helps the users get access to quick cash loans in India, currently exclusively available to only MIUI users. Any Indian salaried Mi Fan on Xiaomi Device with MIUI above the age of 18 years, can take the advantage of Mi Credit for quick cash needs.


Do note that, Mi Credit service on app is currently exclusively available to only whitelisted MIUI users, in case, unfortunately, you are not the part of the whitelist now and you want to join our whitelist please send us an email to micredit-in@xiaomi.com with the subject "Whitelist" and a note with phone number, we will try to get back to you soon.


Let's check out the full guideline & FAQ below.




Highlights of Mi Credit
Easy application process: Apply with a click of a button and check your eligibility instantly.
Quick disbursement: Get money disbursed to your bank account in real-time.
Low interest rate: Get interest rates starting from 1.8% per month.
Security: Best security and encryption in place to keep your information safe and private.

Download Mi Credit app
(Link will open only on Mi Community app)
How to Avail Quick Cash using Mi Credit Platform
1. Register with Mi Credit
Download the app from above & login to the Mi Credit app using your required credentials. If you are first time user with no Mi Account, you can use sign-up option.
2. Apply for Loan - Verify Profile
Provide your phone number which is linked to your Aadhar ID to get the OTP and input the OTP Received & get it verified. Confirm the linked PAN number on the app screen.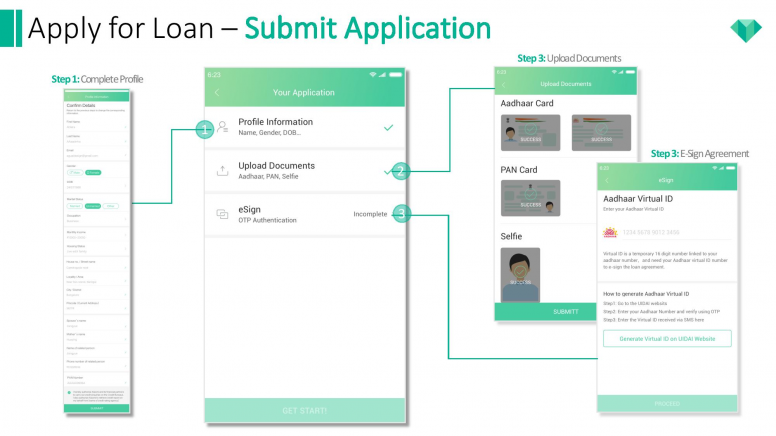 3. Apply for a loan - Submit the application
Provide all the required personal information asked

Upload the documents asked

E-sign using 16-digit Aadhaar Virtual ID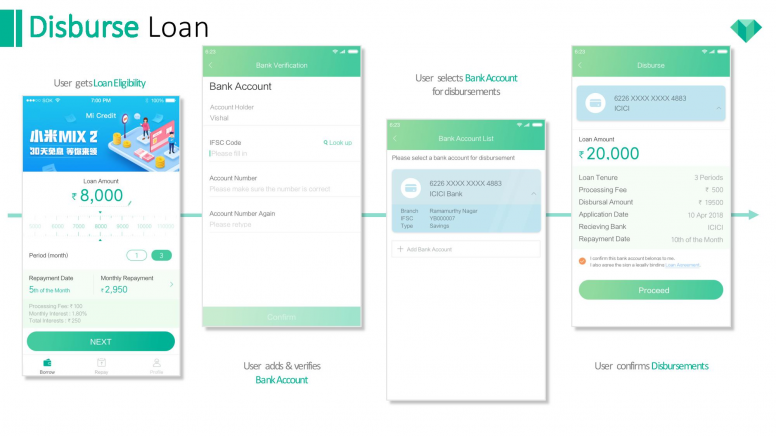 4. Get Loan Amount Disbursed
Select the Loan Amount desired, Period of Loan, review Repayment Schedule and Amount. Add and verify your Bank Account. Select the added Bank Account. Agree and Confirm disbursement.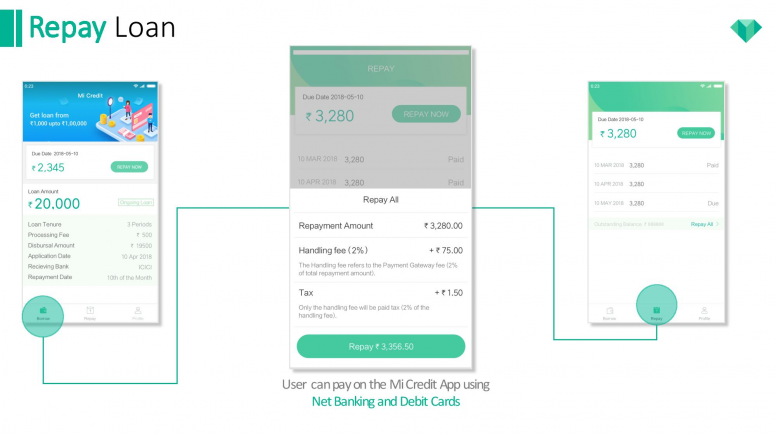 5. Repay Loan
Go to 'Repay' tab and repay the loan on Mi Credit app using Netbanking/Debit cards.
Please do note, currently, we are only open to pre-approved MIUI users.
FAQ
Q. Do I need to submit any physical printed/scanned documents with Mi Credit?
A. Mi Credit application is a completely digital and online process. You need not submit any physical copies of the documents.
Q. In which bank account shall I receive the disbursement of money?
A. We will disburse the amount only to the verified Bank Account provided by you prior to disbursement.
Q. Why do Mi Credit only accept real-time photo ID scan?
A. You will be required to upload the real-time scanned copies of the original documents (Aadhaar Card and PAN Card) under the 'Upload Document' section in the Mi Credit app. Same is needed to prevent the application rejection for poor quality.
Q. I am unable to make repayments in Mi Credit application. What do I do?
A. You can contact us on our customer helpline 1800 103 6286 during business hours on Weekday (09:00 AM to 09:00 PM) or email us on
micredit-in@xiaomi.com
for help.
What are the payment options available for repayments?
A. Following payment options are available in the Mi Credit application for repayment:
1. Debit or ATM Cards 2. Net banking
Q. Can I use Mi Credit on Non- Xiaomi phones?
A. Currently, Mi Credit Service is only extended to whitelisted users of Xiaomi devices with MIUI.
Q. I forgot my password. What should I do?
A. You can open the Mi Credit application on your phone and click on the Forgot password link and follow the steps to reset your password.
Q. What all information I need to apply for a loan?
A. You would be required to submit below information to complete the loan application process:
1. Basic Details - Name, gender, DOB and etc.
2. Documents - Scanned copy of PAN card, Aadhaar Card, and selfie.
3. Bank Account Details - to disburse loan amount in your bank account directly.
Q. What to do if I don't have Aadhaar or lost access to my Aadhaar?
A. Aadhaar card is mandatory when applying for a loan with us. If in case you currently do not have Aadhaar, please visit your nearest Aadhaar Enrollment Center for Aadhaar enrollment.
Q. What to do if I don't have access to the phone number linked with my Aadhaar?
A. You can always get your mobile number linked/updated with your Aadhaar number by visiting your nearest Aadhaar service centers.
Q. Can I apply for more than one loan at the same time?
A. At any point in time, you can only have one active loan with us. You can always come back to apply for a repeat loan, once your current loan is closed/pre-closed by you.
Q. I don't have a PAN, can I apply for a loan on Mi Credit?
A. PAN Card is mandatory to apply for a loan. If you do not have one, kindly apply for a PAN Card on the government website
here
Q. What is E-Sign?
A. E-Sign is equivalent to physical signature and can be used to sign documents and loan agreements. Aadhaar Virtual ID is needed for E-sign.
Q. Are my data and information safe and secure?
A. Your data and information are safe with Mi Credit. We strictly obey Indian laws and regulations, as well as follow privacy policy guidelines agreed by international society.
Q. I cannot see my loan in the Mi Credit application. What do I do?
A. Kindly log out of the Mi Credit application and re-login using the same id used while applying for the loan.
Q. My EMI payments are not reflecting in the Mi Credit Application. What do I do?
A. EMI re-payments usually reflected in real-time. If you had made the payment today, please check again in a few minutes..
Q. I want to get my EMI date changed. What do I do?
A. Sorry, we currently do not support flexible EMI dates.
Q. Will the EMI be automatically debited from my Bank account?
A. Auto debit is not mandatory on Mi Credit. You can always come back to Mi Credit to make your repayment by your due date.
Q. I want to change the bank account for loan disbursement. Is it possible?
A. Yes, you only need you to change and verify the new Bank account information before you proceed.
Q. Can I get a waiver on the late fee for repayment?
A. Sorry, we do not provide this facility.
Q. Can I pay using multiple debit cards?
A. Yes, you can pay using multiple Debit or ATM cards, and Net banking.
Contact Us
For any help, you can always contact us on our customer helpline
1800-103-6286
during business hours on Weekday (09:00 AM to 09:00 PM (IST)) or email us on
micredit-in@xiaomi.com
for help.