Hi All,

Hope you all are gearing up for the festive season. We have got yet another good news for you.

I am sure you would have received SMSes like "Your shipment is dispatched through Blue Dart with AWB number 235455566 & so on.." from various senders like Blue Dart, Delhivery etc.

It is pain to track your parcels while on the move. We have added a shortcut in such messages using which you can track your parcels using one-tap.

All your shipments sent via BlueDart or Delhivery should have this button in their respective SMSes.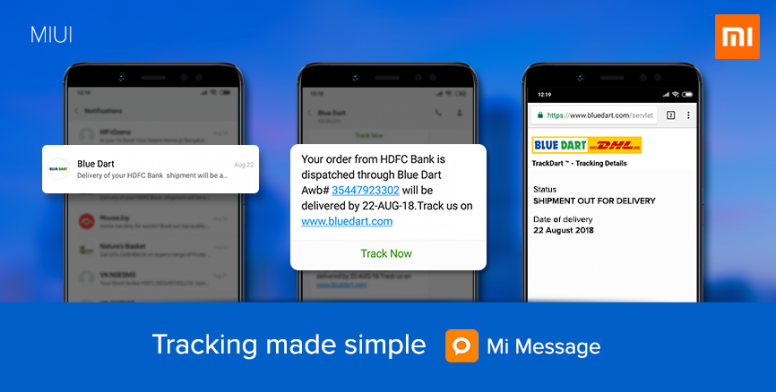 How to get this feature:
1. Go to Settings System Apps Messaging Check SMS for verification code: Make sure all three are ON
2. Mi Message should be activated on the above screen.
3. Minimum requirement is MIUI v 9.5 or above, so you may need to update your MIUI version.4. Other companies will be added one-by-one soon. Currently, only Bluedart and Delhivery is supported.

p.s. In case you can still not see above button request you to paste your message and post it as a comment or DM me the template. Also include the sender of the message like AM-AMAZON, AM-ICICIB etc


--
Prateek Tiwari
Products@ MIUI Global

Read more:
New feature - Quick Actions in Mi message
Independence Day greetings on MIUI