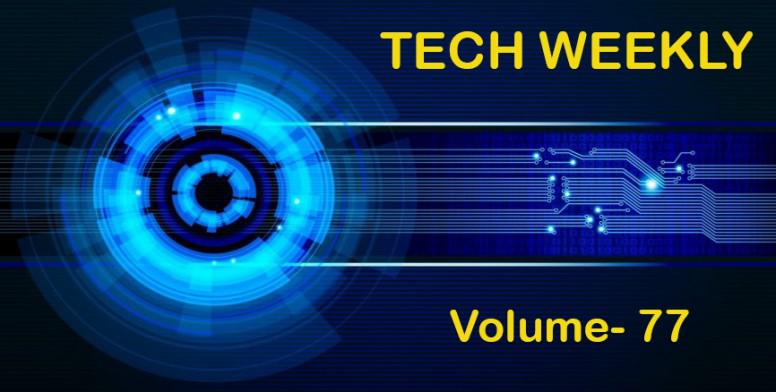 Hello Mi Fans,
Technology refers to methods, systems, and devices which are the result of scientific knowledge being used for practical purposes. The purposeful application of information in the design, production, and utilization of goods and services, and in the organization of human activities Technology can be described in many ways. So without wasting time let's check out what we have for you this week from our Techie Team.
Stick Tab: The Sticking Tablet Holder!



Hello Mi Fans!

Set your tablet in the perfect position with the Stick Tab Sticking Tablet Holder. Without the use of adhesives and leaving no residue, this revolutionary tablet stand securely holds your tablet. Stick Tab features a special material on the sticky pad. It works with any surface, meaning it's compatible with any brand. In addition, the Stick Tab is complete with an ergonomic handle so you can comfortably hold your tablet in any position. In addition, the handle doubles as a stand to prop up your tablet anywhere you'd like. Perfect for watching movies in bed, passing time on your commute, or being more efficient at work, Stick Tab can do it all. When you're done, you can easily remove your tablet by gently pulling one of the two curved-shaped grips. What's more, the handle is complete with a built-in power bank so you can keep your device charged as you use it.

Know More- https://in.c.mi.com/thread-1637465-1-0.html
Google Launched reCAPTCHA v3



Hello Mi Fans,

Google has launched reCAPTCHA v3, it's the newest API that helps users detect abusive traffic on their websites without any human interaction. Unlike previous reCAPTCHA versions, the latest API will return a score so admins can choose the most appropriate action for their website. This essentially eliminates the CAPTCHA challenge that was being shown by the previous APIs till now.

reCAPTCHA is basically a CAPTCHA-like system designed to establish that a computer user is human and not a bot. Know More- https://in.c.mi.com/thread-1637502-1-0.html
SAIL: The Thinnest Electric Skateboard!
By- Solver13




Hello Mi Fans!

Many people's love skateboarding and it's really an amazing action sport. Nowadays we get to see electric skateboards which do consists of good quality and amazing features. Using electric skateboards we can perform different types of tricks which attracts everyone but have we seen any skateboards which keep you updated about the speed, battery status and even its direction? But using the SAIL electric skateboard you will.

Know More- http://in.c.mi.com/thread-1641956-1-0.html
Azio Industry's First Luxury Vintage Keyboard - An Overview
By- Sk Sam
Hey Mi Fans,

This is Sk Sam today back with another interesting thread, hope you will like it

Many Keyboards are present in the market, but this one the AZIO Retro Classic Palm Rest. Made with genuine top grain Italian leather and nested in a sturdy aluminum alloy frame, this palm rest makes no compromises in materials or quality. Designed to be the perfect complement for your Retro Classic Keyboard, the RCPR comes in Gunmetal Black, Posh White, Artisan Copper, and Walnut Elwood. A Premium quality keyboard. Know More-

https://in.c.mi.com/thread-1639470-1-0.html
SoundWave - Illuminate Your Music



Hello and Welcome MI Fans,

If you love music you then I have some very exciting news to share with you! If you are a fan of JBL's portable glowing Bluetooth speaker then you will definitely love this brand new speaker from Vincoe, a UK based company which has used 99bulbs! That's right 99 mini bulbs to sync with your music and create an astounding light show! The glowing speaker feels so mesmerizing that it will make you fall in love with your favorite song all over again!

Know More- http://in.c.mi.com/thread-1642824-1-0.html
Spry: An Amphibious Drone!
By- Aniket Patra




Hello Mi Fans!

A personal drone, also known as a hobby or consumer drone, is an unmanned aerial vehicle (UAV) designed for the mass market. In the past, UAVs have most often been associated with the military. But in recent years drones for consumer use is on fire. Now everybody wants a drone of their own so that they can click cool photos and videos from an altitude that would not have been possible earlier without the use of helicopters. So with the increase in demand for the drones, many companies have offered drones for different purposes. Now enters Spry a compact waterproof drone for the action sports community.

Know More- http://in.c.mi.com/thread-1642627-1-0.html
THE BRICK: The World's Best Wireless Fast Charger
By- J C Paul




Hi Mi Fans!

Now, at every step of our life, we're surrounded by the gifts of techniques. Phone charger is also nothing but a fruit of modern tech. Before, even now, a huge part of us are using smartphone chargers, containing USB Cables. But now, it's time for Wireless Charger. To say more specifically, THE BRICK is something that we need now.

Know More- http://in.c.mi.com/thread-1641964-1-0.html
Plantone: Smarter Way To Grow Plants!
By- A.Akbar





Hello Mi Fans,

Planting is one of the best habits and it is not only beneficial to us but also to the whole environment. We all must try to develop the habit of planting plants. But, most of the people hesitate to do planting because it requires lots of care such as proper watering, sunlight etc. But don't worry, Plantone is here to take care of your baby plants.

Know More- https://in.c.mi.com/thread-1641162-1-0.html
Thanks to the authors for your contribution and sharing updated technology information to Mi Fans.
Our Previous Volumes:
Please Vote and share your feedback in reply.