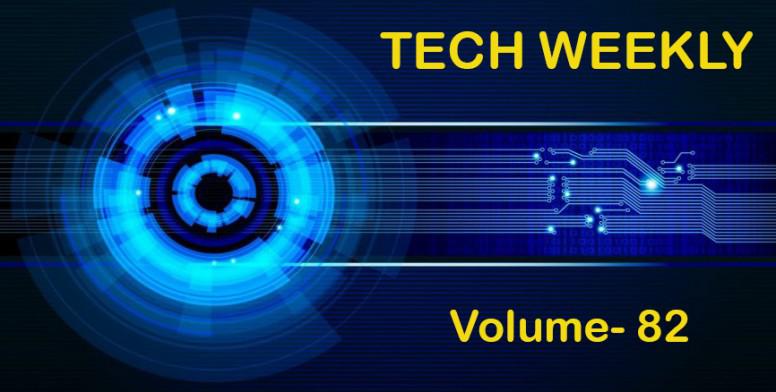 Hello Mi Fans,
Technology refers to methods, systems, and devices which are the result of scientific knowledge being used for practical purposes. The purposeful application of information in the design, production, and utilization of goods and services, and in the organization of human activities Technology can be described in many ways. So without wasting time let's check out what we have for you this week from our Techie Team.
ANYmal- A Robot used for Inspecting Offshore Platform



Hello, Mi fans!

A robot is a machine—especially one programmable by a computer— capable of carrying out a complex series of actions automatically. Knowingly or unknowingly they have become quite an integral part of our life. One such robot is the ANYmal. Know More-

http://in.c.mi.com/thread-1681398-1-0.html
Lily: A Smart Speaker That Can Teach Chinese!
Hello Mi Fans,

In this world, lots of different languages are spoken. But, among all those different languages, Chinese Language ranks at the top. Chinese is the world's most spoken language. As it is the world's most spoken language, most of us should know this language as it will also help in our carrier. Lily a smart speaker is here to teach us the Chinese language much faster.

Know More- https://in.c.mi.com/thread-1681234-1-0.html
Frenby: Smallest Alexa Assistant
Hello and Welcome MI Fans,

We are currently surrounded by all kinds of assistant hardware, but one thing that is common in almost all of them is that they are not easily portable. That is exactly what Mikyung Park and his team thought before spending a year-long research to finally present Frenby - World's smallest stand-alone Alexa powered AI assistant speaker. It is capable of operation without connection to any auxiliary smart device and the best part is that it can be worn or kept individually.

Know More- http://in.c.mi.com/thread-1683656-1-0.html
SENS8 Light Cam: The Most Affordable Home Security Cam!
Hi Mi Fans!

You've already seen a lot of home security cameras which provide you great features along with the best security. But have you ever heard a security camera combined with light and many other enchanting features? ....Wait, don't think that it doesn't provide security. Can't wait? Well, let me introduce you SENS8 Light Cam by SENS8 - a new era of home security cams. Know More-

http://in.c.mi.com/thread-1685136-1-0.html
Tesmo: Fast Wireless Charger, Power Bank & Planner All-In-1




Hey MI Fans!

The Tesmo Universe Book is one of the strangest devices you may ever seem on the Internet. It's one of the strangest devices I've ever come in contact with, come to think of it. Not because it's particularly strange in its abilities, but because of the unique nature in which it's presented. The Tesmo Universe Book has the ability to charge your smartphone. It's also a planner with a bunch of pages of well-designed layouts that encourage the user to partake in the activity of planning. I like fun icons and I like quantifying things – this is the sort of paper-based impetus I need to get my everyday life in order. But this planner also charges your smartphone. First, let's check its preview.

Know More- http://in.c.mi.com/thread-1688194-1-0.html
Thanks to the authors for your contribution and sharing updated technology information to Mi Fans.
Our Previous Volumes:
Please Vote and share your feedback in reply.
Rate