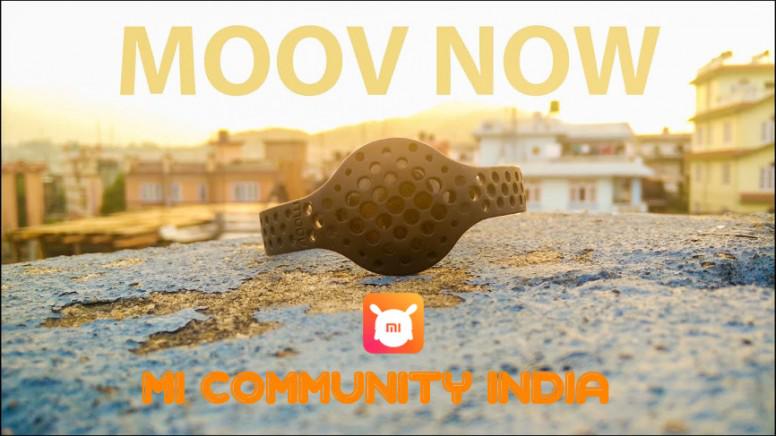 Hello MI Fans!

Moov Now is one among refinement trackers, both in terms of design and features. The original was a dedicated sports coach, designed for running, cycling, swimming and boxing – but the second returns with daily activity tracking added to the mix, as well as a heavily modified design. Check Out the Product Video First,


DESIGN
Let's start with the design. The original Moov was a chunky old sensor that attached to a fairly haphazard holder. Moov Now has been shrunk to a third of its original size and feels much more manageable. It still packs an accelerometer, gyroscope and magnetometer – the trio of motion sensors that enables it to provide so many coaching stats – yet it doesn't feel as unwieldy as before, especially on the wrist. The strap itself is also a triumph. Securing a sensor has proved to be difficult for some brands – we're looking at you Misfit – but Moov's new strap is a stroke of design genius.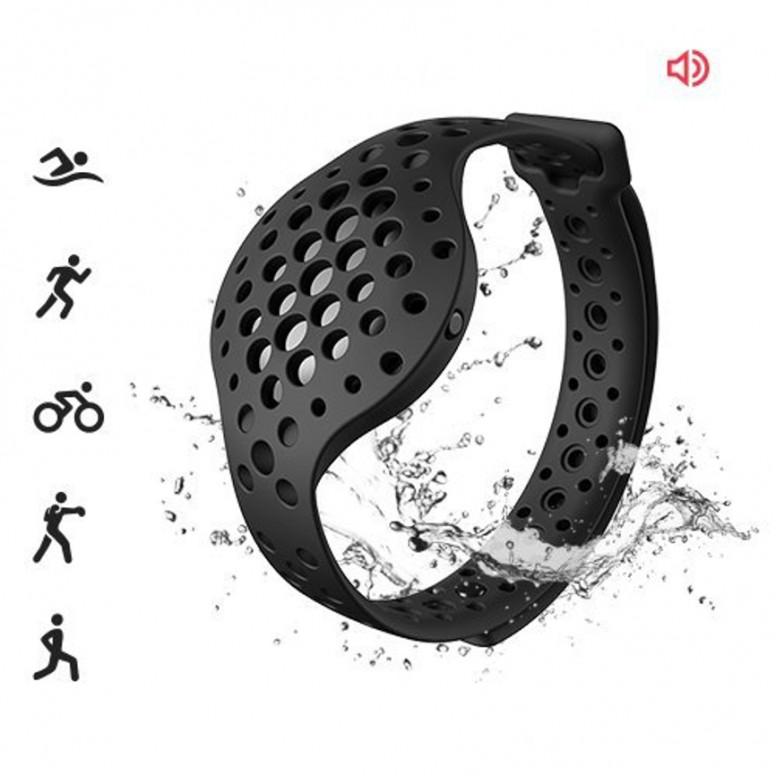 It's a silicone band with a tight pouch that the sensor slips into. It's secure, the unit never falls out and the holes in the top add texture and catch the light nicely. Someone actually thought it was a diamanté finish, the crazy fools. The only issue is the security of the clasp, and it's easy for it to slip open when caught thanks to the shallow pins that you press through holes in the band. At night was a particular challenge, and we sometimes found it lying in the bedding come morning.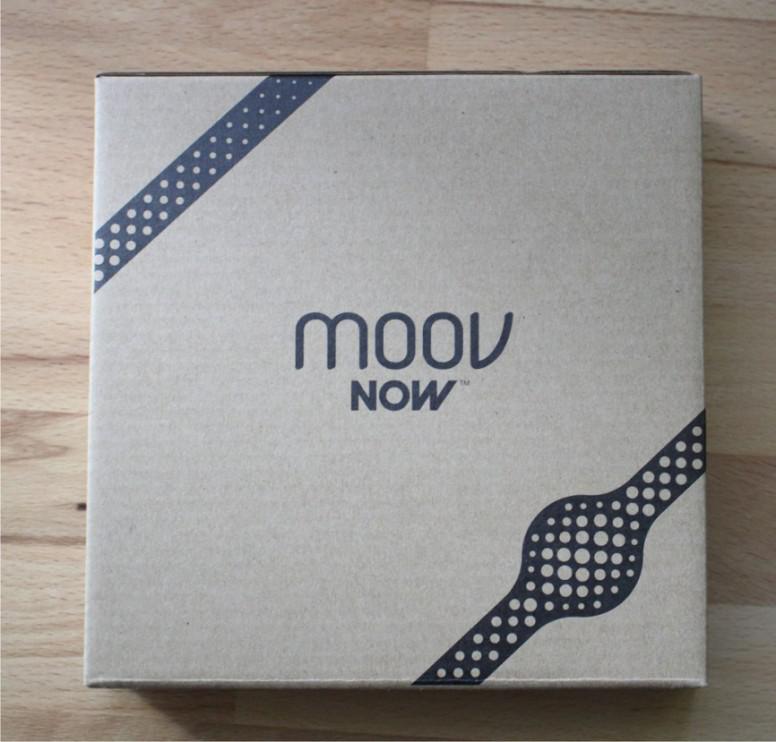 You get two straps in the box – large and small – which is helpful as you do need to position the Moov Now around your ankle for running and cycling tracks. The other big change is the battery. Moov Now switches to a watch battery rather than a rechargeable lithium, so it offers six months of battery on a single charge. With the addition of daily fitness tracking, this is a great move, and it's nice to have your Moov ready for a training session when you are.



MOOV NOW FEATURES

There were 5 different running coaches available. Some of these modes will work on treadmills by the way. Only for speed endurance mode, you need to have GPS enabled, for the other-other modes it's optional. Running efficiency, Speed endurance, Brisk walking, Sprint intervals, Open training. For example in the speed endurance coaching mode, the coach will give you a target pace. Thus your trainer will help you to improve your pace and distance. Let's say you have a target pace of 5 minutes per kilometre. The coach will tell you to speed up or down, depending on how good you do.

Now we compare both, the outdoor cycling coach and the indoor cycling coach. To use the outdoor tracking coach you will need a phone with GPS activated. Given that, the outdoor tracking coach will give you continuous status updates. In detail, cycling cadence, average speed, cycling duration and the "Moov Power" indicator will be mentioned each mile you ride. And Take a look at the app during your ride and see a lot of data that is being visualized: Your route on google maps, elevation, calories burned, average speed and much more. In addition, there is a lot more data available in the App. Indoor cycling, of course, will provide less data than outdoor cycling because no distance is being measured. Therefore the smart coach voice will continuously tell you your current cycling cadence and the elapsed time.


Swim tracking in the pool

For swim tracking, it is not required that you have your phone with you. Just start the swim coach before your workout. After that the Moov Now smart band will record your training session and store up to 120 minutes of swim data. Because the Moov is 100% waterproof (up to 3 meters / 10 feet) you don't have to be afraid to damage the sensor when it gets wet. After your swim workout, you have to sync the data to your smartphone. See below some data that I gathered during my swim tracking tryouts. Breaststroke/freestyle swimming was recognized automatically. To know swimming statistics Moov's app will request you to enter the pool length so that it is able to calculate your performance indicators.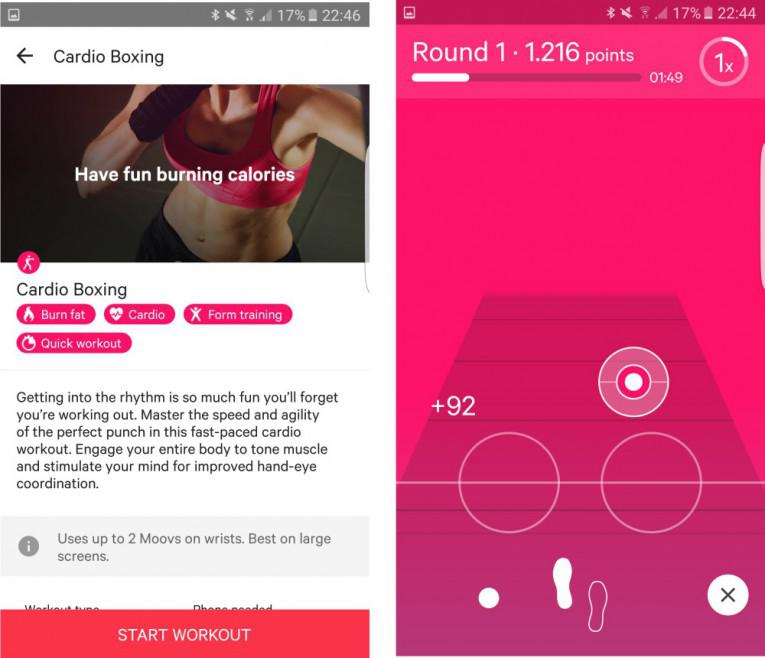 Portrait of a young woman in a boxer stance. Moreover, cardio boxing is also optimized for use with two Moovs (optionally). This means you can wear one Moov Now on each wrist. The coach will tell you how to move your feet. You can Take a look at the screen to take action in the right moments. There are several difficulty levels, with level speed and the number of action points will increase. While many other wearables do track steps, this one doesn't. Instead, it tracks so-called "active minutes". But what are active minutes? It is an activity indicator that is much more sophisticated than steps. Because the intensity and type of your actions are being calculated together.


Activity and sleep screens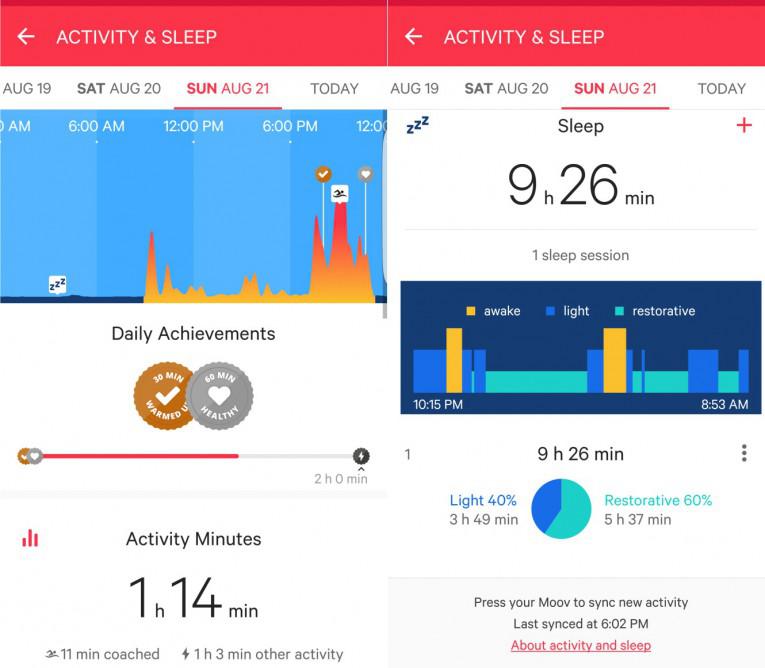 Sleep tracking with the Moov Now is easy. You don't have to tell the device that you are going to sleep or that you get up because it will detect it automatically. Sleep will be divided into a light sleep and restorative sleep. A restorative sleep of at least 50% is recommended.



Moov Now: Technical Specifications
Battery life: 6 months (Activity tracking)
The battery used: CR2032 (non-rechargeable) Get it here | Replacement instruction
Weight: 0.2 ounces (6 grams)
Sensors: 9-axis motion sensing system (accelerometer, gyroscope, magnetometer)
Sensor core diameter: 1.1 inches (28 mm)
Waterproof rating: 0.3 ATM (~3 meters)
Display: LED feedback diode
Materials: Polycarbonate with UV coating (core), food-grade silicone (band), Aluminium (band buckle)
Syncing: Bluetooth 4.0 (Bluetooth Low Energy)
Syncing Range: 50-100 ft (15-30 m)
Tracking features: Run, walk, cycle, swim, 7-minute workouts, cardio boxing, activity, sleep, calories
Device user interface: 1 push button, 1 LED




Moov Now: The App Specifications

One of the biggest changes to the Moov ecosystem is the release of a brand new app that encompasses all sports – rather than the individual running, cycling, swimming etc there was before. The app itself is straightforward and easy to use – displaying your daily stats front and centre and then enabling you to switch to individual sports by tapping the icons across the top. Every time you start a session – be it a run or 7 Minute workout – you just need to tap the Moov's button to pair it, and we're glad to report the process was always seamless. You can also connect third-party heart rate monitors into the mix as well, providing they use Bluetooth and not just ANT+.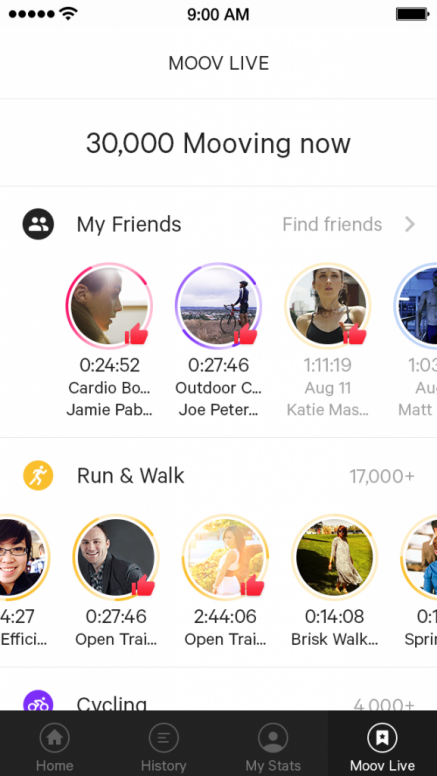 Another nice touch within the app is the My Progress bar, which lists all your activities as achievements. As there are so many stages to work through, the My Progress tab will show off your current level and also list how many different workouts you've done. There's a good feeling attached to upping the level number and completing a workout that's marginally harder than the last. The long and short is that Moov does a better job at promoting and tracking your progress in your training than other wearables. Whether you're doing your first 10k or going for a sub-3 hour marathon, it's that attention on your personal achievement rather than spitting out data that stands it apart.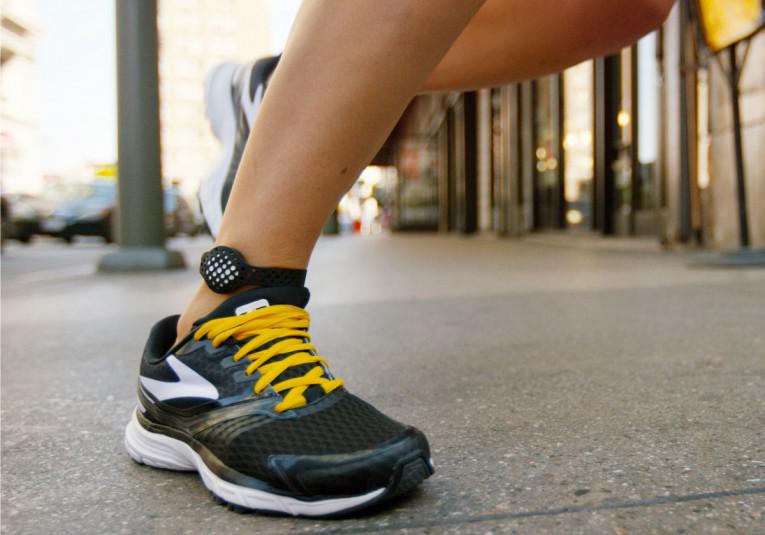 The main advantage of the Moov Now is to show you your daily level of activity. No matter what kind of sport you do, with its multiple sensors the Moov Now, will capture your activity. Furthermore, this light wearable is comfortable to wear, has long battery life and keeps you really motivated. Moov Now is ideal if you are a triathlete and looking for a wearable that will track your cycle, swim and run training. In contrast, the main disadvantages are its missing display, the design may be not your favourite look and I am missing the option to export and or zoom into the daily data but maybe a future update will bring this features. Overall the price/performance ratio is pretty good!!!
So, MI Fans What do you think about this, Share it in the Comments Section
For More Tech Articles; Follow Us On
Thanks For Reading
Rate