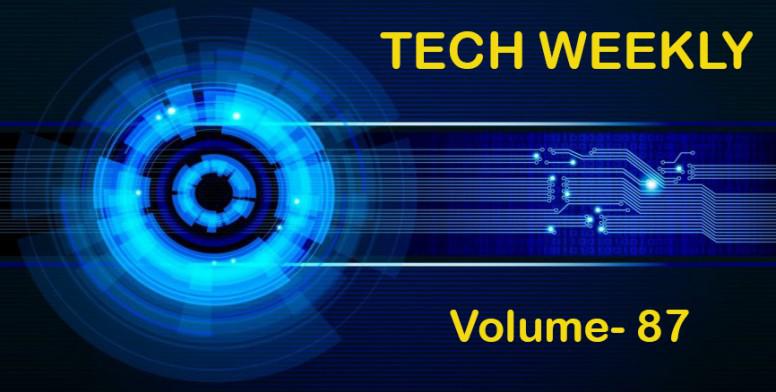 Hello Mi Fans,
Technology refers to methods, systems, and devices which are the result of scientific knowledge being used for practical purposes. The purposeful application of information in the design, production, and utilization of goods and services, and in the organization of human activities Technology can be described in many ways. So without wasting time let's check out what we have for you this week from our Techie Team.
Huma-i: Portable Air Quality Detection Device!
By- Solver13



Hello Mi Fans!

Air pollution is increasing day by day and as the level of Air pollution will keep rising it will affect humans in many ways. We have no idea that when and where the air is much polluted and the air which we are breathing is a mixture of particular matters which consists of very fine pollutants and it almost gets undetected by most of the sensors. As the Air is becoming more and more polluted due to the industrial growth, and we have no idea that how much the air is polluted which we are breathing and you can prevent it by using Huma-i. The Huma-i is a device which lets you know at least how much the Air is polluted which helps you to take some necessary actions to protect yourself and your loved ones.

Know More- http://in.c.mi.com/thread-1733293-1-0.html
GEOPRESS: The World's Fastest & Portable Water Purifier!
By- Hari Sankar G




Hello Mi Fans,

You all might know that most of the diseases are born from water. As water is one of the most important sources of living, it becomes our basic requirement. We need water everywhere whether we are in our home or outside of our home. When we are in our home we use a water purifier to purify the water but when we are outside we drink water without purifying it, which may be harmful to us. In order to provide us with clean water everywhere, a company named Grayl has launched GEOPRESS water purifier. Grayl Geopress Purifier is one of the most versatile water purifiers in the world. No other portable purifier rivals the ease, speed, and versatility of the GRAYL GEOPRESS. GEOPRESS is designed with international travelers in one. Most often than not, these travelers rely on just single-use bottles for daily hydration, which are expensive, wasteful, and mostly never recycled. GEOPRESS wants to address that need, it's easy to use and provides complete protection against impurities that could make travelers sick.

Know More- https://in.c.mi.com/thread-1730818-1-0.html
Dolby 3D: Everything You Need To Know!
By- J C Paul



Hi Mi Fans!

Dolby 3D (previously known as Dolby 3D Digital Cinema) is a name of a system from Dolby Laboratories, Inc.to show three-dimensional motion pictures in a digital cinema. Generally, it uses a unique full-spectrum colour technology that features extremely crisp, clear images. Sounds interesting, right? So, without wasting any more time, let's jump to the topic.

Know More- http://in.c.mi.com/thread-1738128-1-0.html
Deebot OZMO 960: An AI Powered Vacuum That Can Avoid Objects!




Hello Mi Fans,

You all might know that recently there was the world's biggest tech show, CES 2019, where all the companies introduce there new gadgets or technologies. There were lots of new technologies at the CES 2019 and one of the amazing techs from those technologies is Ecovacs Deebot Ozmo 960. It is the company's new robotic vacuum cleaner which is powered by AI technology. Deebot OZMO 960 is the robotic floor cleaner that uses the company's all-new Artificial Intelligence and Visual Interpretation (AIVI) technology to clean up your house. Through the combination of Ecovacs AIVI and spatial recognition, the DEEBOT OZMO 960 can survey the landscape and automatically avoid household obstacles such as cables, shoes, socks, and more.

Know More- https://in.c.mi.com/thread-1737709-1-0.html
Thanks to the authors for your contribution and sharing updated technology information to Mi Fans.
Rate