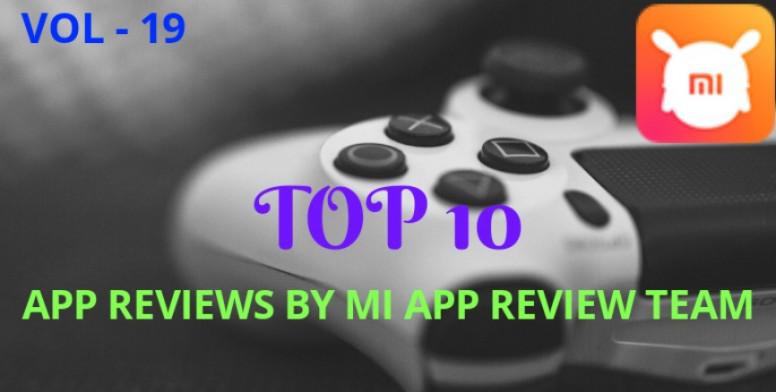 Hello, Mi Fans!!
Greetings and wishes to you all from App Review Team. Now we live in the smartphone era. And apps are the backbone of smartphones. From morning to night various apps help us to complete our work. We App Review Team are committed to delivering the best to you. Today, we have picked top 10 reviews this month so you can get them if you have missed it earlier. Let's get started!
[ART] Call Of Duty - Mobile
Author -
Akash008




The game is in under development but you can pre-register for this through given link below. In the past, this game is only for heavy usage and heavy gaming PC's. But now it's time for magic because it is future and we need more and more things on our fingertips so thanks to

Activision Publishing, Inc.

to make this game for our android phones.
[ART] Journey: Diary & Journal App!
Author -
Maji George




The "Journey" is an application trusted by millions of users in the Google Play Store. The "Journey" is your perfect personal journaling companion that keeps your private memories for a lifetime. Embark on the journey of self-improvement. It can Record daily events, dream, food, fitness, track mood, secret, meditate, reflect, be grateful, and relive those moments in Journey diary.


Read More: http://in.c.mi.com/thread-1801134-1-0.html
[ART]Manual Camera Lite: DSLR Camera Professional
Author -
vivek singh polywal




This Manual Camera DSLR Lite Version has all features just like the Pro Version, but we limit resolution for photo up to 8MP, video up to 1080p, and maximum recording duration is 5 minutes. Yet this app still able to turn your phone into a professional camera like, with full manual camera control on ISO, shutter speed, exposure, manual focus and other features like a professional camera, which can bring your mobile photography to the next level. Take the best capture of your photo and even record your video in high resolution.
[ART] AadhaarApp: Unique ID For All
Author -
wrony1119




AadhaarApp is official mobile application developed by Unique Identification Authority of India (UIDAI) to provide an interface to Aadhaar Number Holders to Download Aadhaar, Find Lost EID/ UID, Verify Aadhaar, Verify Mobile, Verify Email, Check Enrolment/Update Status, Find Enrolment Center, Secure QR-Code using your smartphones.


Read More: http://in.c.mi.com/thread-1794415-1-0.html
[ART] Dunzo - All round delivery partner
Author -
17418ajish84822




Dunzo is a 24x7, on-demand delivery service that helps you save time and money. Available in Bangalore, Pune, Delhi, Chennai, Gurgaon and Hyderabad. Dunzo Partners can get "anything" delivered at your doorstep in less than 60 minutes.


Read More: http://in.c.mi.com/thread-1805192-1-0.html
[ART] RESPAWNABLES - FPS Special Forces
Author -
17418ajish84822




Start playing now this third-person shooter and MMORPG adventure! This shooting game can be played offline or online for FREE. There are numerous tasks to do: complete challenges, join a special forces squad or just play with your gun! Join different special ops troops and teams but don't forget to define your beat'em up strategy and tactics. Feel the action of a TPS fight while you defeat a rival rifleman. Attack and counterattack the opponent armies in all the battlefields and ground!


Read More: http://in.c.mi.com/thread-1800429-1-0.html
[ART] Infinite Painter
Author -
sumit rawt



Infinite Painter use for painting or drawing. You can draw and paint like a painting. By this, you can create normal photo to great photo. In this app have you can see tool for painting like brushes, or different colours.


Read More: https://in.c.mi.com/thread-1801463-1-1.html
[ART] Selection- Screenshot & Crop
Author -
sumit rawt




In this app, first of all, you need to give access like capture image. Then take a screenshot and then crop the image of an individual part of the screen. After that the particular scrreScree capture. You can directly share the screenshot to others.


Read More: https://in.c.mi.com/thread-1804130-1-1.html
[ART] Head Ball 2 - Competitive Football Leagues
Author -
Surya Prakash Gautam




It is completely up to you how you combine and improve your character with accessories to create your dream football players. As you progress, new characters and accessories will be unlocked. Enhance your skills to dominate the football field.


Read More: http://in.c.mi.com/thread-1797110-1-0.html
[ART] Ball Blast - How Long Can You Survive?
Author -
Surya Prakash Gautam




Ball Blast is the very easy and simple game that just you shoot the ball in the air as much as a long time and score your point and upgrade the level and play again in the hard level from the previous level.


Read More: http://in.c.mi.com/thread-1797192-1-0.html
Previous Volumes:
Don't forget to vote for your favorite review from the list and help us
improve! Also do share your feedback!
Rate