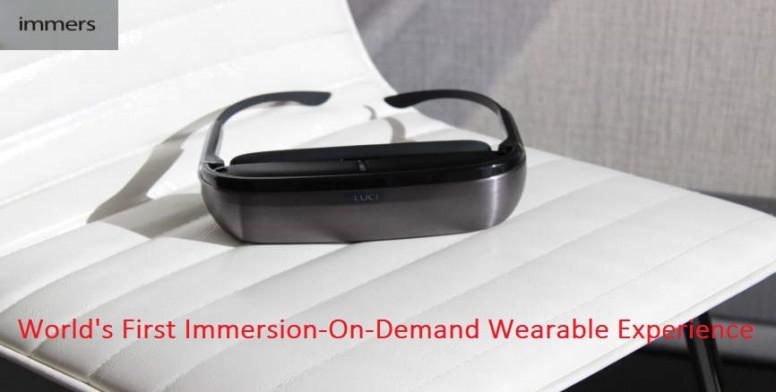 Hello Mi Fans!
When it comes to our personal entertainment, we want to be immersed in what we're watching while simultaneously avoiding any distractions. Having a big TV with a sound system is great, but having a cinematic headset is even better. If those options aren't enough for you, if you ever wished you had a personal place; a stunning, realistic world where you could totally immerse yourself, then LUCI is your answer. Luci is unveiling a new kind of entertainment virtual reality headset, dubbed the Luci Immers, that promises crystal-clear viewing of VR films and other content, thanks to dual micro-organic-light-emitting displays (Micro-OLED).LUCI lets you enter an amazing world based on any movie you select. With LUCI, you become an action hero, adventurer or a traveler in the Lord of the Rings Middle Earth. The company just launched a revolutionary new lightweight wearable headset called LUCI immers, which delivers an incredible visual experience for movies, games and much more. So, let's talk about LUCI immers, World's First Immersion-on-Demand Personal Wearable now.
Design: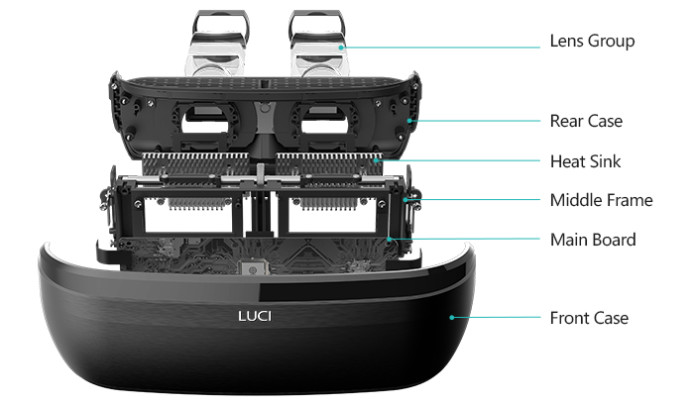 LUCI immers is comfortable to wear for long periods of time. Sitting on a bus ride, standing up during a work break, or laying down at home. Our intention is to create products that deliver a comfortable experience.
Portable and Lightweight:
Weighing just 6.35 Oz/180g (about as much as a typical pair of ski goggles), LUCI immers is the lightest headset to hit the market. Its low weight ensures there is no strain on your neck or head. This is made even more comfortable by the soft band and felt cushion on the forehead and around the eyes. It is comfortable to wear the headset in a sitting or standing position and even when laying down.
Skin-friendly Cotton:
LUCI immers is designed with special materials and an ergonomic shape to be very comfortable. The headset uses a curved design to fit the forehead with skin-friendly cotton as a cushion.
Crown, Glasses, Head Band:
We have three available ways of wearing LUCI immers. We are working on ID optimization and will deliver the optimal option to you. Please kindly share your ideas about the designs and help us choose one as the final design for LUCI by completing this Crown, Glasses and Head Band.
Specification:
Multiple Wearable: Crown, Glasses, Hand Band
Material: Skin-Friendly, Plastic, Silicone
Remote: Bluetooth Remote
Resolution: 3840 x 1080
Pixel Density: 3174 PPI
Display: Micro-OLED Display
Contrast Ratio: 1000000:1
Refresh Rate: 60 Hz
Color Depth: 24 bit
Gamut: 114% sRGb
Brightness Adjustment: Automatic
Virtual Screen Size: Dive into A 1023* Screen from 20m
Temperature: -20' to 45' C (-4' to 113' F)
Humidity: 5% to 90% in Non-Condensing State
Altitude: 3000 Meters (10,000 ft)
Optical Modules: 4 Optical Lenses per Eye, Coated Lenses
Pupil Distance Adjustment: 55-71mm
Video Input: USB-C
Audio Output: 3.5mm Jack
Power Consumption: 4W (5V0.8A)
Main Body Dimensions: 168*47*50mm
Main Body Weight: 6.35oz (180g)
Compatible Devices: PC, Mac, iPhone, Android Phone, Switch NS, PS4, Blu-Ray Player, Tablet
OS Compatibility: Windows10, MacOS, iOS, and Android
Video Format: 2D, 3D, 2K, 4K, 8K, 180' Video, 360' Video
Features:
The Luci Immers will be able to provide an amazing and remarkable visual experience due to its features that include
You're a Private Personal Cinema:
Your private cinema, your way. With a 3840x1080 high-resolution display and an incredible 3147-pixel density, the viewing experience is as if you were seeing a screen size of 1023" at a 20m viewing distance, similar to sitting in a theater. Every scene and every episode surrounds you like never before.
Your Immersive Gaming Experience:
With the USB-C connection, LUCI immers allows you to access the games on your smartphones, PCs, laptops, game consoles and others. Take control of your games in an immersive style. The action will be bigger, clearer, and more powerful. Each game becomes an incredible world of fun. With LUCI immers, gaming will never be the same.
Unparalleled Visual Experience:
In order to create the definitive viewing experience, we have created a totally new standard for visual entertainment. After years of collective effort, research, and testing, LUCI has created the "Immersion-On-Demand" (IOD) standard. Immersion-on-demand (IOD) is characterized by a supergiant visual screen, high resolution, super high pixel density, high contrast ratio, native 3D effect and fast response time. We have perfected a way to balance the above parameters to deliver stunning visual experiences for the latest mainstream content. LUCI immers is designed based on the IOD standard and along with its ingenious engineering innovations, it allows you to enjoy an immersive entertainment experience anytime and anywhere.
Software:
LUCI Home App: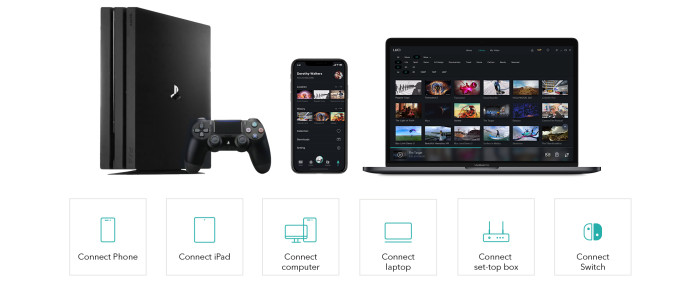 LUCI Home is our official content platform, which supports Windows, Mac OSX, iOS, and Android. LUCI immers is compatible with your favorite content from sources you love, including exclusive content created by our team, or locally stored files. LUCI immers allows you to enjoy all forms of 2D, 3D, 4K, 8K, and 360° content. Our content team is striving to deliver the best content to you.
Universal Connectivity:
You know how good a USB-C can be. Connect your smartphone and laptops through our USB-C port. PCs, laptops, game consoles can easily be connected via HDMI cable. LUCI immers can also connect to Apple devices via the Lightning to USB-C Adapter.
Video & Games:
Connect your streaming boxes and unlock your favorite TV shows, movies, sports and concerts from the mainstream apps. Enjoy your regular programming in a totally new, incredibly immersive way. Your shows have never looked so good
Check out LUCI immers, a Portable Personal Cinema here
About LUCI:
LUCI is an entertainment technology company bringing immersive experiences to new heights. The company's inaugural product, the immers, is a sleek headset that delivers a stunning cinematic experience on-the-go. With decades of collective global experience in the fields of hardware and software engineering, entertainment, and product design, LUCI's team is on a mission to free the user from the current limitations of wearable tech. Pairing uncompromising visuals with unparalleled comfort, convenience, and portability, LUCI is setting the new standard for true "Immersion On Demand" (IOD) that focuses on maximizing the user's sensory experience and enhance the emotional connection to the content.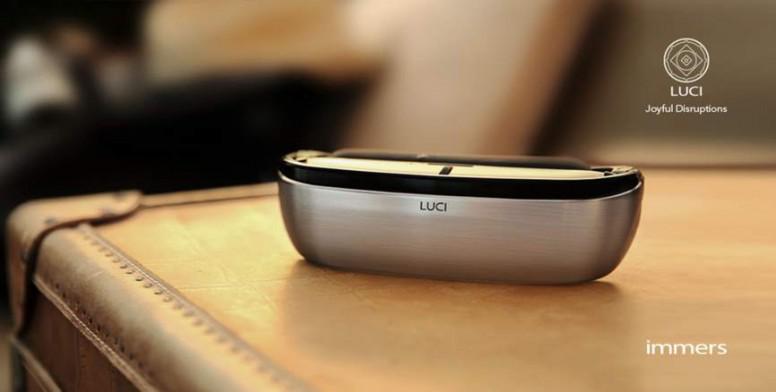 Get lost in another world with the LUCI Immers VR Display Headset. Looking like a comfortable pair of sunglasses, this headset is ultra-lightweight. In fact, at 185 grams, it's about the weight of a smartphone. Like sunglasses, the Immers Headset is easy to put on and remove. Likewise, the headset can become part of your every day. Incredibly, the ultra HD display offers more than 3,000 pixels per inch. What that means for you is crystal-clear 3D 4K resolution, always ready to go for brand new content. The sleek and stylish wearable blocks out the environmental light so you can enjoy every last pixel to the fullest. Connecting to your smartphone, the Immers Headset is easy to take anywhere and everywhere.
Copyright Disclaimer: The data and imagery provided in this article belong to their original creators!
Be the first to be informed: Follow us
Recommended Threads:
Big Thanks to
Thanks to Our Beloved S Mod @Furqaan Saikh And Our Mods @Patitapaban & @Harisankarg For Continuous Inspiration And Guidance And Supervision.
Thanks for Reading
So, what do you think about this LUCI immers, a Portable Personal Cinema? Please share your thought in the comment section below
Rate