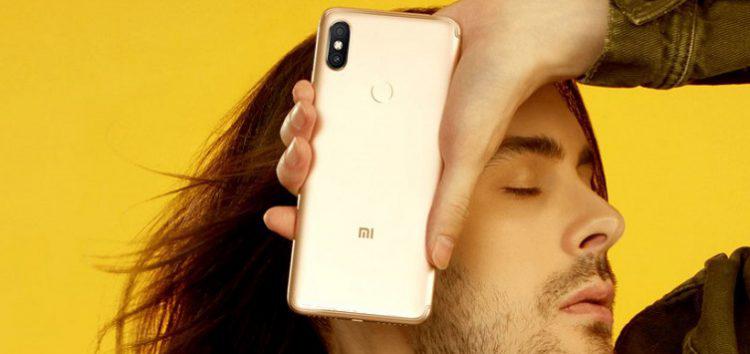 Chinese phone manufacturer Xiaomi's Redmi Y2 (aka Redmi S2 globally and in China) is part of the company's budget lineup of devices, Redmi Y series. Launched last year, Redmi Y2/S2 (codename:ysl) is fueled by Snapdragon 625 SoC. The phone shipped with Android Oreo layered with MIUI 9.You may be aware of the Redmi Y2 Android 9.0 Pie update issue that made it to news headlines sometime ago. As we highlighted in one of our coverages, despite initiating internal Android Pie beta testing on Redmi Y2/S2, Xiaomi China later suspended Pie on the units (Red rice S2 denotes Redmi Y2/S2 in the following image).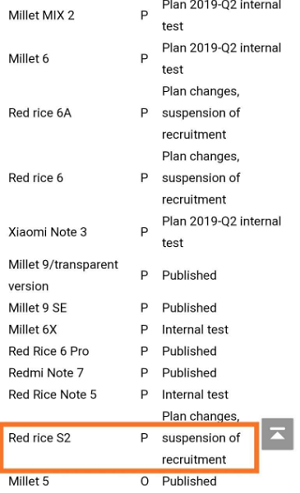 Android Pie suspended on Redmi Y2/S2
Soon after the matter about the update's suspension caught heat, Xiaomi jumped in clearing the air on the matter confirming that Redmi Y2/S2 will indeed be upgraded to Pie.
While there are some speculations going on about the Android 9 Pie availability on Redmi Y2, do note that Redmi Y2 will get Android 9 Pie in the future for sure and hence it doesn't affect the schedule of the MIUI Stable ROM release including Android base upgrade and software support

This was music to ears of Redmi Y2/S2 users who were speculating the company is going to forget their phones like Redmi Y1/Y1 Lite which never got an Android OS update. Then a month later, skipping the beta testing phase, out of nowhere Redmi S2 in China directly received Android Pie OTA.There was no reference of the Pie even in the changelog, and the update (MIUI V10.3.2.0.PEFCNXM) was circulated as May security patch instead. Even the kernel sources of Pie on Redmi Y2/S2 were outed by the company indicating it's arrival on units globally.


Redmi S2 MIUI V10.3.2.0.PEFCNXM OTA update
But since then, there has been radio silence, and no new development regarding Pie's arrival on Redmi Y2 (global) has come to notice. And now that June is nearing its end, the number of inquiries on the company's official help forum as well as Twitterare growing like crazy. Here's a glimpse: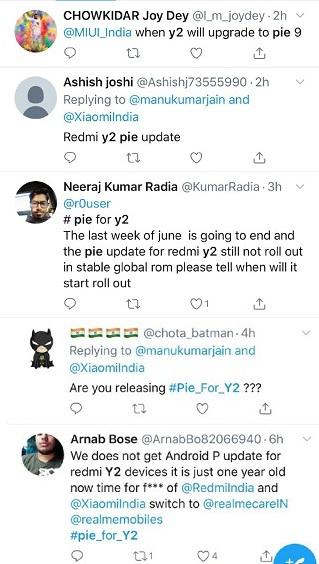 While users are eager about Pie's arrival, Xiaomi's device team (at Mi Community) still have the same answer – "Pie will be available soon." Not even an ETA for the update.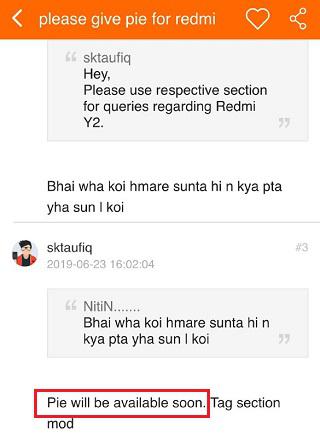 While Pie may have already been released for some Redmi S2 units in China, we're not sure what is causing the delay for the same to make way to Y2 units globally. Looking at the number of users gawking Pie's arrival, we just hope the company delivers it at the earliest.
Therefore, this news shows that our #pie_for_y2 is now gonna trendy in Twitter and now we all need to make it more trendy so that Xiaomi can provide us Android Pie "As soon As Possible" and Also Thanks to "The Mighty Thor" who founded this Hashtag and Thanks to all of the Redmi Y2 users who showed unity which makes the Company to Answer and Now we all need to do more and More Hardwork for our #AndroidPie for our #RedmiY2 and after that we all need to focus on the issue of #32bit ROM.Thread Source :- https://piunikaweb.com/2019/06/24/clamour-for-redmi-y2-android-pie-update-grows-as-june-end-nears/

Also Our Fellow named rnrane has posted a thread on Mi Community regarding #Pie_for_Y2 so please It's a request to everyone to please post your valuable comment on that thread
Thread Link :- To my dear(actually I want to say something else) R0user.. http://in.c.mi.com/thread-1894100-1-0.html