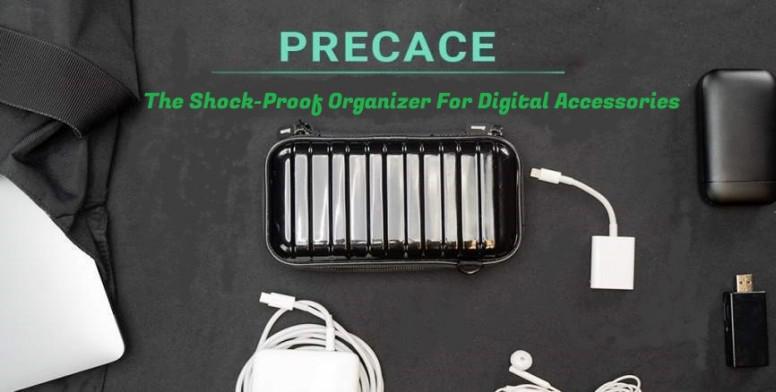 Hello Mi Fans!
Hi friends, you have use pocket for store money and driver license and credit/debit cards and of course some change of money coin. Other stuff for use today in daily life you have to carry for another way. So somethings different that change in your pocket to carry lofts of daily life useful stuff. That most useful when you are in travel. PRECACE is the perfect bag for keeping your personal items nice and tidy. Stunning partition storage, lets you say goodbye to chaos and organize your items. Easily access mobile power, your passport, or your mobile phone at any time. PRECACE is that organizer and companion that is needed to make every day a relaxing and happy day for everyone. It's a small bag that provides a service beyond what it's made for, and only those who deal with the aftermath of the life of chaos can understand. So, without wasting your time let's talk about PRECACE the shock-proof organizer for digital accessories now.
➤ Technical Specification:
Material: PC+EVA Liner
Color: Black /Transparent
Product Weight: Monomer 180g /Packaging 100g / Total 280g
➤ Features:
● Keep Everything Organized: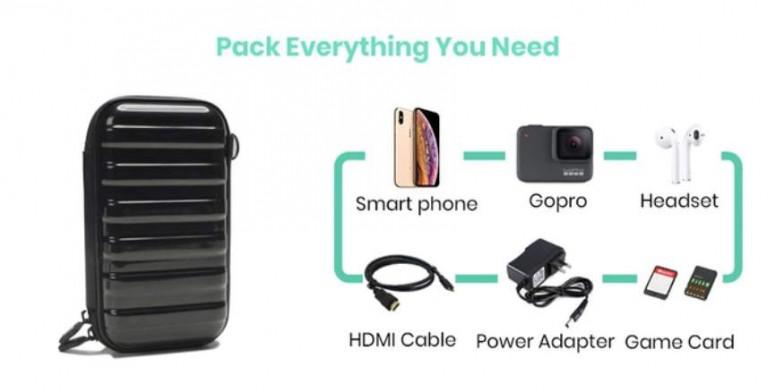 Talking about features, very few products in the market right now can compete with Precace. It's made to last, with strong and durable materials. Three layers of anti-shock protection ensure that everything in the bag is intact even if it falls from a high altitude. It comes with compression resistance hard shell that is just unbelievably protective. No more clutter, everything has a place. The grid mesh belt + partition elastic band design makes easy for you to store and see all of your wires, headphone cables, small accessories, and everything else you have. Multiple areas to keep items means everything has a spot and looks tidy and clean.
● Utility Protection: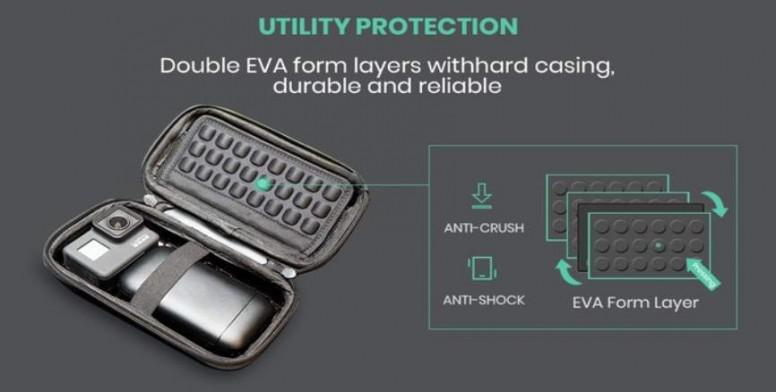 Get triple protection for your electronics. Made of 100% high-grade polycarbonate so it's extremely resilient to cracking or breaking. PRECACE is lightweight and durable and protects your items from falls and impact. The same technology and material many advanced suitcases use. PRECACE is made of new shock-proof material that is designed to protect your electronics from drops, knocks, and scratches.
● High Quality & More Safety: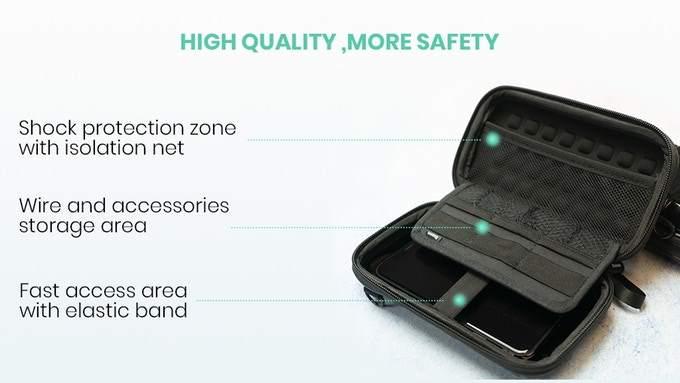 It comes to the stripe grooves design greatly reduce the damage called from falls and crashes. Shock-proof bubble lining increases anti-vibration particles and has a high-elastic shock-proof layer on both sides. The inside is extra soft,anti-static and shock absorbing. Fast access area that elastic band design keeps items fixed in place and easy to access. Wire and accessories storage area mean you can say goodbye to tangled wires and cords. Earthquake protection zone so isolation net pocket and high elastic shock-proof film.
● Water Resistant & Moisture Proof: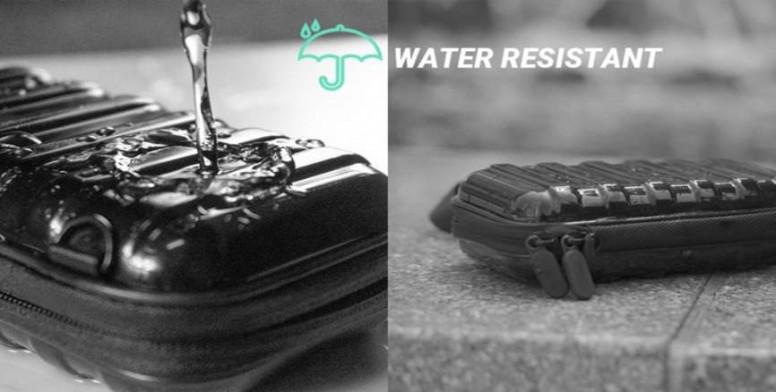 PRECACE effectively blocks rain and dust from destroying your valuable electronics and digital accessories. Now you never howto worry about your electronics getting damaged from the rain or splashing water. Three layers of anti-shock protection ensure that everything in the bags intact even if it falls from a high altitude. It comes with compression resistance hard shell that is just unbelievably protective.
● Three Ways To Use: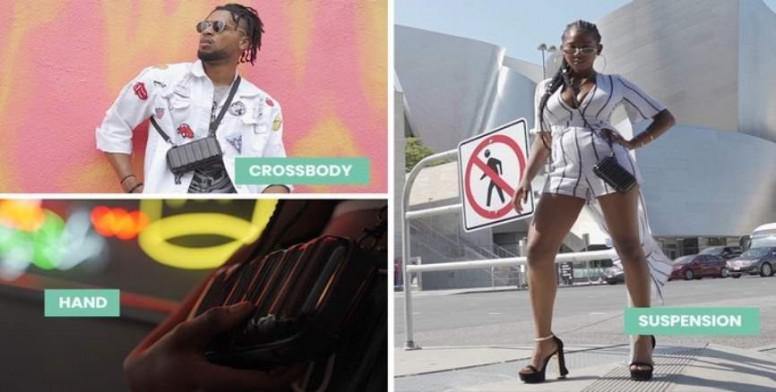 Precace can be carried in three different ways, making it a very stylistic product that blends easily with the modern lifestyle. PRECACE has hook holes on both sides. It's designed with a hand strap, crossbody strap, and carabineer. Easily carry it in multiple ways. Hold it in your hands, carry it on your back or hang it on your backpack. It can go anywhere. Take it hiking, skiing, outdoors, to the airport, cycling, or just use it for daily storage.
➤ Highlights: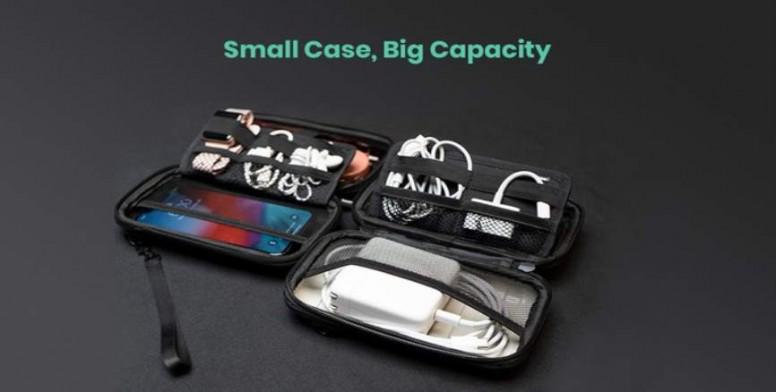 ● Easy For Travel: It gives you convenient access to your mobile phone and passport.
● Fashionable And Portable Wallet: It keeps your lipstick, headphones organized.
● Perfect For Outdoors: PRECACE has tough enough to go where you go. Keep your GPS equipment or your GoPro safe.
● Great For Electronics Storage: It's perfect for storing and transporting electronics.
● Computer Accessories Bag: With PRECACE you can store your MAC charger, mouse and more.
Check out the PRECACE the shock-proof organizer wallet here
Very few portable bags in the market have these kinds of features. Precace is shockproof, has a large capacity, dust-proof, lightweight, and water-resistant. It's the perfect bag for every scenario and built to last. Organizing items in the bag is easy. There are multiple partitions created to accommodate regular objects like car keys, hard drive, smartphone, cables, charger, headset, and so on. For better storage, there are wire and accessories storage areas, fast access area with an elastic band. It is water-resistant and moisture-proof, so in any weather, there is no fear of anything inside getting damaged.
Copyright Disclaimer: The data and imagery provided in this article belongs to their original creators!
Be the first to be informed: Follow us
Recommended Threads:
Big Thanks to
Thanks to Admin @R0user And Thanks to Our Beloved SMod @Furqaan Saikh And Our Mods @Harisankarg & @Snedn For Continuous Inspiration and Guidance and Supervision.
Thanks
for
Reading
So, what do you think about this about PRECACE the shock-proof organizer wallet? Please share your thought in the comment section below.