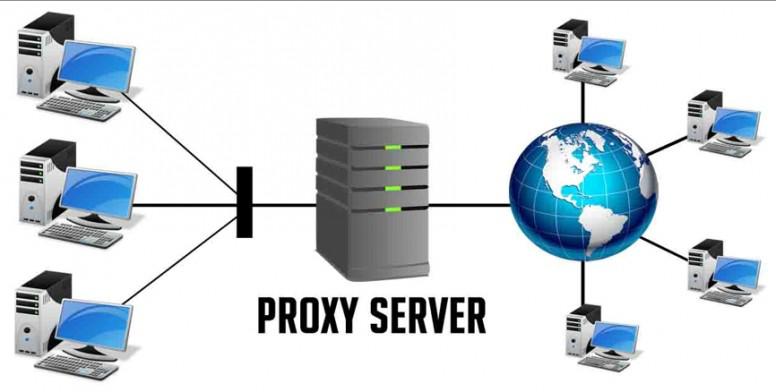 Hello Mi Fans!
If you have worked in a corporate network, you have probably encountered the term proxy server, and you know that without one you cannot access websites and services outside the company's network. However, what exactly are these proxy servers? Should you use one at home? I think these questions would be enough to make you curious to know more about Proxy Servers, right? If yes, keep reading this thread to know more about Proxy Servers!

What Is A Proxy Server?

A proxy server is a computer that sits between a client computer and the Internet, and provide indirect network services to a client. It may reside on the user's local computer, or at various points between the user's computer and destination servers on the Internet. A proxy server intercepts all client requests, and provide responses from its cache or forwards the request to the real server. A client computer is connected to the proxy server, which acknowledges client requests by providing the requested resource/data from either a specified server or the local cache memory. Client requests include files or any other resources available on various servers.





A proxy server improves Internet access speeds from a network primarily by using a caching system. Caching saves recently viewed Web sites, images, and files on a local hard drive so that they don't have to be downloaded from the Web again. While your Web browser might save recently viewed items on your computer, a proxy server caches everything accessed from the network. Most large businesses, organizations, and universities these days use a proxy server. By using a proxy server, an organization can improve the network performance and filter what users connected to the network can access.

How Does It Work?

When a proxy server receives a request for an Internet resource (such as a Web page), it looks in its local cache of previously pages. If it finds the page, it returns it to the user without needing to forward the request to the Internet. If the page is not in the cache, the proxy server, acting as a client on behalf of the user, uses one of its own IP addresses to request the page from the server out on the Internet. When the page is returned, the proxy server relates it to the original request and forwards it on to the user.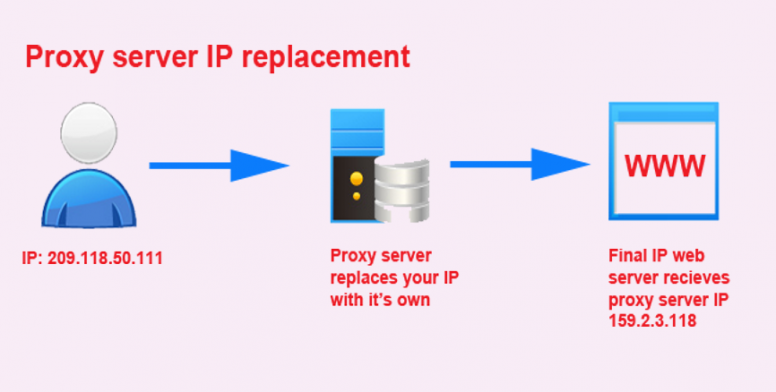 Proxy servers are used for both legal and illegal purposes. In the enterprise, a proxy server is used to facilitate security, administrative control or caching services, among other purposes. In a personal computing context, proxy servers are used to enable user privacy and anonymous surfing. Proxy servers can also be used for the opposite purpose: To monitor traffic and undermine user privacy. To the user, the proxy server is invisible; all Internet requests and returned responses appear to be directly with the addressed Internet server. (The proxy is not actually invisible; its IP address has to be specified as a configuration option to the browser or another protocol program.)

Benefits Of Using Proxy Server!


Proxy servers only affect the connection you're on; therefore, it doesn't alter anything on your computer or browser. As such, while proxy servers are great at hiding your identity from websites, it doesn't hide your browsing history on your browser. Everything you visit will still get logged in your history, so be sure to employ your browser's private browsing feature if you want to do some secret gift shopping.


Bandwidth savings and improved speeds:


Organizations can also get better overall network performance with a good proxy server. Proxy servers can cache (save a copy of the website locally) popular websites – so when you ask for any website, the proxy server will check to see if it has the most recent copy of the site, and then send you the saved copy. What this means is that when hundreds of people hit a particular website at the same time from the same proxy server, the proxy server only sends one request to varonis.com. This saves bandwidth for the company and improves the network performance.

Get access to blocked resources:


Proxy servers allow users to circumvent content restrictions imposed by companies or governments. Is the local sportsball team's game blacked out online? Log into a proxy server on the other side of the country and watch from there. The proxy server makes it look like you are in California, but you actually live in North Carolina. Several governments around the world closely monitor and restrict access to the internet, and proxy servers offer their citizens access to an uncensored internet.


Encrypt the Data You Send and Receive:


Because nothing changes between your computer and the proxy server, this means all data sent to the proxy server doesn't go through any extra encryption, unlike a VPN. Therefore, proxy servers aren't a solution for protecting your data from prying eyes over unsecured connections.


Proxy servers provide security benefits on top of the privacy benefits. You can configure your proxy server to encrypt your web requests to keep prying eyes from reading your transactions. You can also prevent known malware sites from any access through the proxy server. Additionally, organizations can couple their proxy server with a Virtual Private Network (VPN), so remote users always access the internet through the company proxy. A VPN is a direct connection to the company network that companies provide to external or remote users. By using a VPN, the company can control and verify that their users have access to the resources (email, internal data) they need, while also providing a secure connection for the user to protect the company data.


To control internet usage of employees and children:


Organizations and parents set up proxy servers to control and monitor how their employees or kids use the internet. Most organizations don't want you looking at specific websites on company time, and they can configure the proxy server to deny access to specific sites, instead redirecting you with a nice note asking you to refrain from looking at said sites on the company network. They can also monitor and log all web requests, so even though they might not block the site, they know how much time you spend cyberloafing.

Is It Safe To Use Proxy Server?

Just like a messenger, proxy servers are a great way to mask the identity of the original sender; however, you have to choose your proxy server carefully. Much like how an untrustworthy messenger can take a peek at any messages you send, a malicious proxy server can analyze the communications as they come through. They may even transmit malware to your PC as you use it!

It's best to use a trusted, perhaps paid, proxy server service when using them. While you'll find many free proxy servers available, using these free proxy servers comes with a set of risks which is unsuitable for performing sensitive tasks.



So, that's all for now! Still, have any doubts? Ask in comments!


Source: 1 & 2



Thanks for Reading!
Want more threads? Follow us: