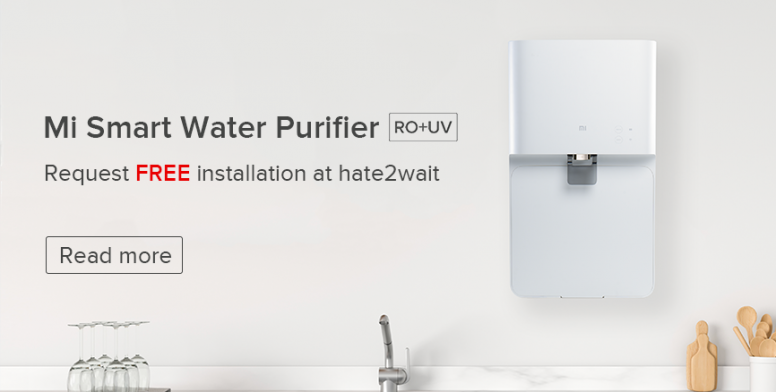 Hello Mi Fans,

Thanks to all for reporting their grievances about Mi Smart Water Purifier installation. We would like to inform that you can easily raise a free installation request on "hatetowait" post-delivery/purchase of the product. The installation request needs to be raised by the customer on hatetowait. To make the process easier for you, there is an orange color sticker on the packaging box with details on how to raise the "installation" request of the product.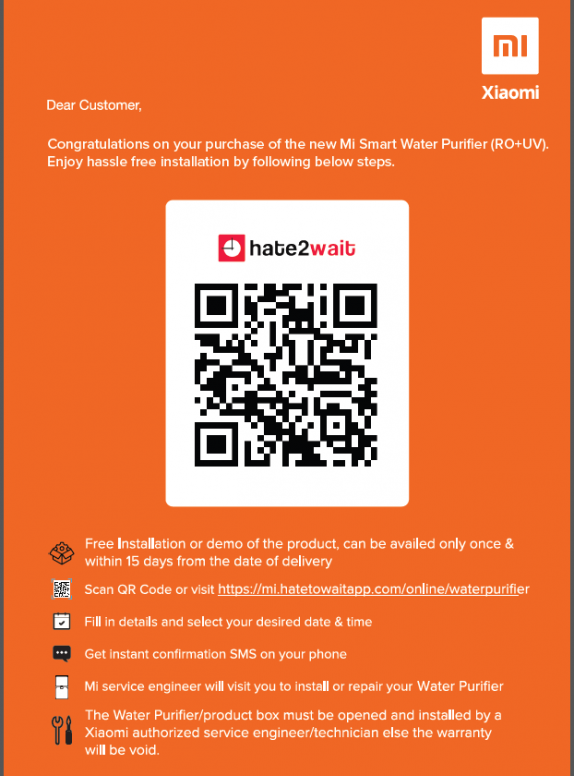 Step 1: Customer purchases the water purifier through Mi.com, Mi Home or Authorized channel partners
Step 2: Post-delivery /purchase, Installation request has to be made by the customer by following steps as mentioned below:
a. Scan the QR on the orange sticker or login to https://mi.hatetowaitapp.com/online/waterpurifier
b. Fill in all required details and select your desired date and time
c. Customers need to fill-in serial number which is mandatory while making installation requests
d. The serial number is a unique code and starts with 24502/xxxxxxxx where x is an 8 digit numeric number
e. The serial number is mentioned on the MRP label. Image for reference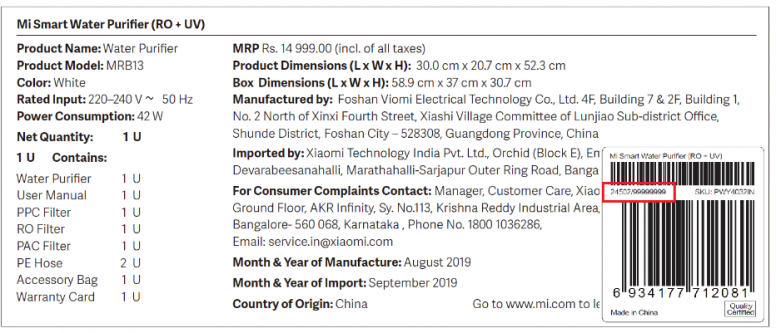 Step 3: Customer may reach out to the Xiaomi customer service team on 1800 1036286 also in case of any help/issue.

Installation & demo is a One-time free service.

There is No Pre-filter provided with Mi Smart Water Purifier in box. However, we understand that in some conditions, customers may need to install a pre-filter to enhance the life of existing filters, in that case, our technician will suggest if necessary. The pre-filter and other accessories can be bought (the cost to be borne by the customer) during installation/post-installation by an authorized service engineer or by reaching out to the Xiaomi customer support team.

1. Mi Pre Filter Housing @ ₹599
2. Mi Spun Filter @ ₹149
3. Mi Three Way Valve (worth ₹299, provided free at the time of installation- only in needed cases)

The installation service team provides service from 9 am to 6 pm, Monday to Sunday. It takes approximately 60 minutes for installation & demo. We do not recommend do-it-yourself installation as any damages incurred in the process are not covered under warranty. We strongly recommend availing free installation & demo service offered by Mi Authorised Partners.



Hope you found the post useful, in case you still have any doubts feel free to ask in the comments below!!




Rate