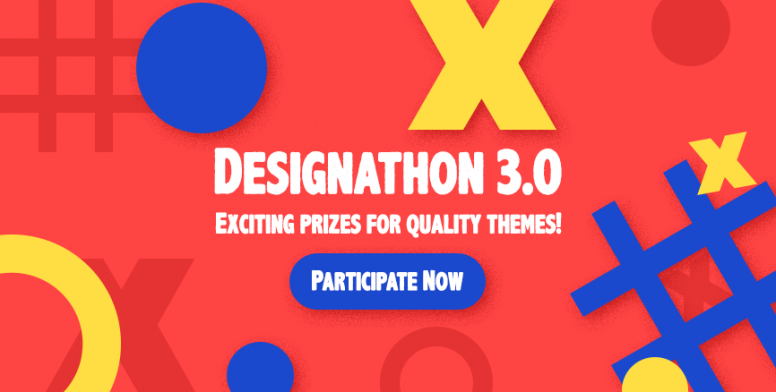 Howdy Designers!
Get prepared to color up the screens with your brushes! All the Passionate Designers here, are once again invited to join us in this super-awesome competition's 3.0 version. We've got you a lot of surprises and of course Grand Price for the Bests.
A big shout-out to the designers who won as well as participated in #DesignWithMe Designathon 1.0 & 2.0 this year. Thank You for being with us and designing such wonderful themes for the Mi Fans out there. Here's your chance to Win again with Designathon 3.0.
Contest Duration
From 5th November till 18th November 11.59 PM (IST)
Prizes
Prize Category

Ranking

Name

Maximum number of Themes Submitted

(Audited & Approved)

1st winner

Mi TV 4X 50 inch

2nd winner

Redmi K20

3rd winner

Mi A3

4th winner

Mi Air Purifier 2C

5th winner

Travel Luggage 24 inch

Most Downloaded

1st winner

Mi TV 4X 108 cm (43)

2nd winner

Redmi Note 8 Pro

3rd winner

Redmi 8

4th winner

Mi Soundbar

5th winner

Mi Band 4

Most Liked

3 winners

Mi Business Casual Backpack

Weekly Winners

1 winner (1st week)

Mi.com Coupon

1 winner (2nd week)

Mi.com Coupon

Lucky designers

** winners

Mi Airdots/Powerbanks
How to participate:
Submit your themes to our website: designer.xiaomi.com.

You need to submit themes MIUI 10.

We'll start approving themes from 6th Nov 2019.

Add "_DWM3" at the end of your theme's filename so we could include your theme in the submission pool.

Submit your themes in the period between 5th Nov 2019 and 18th Nov 2019.

We only accept themes MIUI 10 version and optimized for full-screen displays.

Your themes must include icons, wallpaper, home screen, and lock screen. Other modules are optional.

Do not delete the original *.psd files after your submission. We might need to have a look at them in case you win.



Contest Rules:
The themes you submit must be MIUI 10 versions, Also it must be optimized for full-screen displays. Themes without full-screen display options will not be considered.

Themes previously available only in Mainland China are not eligible to enter this contest.

Submitted themes will be available in all regions excluding Mainland China.

All the themes submitted must use all the theme elements which the designer owns the copyrights of. (Do not use images from Google)

1 set of icons can only be used in 2 different themes. Designers must report themes which use icons from previous submissions to

theme-india@xiaomi.com

. If 1 set of icons was used in more than 2 themes, a theme with a bigger number of downloads will be considered. Runner-up theme will remain available, but its downloads will not be considered. The remaining themes will be excluded from the contest.

You can report the cases of plagiarism by sending an email to

theme-india@xiaomi.com

with a subject line "Designathon 3.0: Theme Plagiarism". The email must contain a link to the reported theme, screenshots of its duplicated elements, link to the original theme, as well as its image resources. Reports lacking any of the aforementioned elements might not be considered.

All submissions must meet the requirements of local laws and regulations.

If a submitted theme contains maps of disputed areas, flags, religious elements, as well as explicit, violent, or politically incorrect content, Xiaomi reserves the right to exclude such themes from the contest unilaterally.

Once a theme is submitted to this contest, Xiaomi has all the rights to use, re-design, demonstrate, distribute, and promote this theme.

The decisions of the contest committee and jury members will be considered final and Mi Theme team holds all the rights to make any changes to this contest, at any point of time, without prior notice. Any exceptions will not be entertained.



Winners Announcement
Original resource files collection for copyright checks for all winners: 19th November (

theme-india@xiaomi.com

, E-mail subject - "Designathon 3.0: PSD files for verification")

Copyright complaints: 19th Nov - 23rd Nov 2019 for final winners

Final winners announcement: 24th Nov 2019



How prizes will be awarded?
The maximum number of Themes Submitted: Ranking will be based on the number of themes accepted after the successful audit.

Most Downloaded: Ranking based on the number of downloads from 5th November to 24th November.

Most Favorited: The themes which will get a maximum number of Favorites.

Weekly Winners: Based on a number of downloads. The highest number of downloads in the first week of competition and the second week of competition.

Lucky Winners: MIUI Theme Team will choose 10 lucky theme winners based on creative efforts.



Rate