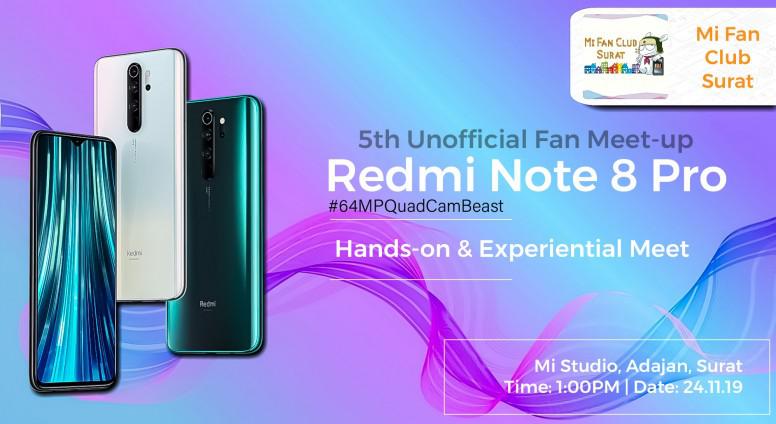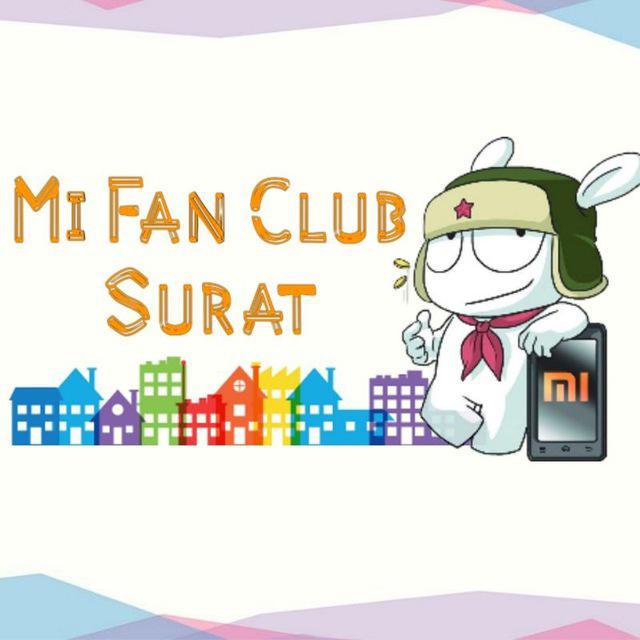 કેમછોસુરત, Mi Fans!
Hello Mi Fans! Hope are you all right and fresh after Diwali holidays. As everybody knows Xiaomi launches its Redmi 8 Series smartphone. Now to these days Xiaomi Redmi note 8 pro smartphone is the talk of the town. These all Redmi 8 series are available in mi.com and flipkart.com and offline mi stores. Oh, there is one good news for all mi fans of surat now we have 2 Mi Studio in our Surat city. The first one in the Adajan area and the second one is in the city light area. Now we conduct our fifth fan meetup in adajan mi studio on 24th November 2019 this coming Sunday. This newly launch Redmi note 8 pro has an Industry first Helio G90T processor with Liquid Cool Technology and world's 1st 64MP AI Quad Camera Array. It has a Hands-free experience with Alexa. and Fast charging supports out of the box with the fast charging adapter. Oh, I just talk about the phone but let's come and join in Surat city mi fans to Redmi note 8 pro "64MP Quad Camera Beast" hands-on experience on our Mi Fan Surat club 4th meetup at Mi studio at adajan.
➤ Meetup Details:
Date:24-11-2019, Sunday.
Time Frame: 01:00:00 PM Onward.
Location Address: G3, Aditya Complex, Opp: Prime Arcade, Anand Mahel Road Surat, Gujarat 395009.
➤ A Highlight of Meetup:
● Introduction
● Explanation of Redmi note 8 Pro Specification
● Hands-On Experience
● Question and Answer session
● Introduction of MIUI 11 and its cool features
● Feedback and Suggestions Mi Studio in Surat
● Food and Beverage
So, what you waiting for come and join us for a hands-on experience newly launch device.
Registration is compulsory. Use the Join option below and provide your details to register for the Meetup! See you at the meet venue to make & enjoy the magic moments together with Mi Studio on Saturday, 24rd November at 01 PM.
Also if you have any queries related to the meetup then Feel Free to contact us!
Telegram id:
Join the channel for Xiaomi new products and announcement here
➤ FAQS:
● What is MiFC (fan clubs):
This is a small initiate to gather Mi Fans from all over the Surat and Neighboring cities in one place. Mi Fan Club Surat organize meets every month which contains lots of Activities, Products Hands-on, Contests, Gifts and many more to enjoy.
● How to join the meets:
For the People who are not a Member of the Club yet and want to join the club, upcoming meets, and ones in the future. Kindly go through the below details
● Apply on this thread by providing the required info.
● Benefits of Joining MiFC:
Enjoy and Learn with Mi, Participate different activities, Get solutions for your device problems and Latest Update anytime in the group, Mi Fan Clubs Loyalty Program for Attending Meets, Experience new Naomi Products, Priority to join Mi Events/ Product Launch Events, Gifts fromMi such as coupons, badges, exclusive items & many more.
● For more details, latest updates and interact with other fans, join MiFC Surat Official Telegram group @mifcsurat
● Download Telegram, Login with your active number and enter received OTP to confirm. Then Scan QR Code or Open above link or just Search Mi Fan Club Surat in telegram. Click on the Join button. Interact with others, share your experience/problems and enjoy your stay!
● Why Telegram:
Telegram is safe and highly secured. Others can't see your mobile no. Setup user name so others can find you, officials recommended only this, And many more
● The venue for the meet would be shared with you on the Updates Channel of our Fan Club so do subscribe to it. You can also get in touch with us via these social media channels soon.
➤ Previous Meetups: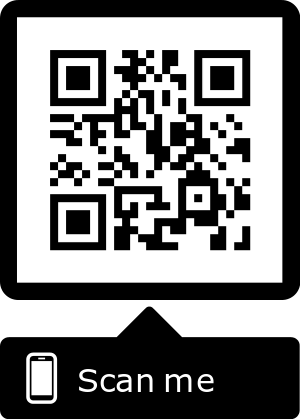 Regards,
MI FC Surat Core Team.