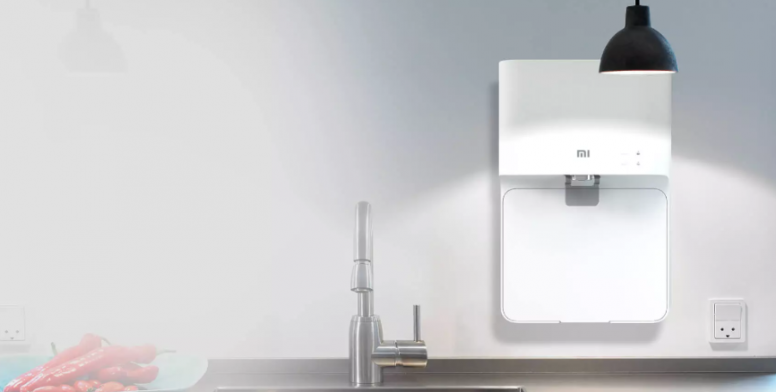 Hello Mi Fans…!!!
Happy to see you again! Welcome to yet another thread from the Device team. Today we will discuss one of the best home accessories by Xiaomi launched in India. The Mi Smart Water Purifier (RO + UV) - The essential for clean drinking water and its great features are praiseworthy and see how safe and trustworthy the product is. So let's get started!
Mi Smart Water Purifier - Truly Smart.Truly Safe.Truly Convenient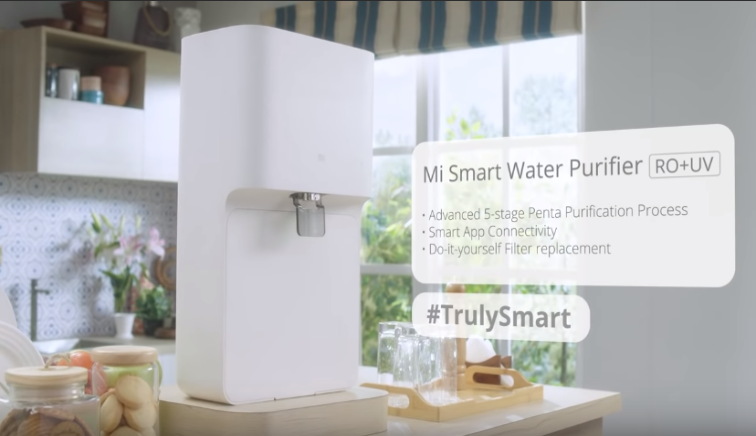 The new product has opened a new window of innovation in the Indian market for Xiaomi. Mi Smart water purifier is an essential component for clean drinking water as the drinking water condition in our country is pathetic. The new Mi smart water purifier (RO+UV) is tested and passed as per Indian standards IS 10500:2012 (Drinking Water), IS 14543:2004 (Packaged Drinking Water) and IS 14724:1999 (Water purifiers with UV disinfection).
The Mi Smart Water Purifier (RO + UV) makes use of a multi-stage filtration process that includes Polypropylene Cotton + Activated Carbon, Reverse Osmosis, Post Activated Carbon and In-Tank UV Sterilization to get rid of any adulterants. You don't have to worry about larvae, parasites, bacteria, viruses and larger particulates for pure clean potable water in your home.
How Safe water becomes once passed through Mi Smart Water Purifier (RO+UV)?
As we know the condition of drinking water in the country is deteriorating drastically. Lack of safe drinking water has always been a serious concern around the world and in India. It is always tough to measure how safe the water we drink is. Xiaomi has introduced Mi Water TDS Tester so that we can find the hardness of the water easily but still the question of constant access to safe drinking water still persists. One of the best ways to it is the new Mi Smart water purifier (RO+UV).
The safety of the Mi smart water purifier can be explained by the process of filtration done by it.
So let's look into it one by one.
Advanced Penta Purification Process: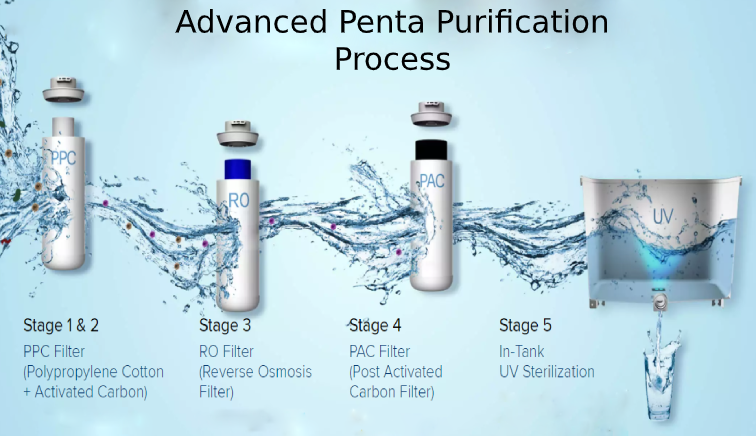 The new Mi smart water purifier comes with a thorough purification with 5- stage Purification showing no compromise. The water passes through 5 stages of Purification to provide quality drinking water. It has an RO Purification accuracy of 0.0001 microns so that it can easily get rid of chemicals, residual chlorine, visible particulates, bacteria and other compounds that could harm your health.
In the first 2 stages, it effectively intercepts large and visible particles and deeply absorbs residual chlorine, colour, odour, organic matter and other harmful substances in the water. In the third stage, it effectively filters out bacteria, heavy metals, viruses, scales, and other impurities with an accuracy of 0.0001 microns. In the fourth stage, it clears the odour and organic substances from the water and improves the taste of the water. And finally, in the last stage, it kills all bacteria with 99.99% accuracy and sterilizes the water every 4 hours for a full 25 minutes.
Revolutionary RO Filtration:
The revolutionary RO Filtration in the new Mi Smart Water Purifier turns hard water which is undrinkable due to the presence of heavy metals and other matters into safe consumable water. It effectively filters out heavy metals, bacteria, viruses, scales, organic matter, and other impurities with precision up to 0.0001 microns with a high efficient TDS reduction capacity up to 90%, the water delivered by the Mi smart water purifier can be trusted. The RO membranes used are sourced from globally renowned suppliers such as Dow, Suez, Hyde energy and Toray.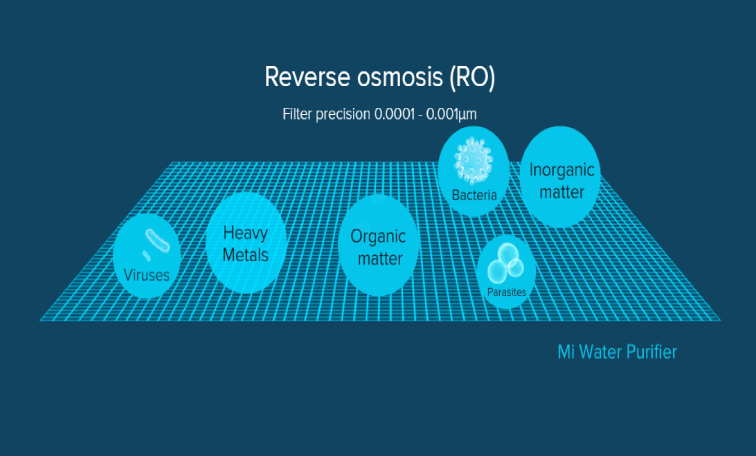 In-Tank UV Sterilization: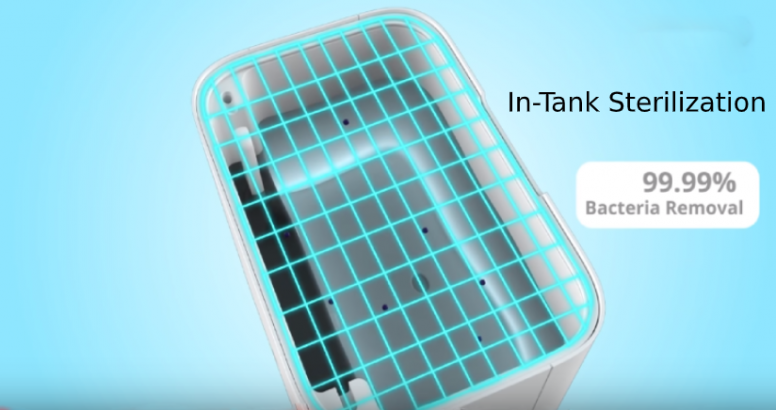 The new Mi smart water purifier (RO+UV) unlike most water purifiers in the market features a UV light inside the water tank. It ensures that all of the water gets treated by the UV light making sure the water is completely disinfected of any organisms that can cause water-borne diseases. Due to this high powered UV Sterilization, the device won't make any compromises on bacterias killing around 99.99% of them making the water fit for drinking.
Other Features: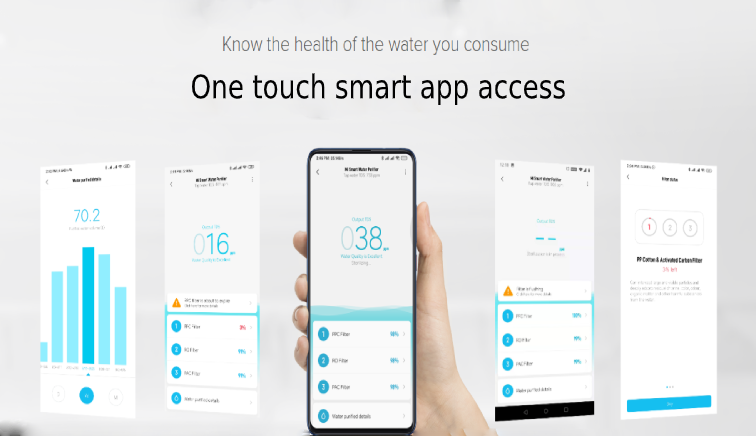 Some other great features of this product are its reliability and reusability. It is India's first smart water purifier with a DIY filter replacement option. It enables the user to replace the filter themselves within 30 seconds. So there won't be any dependence on the customer service team to check and replace your filters. It has a very smart design and very simplified maintenance.
Talking of design, the filter has a very classy contemporary and environmentally friendly design. The minimalist design is a treat to watch. The storage tanks used to come with FDA approved materials that assure safety. Other features are the one making this Purifier a smart purifier. It comes with a Realtime TDS monitoring, auto water level detector, real-time filter life monitoring and all these features connected to our smartphone via smart app connectivity.
The one-touch smart app connectivity allows you to know the health of the water you consume and allows you to track all its data including TDS levels, filter life and volume of purified water.
To sum it up, Mi Smart Water Purifier is one of the best water purifiers in the country and possibly the best among smart water purifiers that offer very transparent app connectivity with real-time monitoring at your fingertips. The levels of filtration done by the Purifier is impeccable. To have a Smart water Purifier with Penta Purification process, In-tank Sterilization, easy DIY replacement, 12-month filter capacity, all kinds of monitoring via smart app connectivity at a price of ₹11,999 is nothing other Xiaomi's magic and its vision of Innovation for everyone.
So what are you waiting for?
Buy the new Mi Smart Water Purifier (RO+UV) and keep yourself healthy.
That's it for today friends…!!!
See you again soon in another thread.
Rate