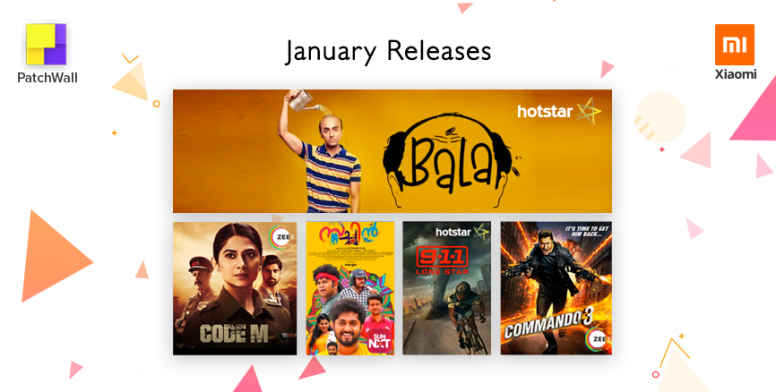 Hey Mi TV Fans,
As we all know, the new and improved PatchWall 2.0 comes with over 7,00,000 hours of content for the entire family and has a new lineup of content partners include Amazon Prime Video, Netflix, YouTube, Hotstar, and more. The massive content library features movies from different genres and is growing day-by-day with new titles are being added regularly. That being said, I think it's essential to keep all the Mi TV fans updated with information regarding what's being newly added to PatchWall, as it helps to find the titles seamlessly.
Guys, I'm back again with a collection of fresh content that you can stream over PatchWall on your Mi TV in January. Let's take a look at what is running hot on PatchWall.
Bala
Bala is a 2019 Bollywood comedy film. The movie narrates the story of a man named, Bala (Ayushmann Khurrana), who is a young man living in Kanpur and suffering from male pattern baldness at a young age. The story is about his lack of confidence and the societal pressure that comes with premature balding and the ways he struggles to cope up with the situation. The film was released on 8 November 2019. Produced on a total budget of ₹270 million, the movie received positive feedback from the movie critics and made a gross revenue of ₹1.72 billion worldwide.
(source)
The movie can be streamed over Hotstar and will be available soon on PatchWall.

Director: Amar Kaushik
Writers: Niren Bhatt, Ravi Shankar Muppa
Stars: Ayushmann Khurrana, Bhumi Pednekar, Yami Gautam
Runtime: 2h 11m

The Outsider
The Outsider is the story of a detective who is exploring the truth behind the mysterious circumstance surrounding a young boy's murder. It is based on Stephen King's bestselling eponymous novel of the same name. In the movie, the detectives suspect the boy's school teacher and a little league coach based on a considerable amount of solid evidence. But later on, they come across with many undeniable facts and evidence that are just the other way around. The story is full of suspense and twists. It will be streamed on PatchWall over Hotstar from the 13th of this month.

Creator: Stephen King (novel), Richard Price
Director: Andrew Bernstein, Jason Bateman, Charlotte Brandstrom
Cast: Ben Mendelsohn, Cynthia Erivo, Jason Bateman, Bill Camp, Mare Winningham, Paddy Considine, Julianne Nicholson

9-11 Lonestar
An upcoming series, centered around a New York firefighter who relocates to Texas along with his son. The plot is like he works to save people's lives while trying to solve his own sophisticated personal problems. The series follows the typical New York firefighter's efforts of trying to balance saving the vulnerable whilst solving his own life-related problems.


The series will be available on PatchWall from the 21st of this month over Hotstar.

Created by: Ryan Murphy, Brad Falchuk, Tim Minear
Starring: Rob Lowe, Liv Tyler, Jim Parrac, Ronen Rubinstein, Sierra McClain, Natacha Karam, Brian Michael Smith
Country of origin: United States
Original language: English

Code M
The series revolves around an Indian Army Lawyer who discovers a conspiracy plot during her investigation of a military encounter case. Jennifer Winget makes her digital debut through this series playing the role of the Indian Army lawyer Monica Mehra who explores the mystery about the encounter and the series proceeds depicting how after investigation the case paves way for several revelations that send ripples through the entire Indian Army.
The series is set to be streamed on Zee5 starting from January 16th.

Created by: Juggernaut Productions
Developed by: Ekta Kapoor
Written by: Shubhra Chatterji, Aniruddha Guha Aparna Nadig, Sulagna Chatterjee
Directed by: Akshay Choubey
Starring: Jennifer Winget, Tanuj Virwani, Rajat Kapoor

State of Siege
State of Siege: 26/11 is an upcoming Zee5 Original series based on the 2008 Mumbai terror attacks. TV star Vivek Dahiya is all set to make his digital debut with this series where he plays the character of an NSG commando. The series is said to be oriented at the stories of the unsung heroes and the untold brave stories and lesser-known facts about the 26/11 attack that happened in Mumbai, being presented from an NSG perspective.
The series will start streaming from the 24th of this month.

Cast: Arjan Bajwa, Mukul Dev, Vivek Dahiya, Tara Alisha Berry, Arjun Bijlani
Director: Matthew Leutwyler
Language: Hindi

Sachin
Sachin is a 2019 Indian Malayalam-language film in the backdrop of cricket. The story revolves around a boy who born on a day when cricketer Sachin Tendulkar hit a century. Watching Sachin's performance, his father got excited and named his son Sachin. As he grew up, he loved playing cricket and it was always his passion. His love for cricket and Sachin Tendulkar kept on growing unconditionally as the time progressed. Eventually, he falls in love with a village girl Anjali, who is four years older to him, a coincidence that directly links with the real life of Sachin Tendulkar. But later, problems arise as they proceed towards their wedding and situations go as worse as their marriage gets canceled. Sachin's struggle to solve all these issues forms the rest of the story.
The movie will be streamed over SunNXT on PatchWall.

Director: Santhosh Nair
Writers: S.L. Puram Jayasurya, S.L. Puram Jayasurya
Stars: Dhyan Sreenivasan, Reshma Rajan, Aju Varghese
Runtime: 2h 17m

Commando 3
Commando 3 is a 2019 Indian Hindi-language action thriller film. The movie is a story of a commando, Karanveer Singh Dogra (Vidyut Jammwal), who goes undercover with encounter specialist Bhavana Reddy for an anti-terrorist mission in London. The story begins as the Mumbai Police arrests 3 terror suspects and tries to interrogate them. But the attempt fails and even one of the suspects kills himself. But upon further investigation, Karan finds out that the suspects are linked with terrorists and also come across important information that points towards a terrorist attack that was being planned. In order to dig deeper, he goes undercover along with Bhavana Reddy who helped him is his previous mission, and begins their investigation in London.
The film is available to stream on PatchWall over Zee5.
Director:
Aditya Datt
Writers:
Darius Yarmil (screenplay), Junaid Wasi (dialogue)
Stars:
Vidyut Jammwal, Adah Sharma, Gulshan Devaiah
Running Time:
2h 20m
That's all for today friends. I hope you'll enjoy binge-watching the fresh and new content on PatchWall.
So what're you waiting for! Tune to PatchWall right now and start watching your favorite titles.