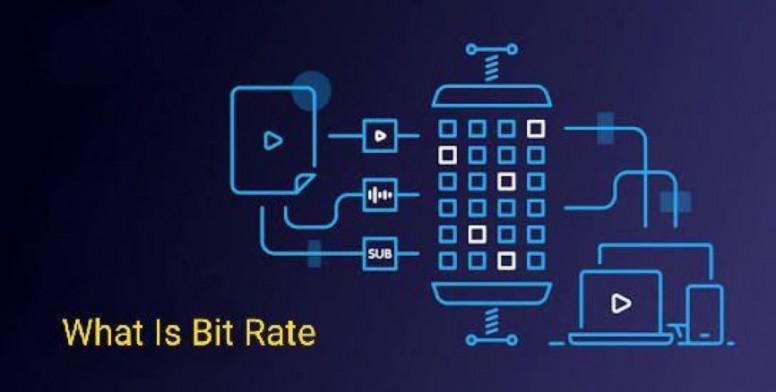 Hi Mi Fans
I hope you all are having a great time at 'Mi Community'. When you export video from your camera to your computer, you may have encountered the term "bitrate" once in a while. Then you are confused about what is bitrate exactly? Is there anything to do with my video quality? Don't worry. In fact, there are so many readers like you have this doubt too.

In this article, I will guide you through everything you should know about Bit Rate.

What Is Bit Rate?



Bit rate measures how many bits (the basic units of information in any digital media) are in a video stream. You already count bits every time you measure a file size – for example, a file that is 2 MB is composed of approximately 11 million bits.

While file size measures the total number of bits, bit rate measures the number of bits per second of video.

For example, the video might have a bit rate of 1 megabit-per-second or 1 Mbps – that means that each second of that video contains 1,000,000 bits. Likewise, the bit rate could be 1 kilobit per second or 1 kbps – that's 1,000 bits for every second of video.


Types Of Bit Rate
Bit Rate is further divided into two types i.e. Constant Bit Rate and Variable Bit Rate, Let's discuss them in more detail.

Constant Bit Rate
Constant bitrate (CBR) encoding maintains a set bitrate over the entire video clip but limits the image quality in most cases—especially for complex video segments.

CBR is often not an optimal choice for streaming since it does not allocate enough data for the complex segments: this results in lower quality overall and unused capacity on the simple segments.
For example, if there is a quiet section of a music track that doesn't require the full bit rate to produce good quality sound then CBR will still use the same value - thus wasting storage space. The same is true for complex sounds; if the bit rate is too low then quality will suffer.

Variable Bit Rate
VBR is the default processing mode and will typically produce significantly higher quality at similar bitrates. The primary benefit of VBR encoding is that it allocates a higher bitrate to the more complex segments of media files and lower bitrates to the simple segments.

Adding up the bitrates and dividing by the duration (in seconds) gives the average bitrate for the file. This average bitrate usually compares favorably with the equivalent CBR bitrate. Although VBR encoding requires more processing time, for most content it produces superior visual quality.

How Bit Rate Is Measured



We measure bitrates in bits-per-second (bps). Since the numbers are very large, we usually talk about them in megabits-per-second (Mbps)— sets of millions of bits-per-second.

Note, the mark Mbps is different than MBps. Mbps stands for megabits-per-second. MBps stands for megabytes-per-second. We use Mbps for download and upload speeds.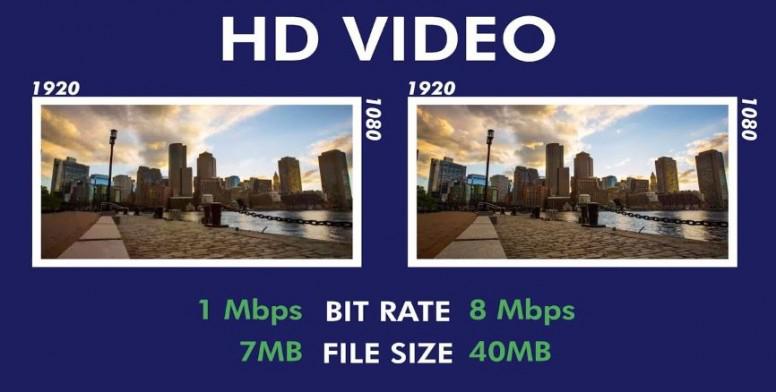 How Bit Rate Affects The Quality Of Your Content


Bit rate directly affects the quality of a video. Higher bit rates produce sharper videos, while lower ones produce blurrier videos, because the bit rate controls how much information is in each video.

Bit rate also affects the final video file size. A video with a higher bit rate has a size of 2.35 MB, while the one with the lower bit rate is only 893 KB. In effect, the larger video is three times the size of the smaller one which lines up with the differences in bit rate as well.


Conclusion
Bitrate describes the rate at which bits are transferred from one location to another. In other words, it measures how much data is transmitted in a given amount of time. Bitrate can also describe the quality of an audio or video file. For example, an MP3 audio file that is compressed at 192 Kbps will have a greater dynamic range and may sound slightly clearer than the same audio file compressed at 128 Kbps. This is because more bits are used to represent the audio data for each second of playback. Similarly, a video file that is compressed at 3000 Kbps will look better than the same file compressed at 1000 Kbps. Just like the quality of an image is measured in resolution, the quality of an audio or video file is measured by the bitrate.

Source



I hope you may have enjoyed reading this thread and if you have any doubt or suggestion then you can share them in comments below