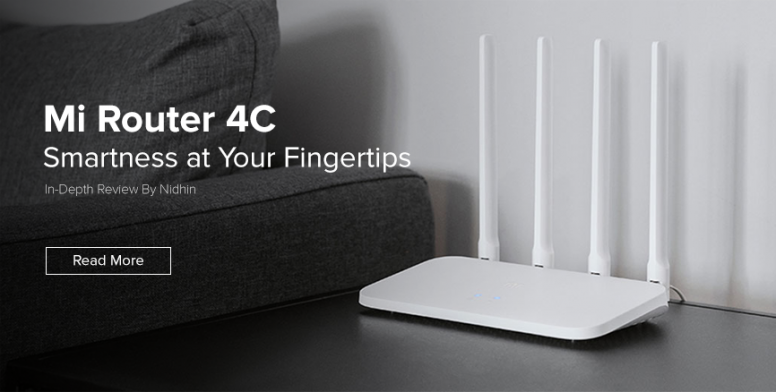 Hello Mi Fans!
Network accessories were the most left out accessories part in our home as most of them act just like a normal box doing its required duty. But Xioami has done something so as to open a new window of networking accessories and its complete approach. They have made it very smart, stylish and user friendly so that the Routers won't be left out. I had already done the unboxing and first look at the product. To know more about the unboxing and first look, then do check the unboxing thread here.

Smartness in networking is something that Xiaomi has been striving to introduce in the Indian market. We have seen this trend with the launch of Mi Router 3C. But they have stepped even further with the launch of the new Mi router 4C. As you may know, with the launch of Mi router 3C in India, Xiaomi had made a jolt and opened a new perspective of smartness in a network device such as routers which are mostly left behind at a corner of your house. Xiaomi has done it again with the launch of the latest Mi Router 4C with even better management, more sleekish looks and a startling price of just ₹999 only. It offers remote management with real-time monitoring of device connected, its usage, bandwidth allocation, etc at your fingertips. On the looks perspective, you have to hand it to Xiaomi for going further with the looks for a device which is always left behind at some corner. There is a lot to talk about the product and so we will talk about each perspective and my take on it.

Head on to the below link and bring one home:

Design and Looks :



The design and looks are where the Mi Router4C is light years ahead of other brand routers. A router is one of the networking devices which we usually leave out due to its complex designs and less importance. Xiaomi has done magical touches in its design perspective with very minimalistic design and bright sleek colourings. It has two LED lights in the front with one indicating the power in and the other giving the status of internet connection. The Router just blends in with any background and you can now even keep it a living room as it is really stylish. It has elegantly placed 4 antennas which can be turned according to one's will. The bottom is perfectly ventilated to incubate a well-cooled environment for the smooth working of the router at all times. It very small with dimensions of 195mm X 107mm which very compact as compared to the general trend of routers in the market.



Network Status Light

Off
Nothing is plugged into the external internet port or there is a problem with the connection.
On
The Network connection is normal.
Flashing
Sending or receiving data.
System Status Light

Off
Switched off or not connected to the power.
Blue
Functioning normally.
Orange
System updating (flashing), System booting up (constant).
Purple
Safe mode (flashing), System failure (constant).


Build quality: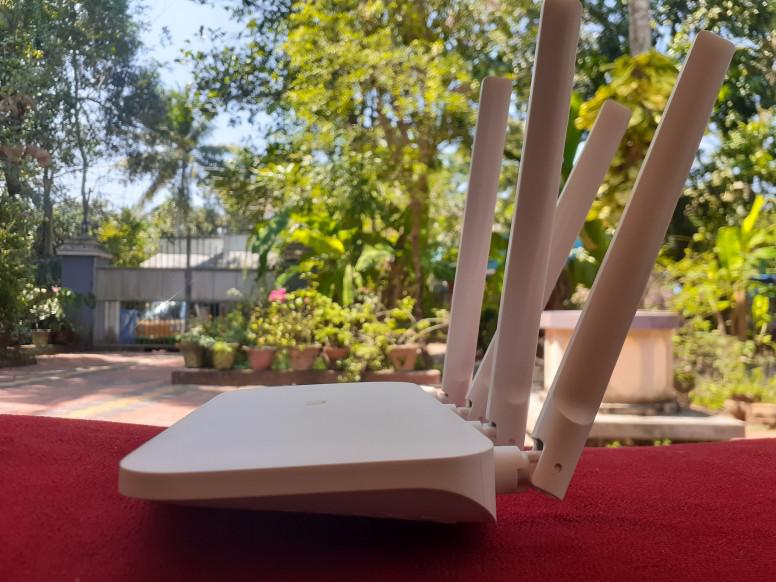 The material used is plastic or polycarbonate to be precise. It is very strongly built with none of the screws visible outside which gives a great finishing to the product. The antennas are very strongly attached and can be turned to any directional. The router is generally called as an omnidirectional router as it emits the wifi to 360 degrees without any difference in intensity.
Ports and Buttons :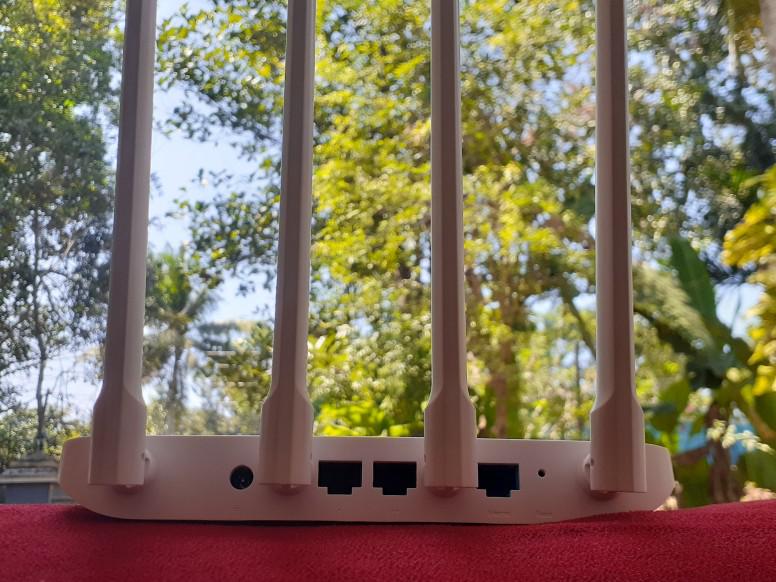 The device has a total of 4 ports with three RJ45 ports. The leftmost port is for power input from the adapter. It supports a 12V at 500mA supply which is rightfully provided by the adapter provided within the box. Talking about the adapter, It is an AC adapter capable of handling voltage from 100V up to 240V and power of 250mA while efficiently delivering 12V at 500mA. The next two ports are used for connecting other LAN devices. It also has an input WAN port and a reset button to reset the router externally with a single click in case of any issues.
Internal Hardware and Connectivity features :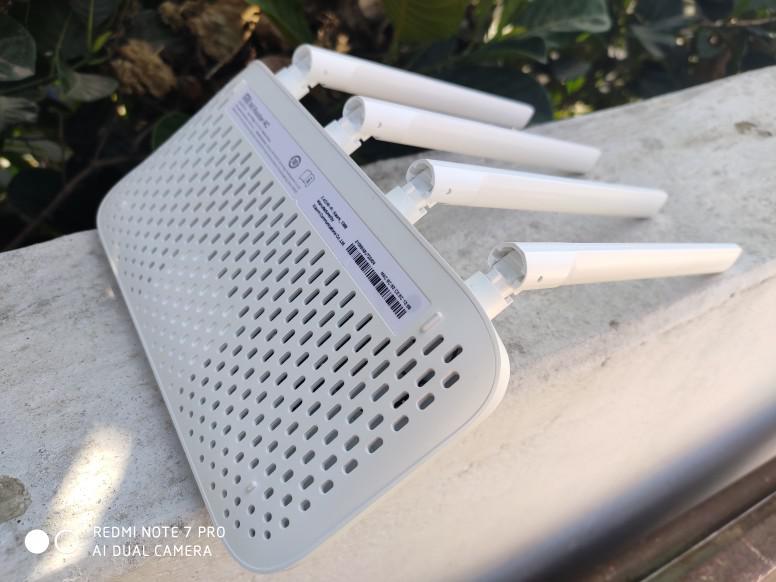 Mi Router 4C supports 2.4 GHz Wi-Fi 802.11 that offers speeds of up to 300Mbps It is powered by MediaTek MT7628N processor, 64MB DDR2 RAM, and 16MB Nor Flash ROM. Mi Router 4C can connect with up to 64 devices – up to eight times more than typical routers. The router also gets Wi-Fi optimisation feature which essentially boosts networks speed in case of heavy network usage. The Mi Router 4C can even be used as a Wi-Fi extender device to another Wi-Fi router in your house. The device comes with four omnidirectional antennas that promise no Wi-Fi dead zones and connection drops.
Smarter connectivity with Mi Wi-fi App control: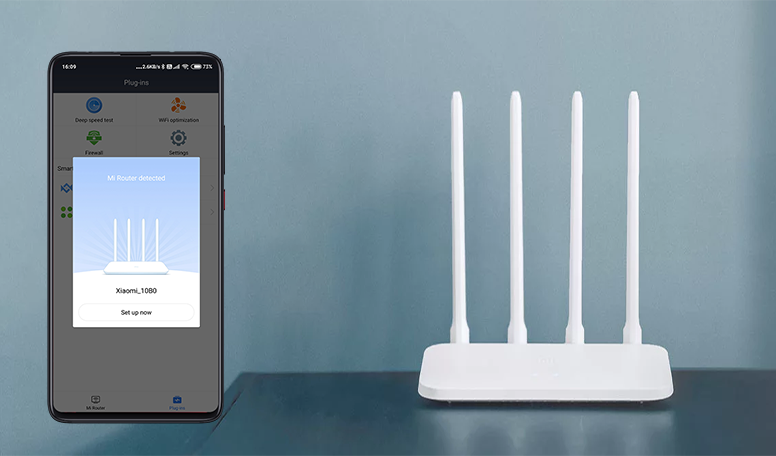 This one of the features which Mi routers always stands out from other routers even from the older Mi Router 3C. But in the new Mi Router 4C Xiaomi has gone far ahead with a separate app called the Mi Wifi app. The app is similar to Mi home app but dedicated to the router itself. One of the greatest advantages regarding this app is the easiness of setup and how better the management can be done at your fingertips. The router can be switched from a usual router to a repeater in a click of fingertips.

Other Useful Feature: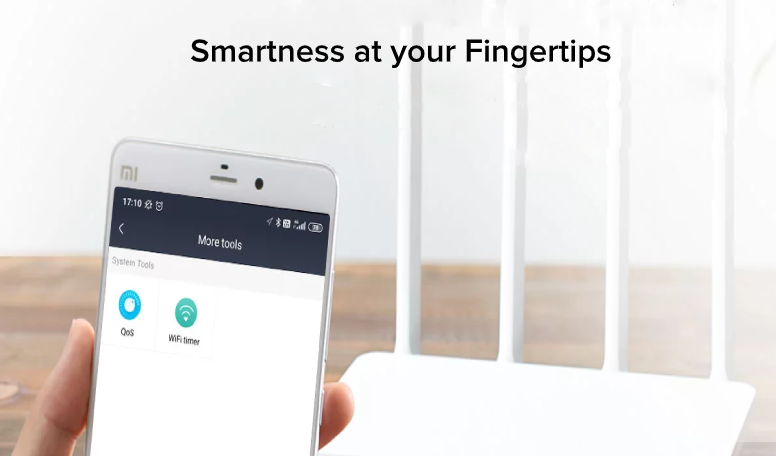 There are more smart features that make it stands out. The QoS feature and parental controlling facility are very welcoming as far as a normal user is concerned. To control the usage bandwidth allocation, block any user, parental control regarding usage from a simple app makes it uniquely smart. Another great feature is the Wi-Fi Optimization that works in just a tap, boost Wi-Fi speed and reduce bandwidth bottlenecks through cutting edge technology. It also comes with a repeater mode in-built so that it can be used in addition to an existing router and helps in extending coverage range in your home. QoS (Quality of Service) Manage and allocate bandwidth as per activity requirements with virtually no delays or dropouts, you can work and play with confidence. Mi Wi-Fi app allows you to prioritize and optimize bandwidth for latency-sensitive applications such as online gaming and video streaming. Parental controls let you manage what your children can and can't see, even when you aren't home.

As a normal user and Mi Fan, I became a fan of this router and still can't believe how Xiaomi could launch such a product with these many smart features, elegance and at this price point. They have done it again and announced loud and clear that Xiaomi India is the best smartphone and accessories brand and to believe in Innovation for everyone.



That's it from this review guys...!

See you again with other features of the new Mi Router 4C.












Rate