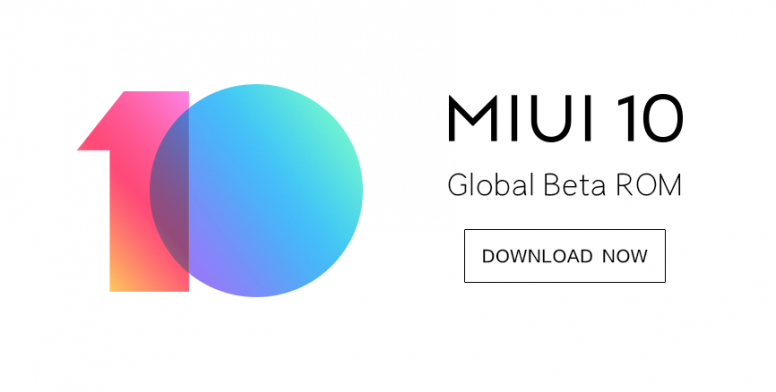 Hello, Mi Fans!
MIUI, the commingling formula of Android meets customization, is designed to elevate the user experience with imperative and whizz-bang features. Mi Community is glad to announce the full changelog and download links for MIUI Global Beta ROM 8.9.13
To serve the best to most users, MIUI comes with two different categories of iterations: MIUI Stable ROM and MIUI Global Beta ROM. Global Beta ROM, the weekly released version with cutting-edge features, serves best to the tech-savvy users. While MIUI Stable ROM focuses more on the stability of available features by holding the introduction of new features for a specific time frame. By default, the device ships with MIUI Stable ROM, you may learn more about MIUI
here
.
New Features
MIUI 10 Global Public Beta ROM Supported Devices:
Redmi 3S/Prime, Redmi Note 4, Redmi Note 3, Redmi 4, MI MAX/Prime, Redmi 4A, Redmi 5A, Redmi Note 4X, MI MAX 2, Redmi Y1 / Lite, Redmi Note 5, MI MIX 2, MI 5, Redmi Y2, Redmi Note 5 Pro, POCO F1 (Under testing)
How to upgrade to MIUI Developer ROM
1. Back up your data and apps before upgrading to MIUI, know more
here
.
2. Stable ROM users of MIUI, please upgrade to MIUI Dev ROM via fastboot method (download fastboot ROM
here
).
3. MIUI Global Beta ROM users, If your device is bootloader locked, please unlock it before fast boot flashing, know more
here
Full changelog
Notification
Some app icons are not showing in notification panel (all devices)
Gallery
OutOfMemory Error (all devices)
Display
Touchscreen responds slowly (POCO F1)
Localization
"Backup" is not translated to Italiano language (all devices)
Call record time is not translated (Redmi 4)
The spelling of 'calculate' is wrong in 'caculate date and jump' (all devices)
Sound
Headphone output sound is very low and distortion (POCO F1)
Fingerprint
Can't add fingerprint (Redmi Note 5)
Others
"OK Google " doesn't work (POCO F1)
Zoom Icon in camera gets misaligned when battery saver is ON (Mi A1)
Download Links
Redmi 3S/Prime 8.9.13
Recovery ROM 1286M 5651d14981a819c738ded46161998d2e
Fastboot ROM 1501M af241b86cd3405ffcece39fb2e4a78af
Redmi Note 3 8.9.13
Recovery ROM 1275M f781a14d192281d967f30bffb60e96fe
Fastboot ROM 1492M c37050d436d31143cc26a5ca9a882747
Redmi 4 8.9.13
Recovery ROM 1319M a149c493dca98f6682e5ecd65689bb01
Fastboot ROM 1792M f64530d3f855a9aa798bddab8df58b4d
Mi Max 32G 8.9.13
Recovery ROM 1504M de5cf253f3f62ddf9819fc8683dc84a1
Fastboot ROM 1718M 496682d6ac91df4a4cd27b8c6f21c27c
Mi Max 64G/128G 8.9.13
Recovery ROM 1505M 90d7065c9a25f39bb837b332b9fc813c
Fastboot ROM 1719M f8adc65f6af8ac8e8b583640fd72d3e6
Redmi 4A 8.9.13
Recovery ROM 1325M ca02d2f3a69fdaabe4160e25057327d9
Fastboot ROM 1808M 7a16c6572eb1159abdcf98344887eefc
Redmi 5A 8.9.13
Recovery ROM 1290M b76254b380bf74248dbac35ef51c2b19
Fastboot ROM 1980M 12f81aecd621cc4e3bbfaf656d036400
Redmi Note 4 8.9.13
Recovery ROM 1518M 9e60510590a5b7c8a4c759dcfad25827
Fastboot ROM 2002M 8d557b31f005b8ff4655c19bf2570704
Mi Max 2 8.9.13
Recovery ROM 1642M 3d65db243a34d2a8aa0d5db0f1bb6ac7
Fastboot ROM 2153M a60d11e4810c667768aa2ffff1ae946a
Redmi Y1 LITE 8.9.13
Recovery ROM 1271M ec15d95185a4299a2dad43623db4e4a6
Fastboot ROM 1845M 50addb46c8c8d89f709750684591135f
Redmi Y1 8.9.13
Recovery ROM 1278M aeebebb18c1caed08a82c6f772f50701
Fastboot ROM 1892M 42aa5b406d38f35da645fa2fa5837ce5
Redmi Note 5 8.9.13
Recovery ROM 1426M ab3c322bf4b2558d95469859d2c47b8e
Fastboot ROM 2237M 7c971ffe46e75ad3f1c8979adc0b1baa
Mi MIX 2 8.9.13
Recovery ROM 1647M 0838a57532c94b8b7e8d86091e36b0ea
Fastboot ROM 2094M b76cf00345c1a5c707bad3536ae6f9ed
Mi 5 8.9.13
Recovery ROM 1442M 4495cf131f67c8f9b26101398c9ae732
Fastboot ROM 1661M 33d66b33c31d873df1645f94322a54d0
Redmi Y2 8.9.13
Recovery ROM 1341M fb6c058fd53cd71111029fdf983c64d6
Fastboot ROM 2113M f34af62d0f926122d0431e69f561d77e
Redmi Note 5 Pro 8.9.13
Recovery ROM
NA
Fastboot ROM 2544M 0932f441520a20a2e14bc762e53ff3f5
POCO F1 8.9.13
Recovery
Not available
Fastboot ROM 2558M 4423c2d1deb3d4a9ea6cc28f28f2024f
Follow us
Mi Community is Xiaomi Community's official Android app and a home for Mi fans in India. It helps you share your ideas and interact with other Mi fans on-the-move. It odeclaredast and intuitive interface to post threads, reply, read the news and interact with others.
Mi Community App on Google Play Store:
What do you think about this update, let us know in the comments below?