Hi Mi Fans,
Every Thursday, we come up with a debate topic for our Mi Community users. This week's thread is on a very interesting topic which relates to numbers and arithmetic operations. You may wonder how MIUI is related to them, but we occassionally use a specific category of apps for these mathematical needs on our devices. Let me tell you which are they.



Any Guesses?




Yeah, you're right. It's none other than Calculator apps! From the simplest operations such as addition, substraction, multiplication, division to more sophisticated operations including logarithms, trigonometric and hyperbolic functions, we always depend calculators. Calculators ease our job and give accurate results always. On every computing device, calculator remain as a basic functionality. Since smartphone is a computing device, phone manufacturers included them on the device as well as many 3rd party calculator apps are emerged.

So, now arises a confusion, which calculator app is better??

Let's debate what makes Mi Calculator app to have an edge over other calculator apps.




Which calculator app do you use, and what features you love in it.

Have some points to debate? Great, we would like to heard them!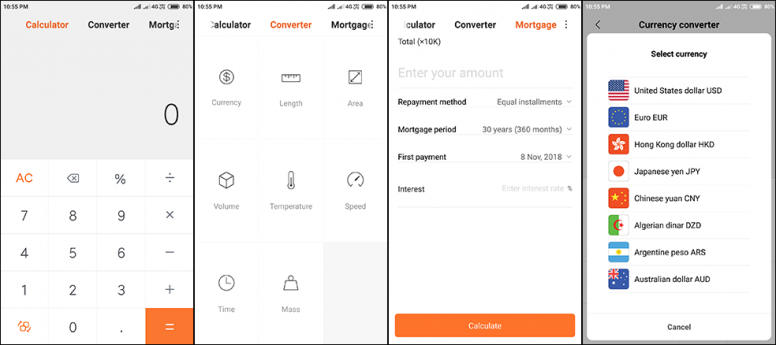 Features of Mi Calculator app to get you started:
User friendly interface: The interface of Mi Calculator app is minimal and clean. All the notable functions are accessible right from the main window.
Simple and scientific calculators: Can be switched between simple and scientific calculators according to user's preference.
Currency converter: A very useful feature if you're a traveller or trader. Mi Calculator can convert currencies of over 65 countries. The exchange rates are provided by Webull and the data is updating regularly.
Mortgage: Planning to take a bank loan? With mortgage, you can calculate your loan amount, period, interest, start date, repayment mode, etc. within the Mi Calculator app.
Length converter: Convert one unit of length to another unit of length in just one click. For eg: cm to km, m to mm, etc.
Area converter: Convert one unit of area to another unit of area in just one click. For eg: cm.sq. to m.sq, mm.sq. to cm.sq, etc.
Volume converter: Convert one unit of volume to another unit of volume in just one click. For eg: cm.cube to m.cube, mm.cube to cm.cube, etc.
Temperature converter: Convert one unit of temperature to another unit of temperatire in just one click. For eg: Celsium to Fahrenheit or vice versa.
Speed converter: Convert one unit of acceleration to another unit of acceleration in just one click. For eg: km/s to m/s, cm/s to m/s, etc.
Time converter: Convert one unit of time to another unit of time in just one click. For eg: seconds to minutes, minutes to hours, etc.
Mass converter: Convert one unit of mass to another unit of mass in just one click. For eg: gms to kgs, kgs to tons, etc.
Selection: If you think you made an error in your calculation and you want to correct the values right away, you can easily select that portion and edit the value.
Lightweight app: Mi Calculator is just 4.8MB in size. Thus it'll consume only a less amount of your storage space and RAM.

Without further delay, Let's start the debate!
Mi Calculator App Vs Other Calculator Apps
Let us know your points in comments below, Which one you like and for what features?
Rate