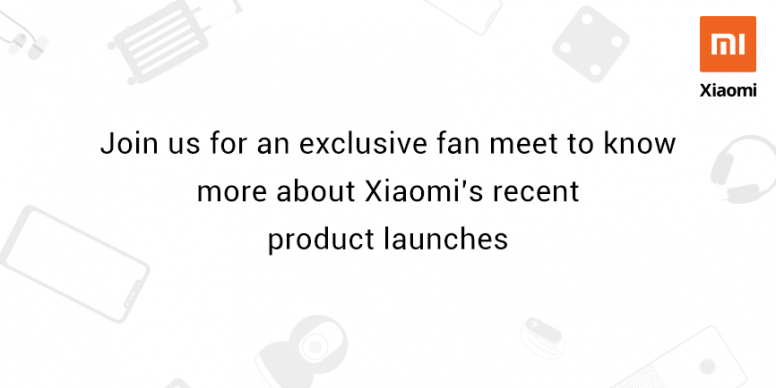 Type: Fan meetup
Time: 2018-12-03 17:00:00&nbsp ~ &nbsp2018-12-03 20:00:00
Venue: To Be Disclosed only to Selected Fans
Deadline: 2018-11-30 01:30:00
Applied: 17 users
Activity has expired!
UPDATE: As there is already an exclusive Xiaomi Fan meet is happening on 4th of December, Tuesday. So, we have planned to merge our fanmeet which was on 2nd December for a better fanmeet.
There will be no fanmeet on 2nd december.
Register now and get a chance for the hands-on experience of our new products.
Apply now using the Google Form below if you want to be the lucky one.
ONLY Selected fans will be notified about the venue details through email or phone number. So make sure to fill your correct information. We have got very limited seats. You can't afford to miss this exclusive meet, Xiaomi India Team will be joining us as well.


Original announcement thread: https://in.c.mi.com/thread-1676751-1-0.html

Hello Chandigarh! :)
Hope you're all fine!


What's happening everyone? Hope you're enjoying! It was a really great meetup last month.

As you all already know Xiaomi announced the latest Redmi Note 6 Pro last week, with a promise of doing fanmeet every month we are back ;)

So, we will be having an Experiential meetup, yes you read it right, let's join and experience the Redmi Note 6 Pro. We have planned the same for upcoming Sunday i.e 2nd December at Zakir Hussain Rose Garden, 12:00 PM. We will wait and gather on the main gate of Rose Garden for 15-20 minutes and will coordinate using our telegram group https://telegram.me/MiFCChandigarh if you're new, you can join here!

Let's meet and have some fun! Hope to see you all.
For further discussions head over to our Telegram group.

For the People who are not a Member of the Club yet and want to join the club, this upcoming meet and ones in the future!
https://telegram.me/MiFCChandigarh

MiFC Chandigarh Announcement Channel for all important updates at one place:
https://t.me/mifcchdupdates

Follow us on Twitter:
https://twitter.com/mifcchandigarh

Follow us on Instagram:
https://www.instagram.com/mifcchandigarh/