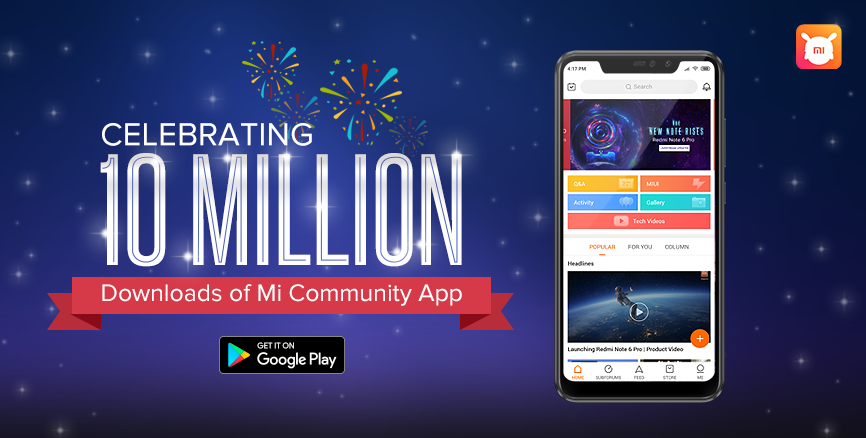 Hi, Mi fans!
Back in 2016, we started Mi Community with just a few Mi fans. Not only they helped us in posting amazing threads and building up different sections, but they also helped us in finding potential bugs. We tried to incorporate their suggestions and over a period of time built up a strong community of Mi fans and then we never looked back!
Mi Community has grown today as one of the biggest online tech communities. We take pride to share with you that we have 10+ million downloads of Mi Community app on Google Play Store. This is a great achievement and we are thankful to all the moderators, special team members, and of course each and every Mi fan who has registered on Mi Community.
To celebrate this feat, we're giving away Redmi Note 6 Pro F-code to every 50th valid reply to this thread
Winners list:
We will add Fcodes to the winner's Mi ID in by 14th Dec, please login to mi.com account to check the Fcode.

| | |
| --- | --- |
| username | Mi ID |
| Black.01 | 1607426758 |
| fahadh691 | 1624809696 |
| Sofia Anwar | 1775535908 |
| Aniket Patra | 1607998817 |
| 1591939600 | 1591939600 |
| 1750952793 | 1750952793 |
| 1623792947 | 1623792947 |
| shahaboy002 | 1722940713 |
| 5178169203 | 5178169203 |
| John Enghi | 1591460971 |
| tanay.keshri | 1584337736 |
| 115276463 | 115276463 |
| K@sh | 1727551343 |
| pmadhukar95 | 1623444112 |
| 1758884606 | 1758884606 |
| Sayan Ghosh | 1579552731 |
| Robben | 1723683511 |
| kriti12 | 1797978228 |
| 1629045439 | 1629045439 |
| Alfons Beirs | 1687783562 |
| 1751312689 | 1751312689 |
| 1630331387 | 1630331387 |
| Hari Sankar G | 1593077062 |
| 5192173007 | 5192173007 |
| 1707292523 | 1707292523 |
| Runal | 1616565791 |
| HorseofTroy | 1749803956 |
| Swarup Nandgaonkar | 1797181532 |
| Maya chettry | 1761448198 |
| 5173460723 | 5173460723 |
| 1728070719 | 1728070719 |
| Arun Abhimanyu | 1738332115 |
| Nazeer In | 1720079605 |
| SHUBHAM DAHIYA | 1642313640 |
| Anuj Paliwal | 1704416059 |
| Bholu0000 | 5195693992 |
| BHARATKUMAR BHAGAT | 1619056345 |
| 5150432445 | 5150432445 |
| Dimple Bhagat | 1803368146 |
| 5183733825 | 5183733825 |
How to participate
Reply to this thread with a screenshot showing your date of registration on Mi Community app

To take a screenshot on your smartphone, open Mi Community app - Me - Tap on your profile name - Profile

Share the screenshot in reply to this thread

Only a reply with valid screenshot will be eligible for winning F-code

You can reply only once to this thread



What to win
Redmi Note 6 Pro 4+64GB F-code (Black) to every 50th reply
Moreover, every valid reply will be awarded '10 Million Downloads' medal
Medal preview:
Deadline
You can reply from now until 2nd December 2018

F-codes will be shared via Mi Community PM to the winners



Rate