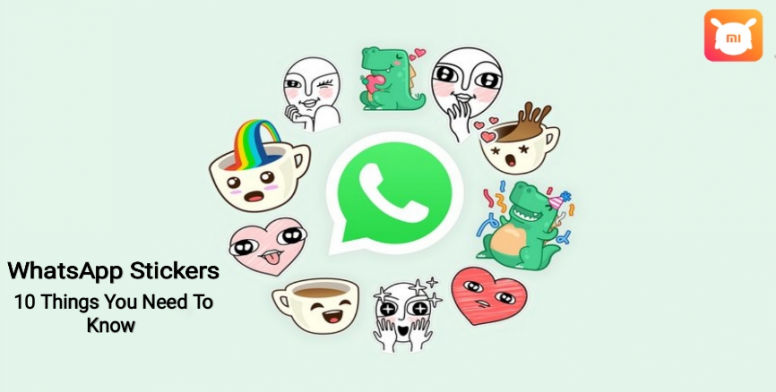 Hi Mi Fans!
You've already seen WhatsApp Stickers and also used them. Truly it was an enchanting feature of WhatsApp that was released after a long wait. Just like emojis, stickers also convey emotions better than simple text. Some stickers also have text on them, so you get two benefits in one. WhatsApp stickers come with many features of its own. You can add them to favourites, group them, etc. Perhaps, you've already known about these but still, you're requested to take a look in this thread.
So, without wasting any more time, let's get started. In this thread, we shall discuss over some basic things of WhatsApp Stickers.
Note: WhatsApp supports stickers on its app version 2.18.329+ for Android. To do these things, it's recommended to update the respective.

How to send stickers: To send stickers, tap on the emoji icon next to the typing area (in left side) of WhatsApp. Earlier, at the bottom, you used to find only emoji and GIF here. But Now next to the right side of GIF, you will see the sticker icon. Just open it and choose the stickers of your choice. It'll work in personal chat as well as in group chat.
View recently used stickers: You know that emojis have a Recently viewed section, everywhere. Just like it, you get one in stickers as well to see the recently used ones. When you open the sticker panel, Recently used stickers is the first option from the left, at the top. The icon looks like a clock.
Add to Favourites: You've got this option as well in the WhatsApp stickers. To add any sticker to favourites, open the stickers panel and then just tap and hold a bit on the following sticker, a message will be shown - "Would you like to add this sticker to favourites?". Simply tap on the option 'ADD'. Alternatively, tap the received or sent sticker once and select 'ADD TO FAVORITES' from the pop-up. To view favourite stickers, you've got a star-shaped icon at the top.
View stickers based-on emotions: Just next to the Favorites icon, you have the Heart-box icon in the right. Here you will find sticker categories, based on the emojis present in the stickers. You have sections like heart, sad, happy, etc. For instance, in the happy section, you get stickers with a happy face.
Grouped stickers: When you send multiple stickers to somebody, at the same time, WhatsApp will automatically group them in pairs. Once you send the stickers, you will not see the sticker pair immediately. You need to leave the chat and reopen it. While grouping stickers save space on the chat screen. Currently, you can't send two stickers together manually.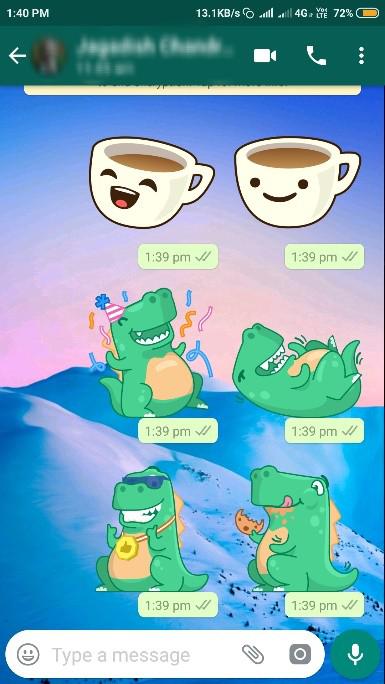 Grouped Stickers
Add new stickers: By default, only one sticker pack comes pre-installed with WhatsApp. But that shouldn't disappoint you as you can add more stickers from WhatsApp's collection. To do so, open the sticker screen and tap on the Add icon at the top-right corner. Here you will find all the sticker packs. Tap the Download icon next to the pack that you want to download.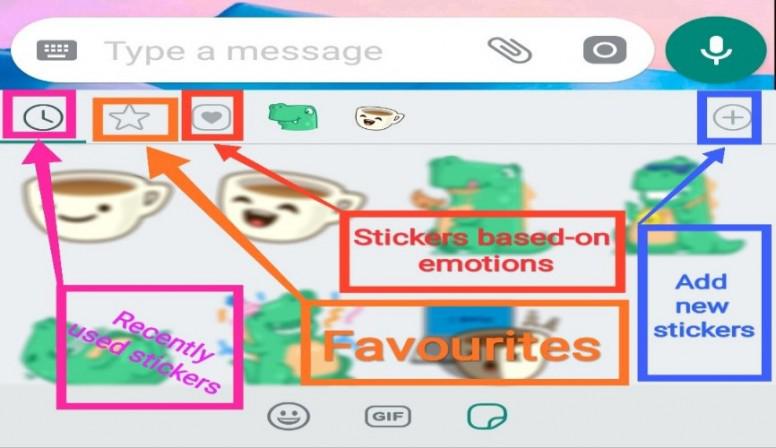 Install sticker pack from Received Stickers: WhatsApp has a significant collection of stickers. If someone sends you a sticker and you like it, you don't have to go looking for it in every sticker pack. Just tap on the sticker once, and you will get the option to view the sticker pack. You can add the stickers to the Favorites section in case you already have them.
View installed stickers: All the stickers that you have downloaded, will appear under the My Stickers tab. To access it, open the Sticker panel. Then tap on the Add icon and go to My Stickers.
Reorder sticker packs: If you have downloaded several sticker packs, all of them will be available for you to use. You can arrange them in the order of your preference. To do so, open My Stickers section and then hold and drag the stickers using the Move (four vertical lines) icon to change their order. Once you change the order, it will immediately reflect on the main sticker screen.
Delete sticker packs: Don't like a certain sticker pack? Just trash it. To do so, go to My Stickers section and tap on the Delete icon next to the pack that you want to delete.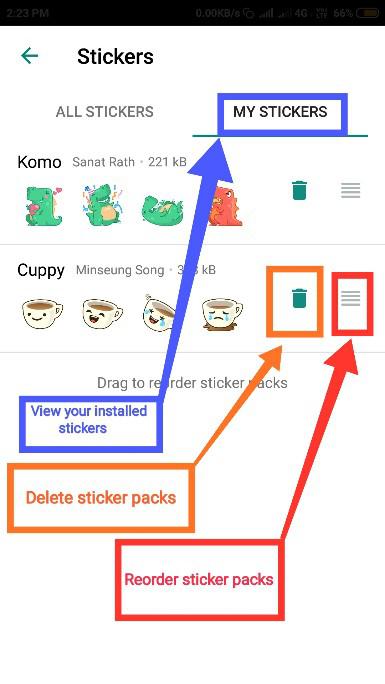 Conclusion: Currently, WhatsApp doesn't support animated or motion stickers. I hope they introduce this feature soon. But to compensate for it, you get the ability to create your own personalized custom sticker packs. It's not like that you've to download it. Download your preferable ones only when you want to send stickers to somebody. Otherwise, to view stickers, you don't have to install that specific sticker pack.
• Image Credits: Screenshots (Redmi Note 4)
Be the first one to be notified: Follow us: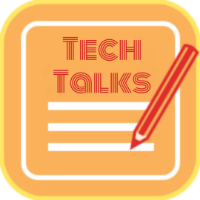 Thanks for reading
So, what's your opinion?
Please share your Feedbacks in the Comments section below
Rate