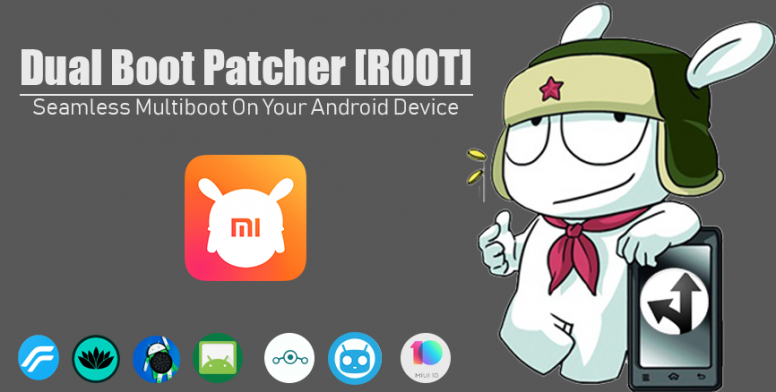 DISCLAIMER:
I'm not responsible if you brick your device or face any heating issues
Please don't complaint if you don't have root access

WARNING:
Read the steps properly or else you might lose your current ROM
PROCEED AT YOUR OWN RISK


What is Multibooting?
Multibooting is keeping two or more operating systems on your device at the same time. You can keep as many as you want and boot to any of the operating systems as per your preference. This gives you the power to experience several ROMs on the go.

How to Multiboot my Android Device?
For multibooting your device, you need a rooted device and an application called DualBootPatcher. DualBootPatcher is an open-source app that allows multiple ROMs to be installed on a single Android device. It does its best to work with existing code and does not require explicit support from ROMs. There are currently 200+ supported devices and their variations.

What does the app do?
It patches:

Custom kernels for dual boot support
ROMs so that they can be installed as secondary
Google Apps packages for AOSP-based ROMs
SuperSU so that it can be used in the secondary ROM

Check List For Supported Devices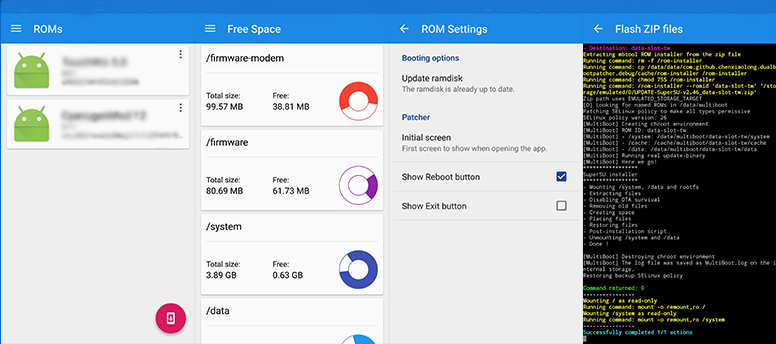 How to use the App?
Download, install and open the app. [Download The App]
Swipe to the right to open the menu. Click "ROMS". Now if this is the first time you use it, it will ask you if you want to set kernel. Do so!
After it has finished go to ROM Settings (primary ROM 3 dot menu) and select Update Ramdisk. It will update it and will ask you to reboot. Press Reboot Now, or Reboot later.
Now Download any ROM you like and open the app again and open the menu and open Patch Zip File from the menu. Ensure that your Device is set to (eyeul) and under Partition configuration select secondary (will install 2nd ROM in /system) or data slot.
Click continue and select where to save the patched file.
You should see the file is being put in "Queue". Just click the confirm button to the upper right.

Note: If you want to go back, just swipe the ROM in the queue to right and start over.
The app will patch the zip. When done, go back to "ROMs".
Click "Flash zip files" (the big pink button on the lower right). Click the pink plus button to add your previously patched zip file.

Note: There is also an Odin option available for Samsung Devices.
Locate the file you have patched in step 7. Unless you have changed the name there, it should be something like ROM_name_partition_config_ID.zip (like lineage-15.1-20181213-nightly-tissot-signed.zip).
Click on that file and choose "Keep location". Now confirm the flash with the button on the upper right side.

Note: You can also install the patched zip files in recovery.
It will now open the terminal and begin flashing the file. This requires some patience. After it has flashed the file you'll see success message in green.
Now click back and you should see your newly installed ROM along with the Primary ROM.

Note: You can find more options by clicking on the three buttons on each ROM.
Now reboot and wait till finishing 2nd ROM first boot. install DualBootPatcher on the newly installed ROM as well so you can easily switch ROMs.

Once installed, you will see a list of ROMs installed and switch easy.

Voila!! Keep as many as you want!

Partitions Configurations: [Read Carefully! Don't Mess]
The patcher offers several locations for installing ROMs:
Primary: This is normally used for installing a zip to the primary ROM. It is not required, but is strongly recommended because it has code to prevent the zip from inadvertently affecting other ROMs.
Dual: Dual/Secondary is the first multiboot installation location. It installs to the system partition. This is a good spot for installing a second ROM because it doesn't take any space away from the internal storage.
Multi-slots: There are 3 multislots: multi-slot-1, multi-slot-2, multi-slot-3. These install to the cache partition. This is specifically for devices, like the Samsung Galaxy, that have a massive cache partition.
Data-slots: There can be an unlimited number of data slots. These install to the data partition and eat up space on the internal storage. This is useful for devices where the system partition is nearly full and the cache partition is tiny. These slots are named "data-slot-[id]", where "id" is something you provide in the app.
Extsd-slots: There can be an unlimited number of extsd slots. These install to the external SD card, which is useful as it keeps the ROMs off of the internal storage. Note that the ROM's data files are still stored on the data partition.




How to boot to another ROM?
This is simple ... There is no reboot to primary, secondary or whatever. So all you have to do is:
1) Go to ROMs section of the App.
2) Click on the ROM you want to boot to. You should see "Switching ROM" message. After few seconds, you should see a report message saying that "ROM successfully switched".
3) Now just do a normal reboot of your device. See the magic! It should boot to the ROM you have switched on step 2.
Note: You can find more options by selecting the three buttons on each ROMs (like creating reboot widgets for directly rebooting to specific ROM).
You also need to install the App to all of the ROMs you install. Otherwise, you won't be able to boot to other ROMs!

King Regards
Deeptesh Biswas
AKA ByteCodeZero

Rate