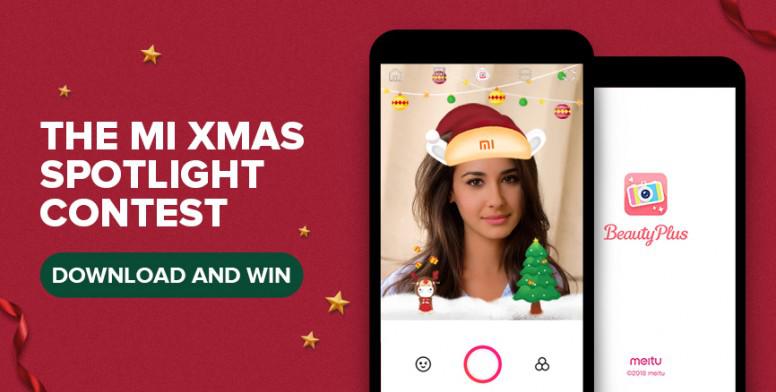 Winner Announcement
Winner | Title : The Unbeaten Indian Champ - Mi Xmas Spotlight Contest
1st Runner Up | Title : The Indian Selfie Chief - Mi Xmas Spotlight Contest
2nd Runner Up | Title : The Indian Selfie Ninja - Mi Xmas Spotlight Contest
4th to 10th Position Winners | Title : The Cool Selfiekars
How to Claim your Prize:
1. Inbox / Direct Message us with your Mi Account ID on our Mi Apps store Facebook page by 11th Jan 2019
2. You shall receive an email from us with the prize e-coupon in your Mi Account
3. You can then use the e-coupon on Mi.com website to buy the winning prize product at free of cost
Important Notice:
1. Prize claiming validity period is between 9th Jan - 11th Jan, after which winners cannot claim prizes
2. Prizes will not be sent to winners who sends their Mi Account IDs after 11th Jan 11:59 pm
3. If you have submitted your Mi Account ID within the prize claiming validity period and yet not received the prize e-coupon within 3 working days, then
------------------------------------
Hurray!!! Santa is in town Mi Fans, that too one day early... This Christmas season we present to you The Mi Xmas Spotlight Contest 2018.
What good a festival is without some adorable selfies? So get decked up, put on that killer smile and sink into the winter festivities to get the Mi Christmassy spotlight on you. Go click crazy with Mi exclusive Christmas stickers available only on Beauty Plus app to participate in this contest.
Hurry, this is your chance to win Mi TVs, POCO and Redmi Phones, etc and many more interesting goodies.
Timeline
21st Dec 2018 - 30 Dec 2018
The Mi Xmas Spotlight Contest 2018
(Link will only work in Xiaomi devices)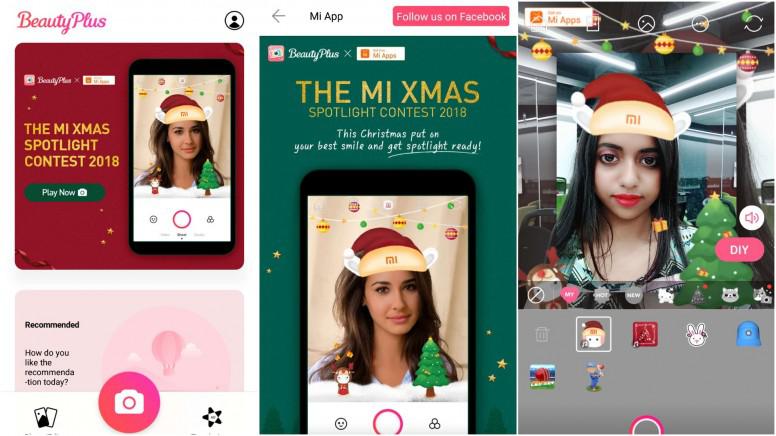 How to Participate
Download the app by clicking here - BeautyPlus (Link will work only in Xiaomi devices)
Take a super cool selfie with the Mi-exclusive BeautyPlus Christmas sticker to capture Christmassy you
Visit the Mi Apps Facebook page (https://www.facebook.com/Miappstore/)
Like the Mi Apps Facebook Page
Post your Christmas selfie as a reply to The Mi Xmas Spotlight Contest post on Mi Apps Facebook Home Page with mandatory hashtags #MerryMiXmas #MiIndia #BeautyPlus
And there you go, get as many friends and family to like these selfies
Christmas selfies should be posted mandatorily by 30th December 2018

Must Follow Rules
Users must post selfies with Mi-exclusive Beauty Plus Christmas sticker by 30th December 2018 to qualify for being winners
Users must mandatorily use mentioned hashtags while posting the pictures
In case of a tie, winners will be anonymously chosen by the Mi India team through a lucky draw.
Any photo posts made before or after the contest timeline will be considered invalid

Who Gets to Win
Winner: The Unbeaten Indian Champ - The Mi Fan who gets the highest number of likes
1st Runner Up: The Indian Selfie Chief - The Mi Fan who gets the second highest number of likes
2nd Runner Up: The Indian Selfie Ninja - The Mi Fan who gets the third highest number of likes
The Cool Selfiekars: the users with 4th to 10th highest number of likes will also be recognized as

Winning Prize
Winner - Mi LED TV 4A Pro 49
1st Runner Up - POCO F1
2nd Runner Up - Redmi Note 6 Pro
4th to 10th place holders – Mi Selfie Sticks

Also, the top 3 winners will get featured on our official Facebook and Instagram pages with respective winning pictures and contest titles.
Terms & conditions
Seeing the fan response and excitement, we decided to start the contest one day before, instead of 22nd Dec 2018, we are starting it on 21st Dec 2018
Winners' list will be announced on 9th Jan 2019
To avoid any form of dupery, winners will be contacted through their Facebook page links and Mi IDs
The final interpretation right of the contest belongs to Mi App Team
For any questions related to the contest, email us at: miapps-feedback@xiaomi.com
Users increasing likes through autoliker or other like increasing apps/mechanisms will be disqualified.