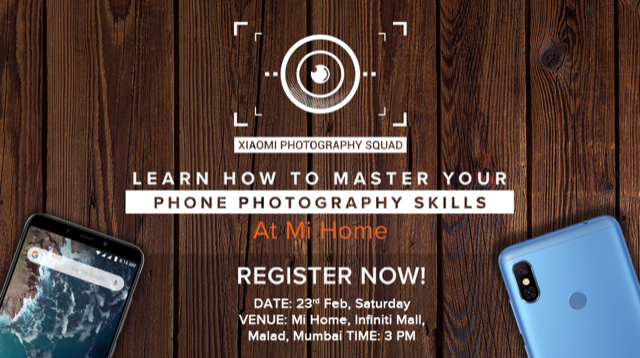 Type: Fan meetup
Time: 2019-02-23 04:30:00&nbsp ~ &nbsp2019-02-23 06:30:00
Venue: Mi Home, Infiniti Mall, Malad
Deadline: 2019-02-23 01:56:00
Applied: 194 users
Activity has expired!
Hello Mi Fans,
We are hosting an exciting event for our fans who are interested in learning Smartphone Photography. It will be conducted by a professional Photographer.
Details of the Workshop
Date: 23rd Feb, Saturday
Venue: Mi Home, Infiniti Mall, Malad
Time: 3 PM
Click the 'Join' button and fill in your details. This event is open only for Mumbai residents.
Few of the topics that will be covered during the workshop;
1) Rule of thirds
2) Straighten feature on Xiaomi smartphones
3) Importance of keeping the phone steady while shooting
4) Shooting during the golden hours
5) Importance of keeping the lens clean
6) Using Manual mode;
a) Long Exposure using slow shutter speed.
b) Adjusting the white balance to achieve the colors according to one's taste
c) Using Autofocus to take some cool Bokeh shots
Rules
· You must own a Xiaomi Phone and carry it with you in the workshop
· You must be available on that day
· Mumbai only
Rate