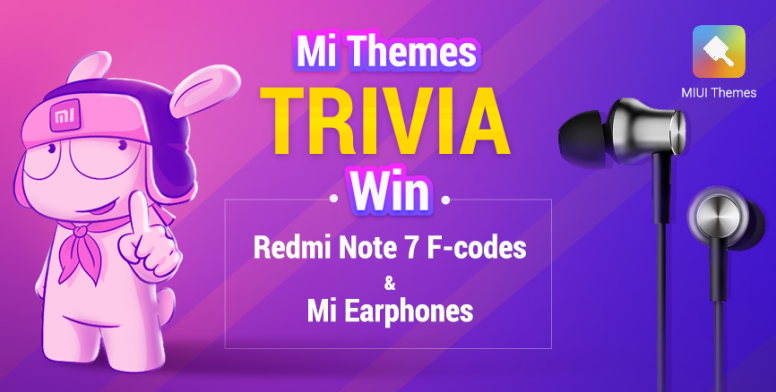 Mi Fans! Are you guys waiting for the next flash sale? We are excited to announce the Mi Themes Trivia contest. Participate in this to win F-codes for Redmi Note 7 and Mi earphones.



Timeline

6 to 9 March




How to participate
Go to Mi Themes app - here (link will only work in Xiaomi devices and in Mi Community app)
The user needs to go themes app - select their favorite Themes/wallpapers/ringtones - apply it - take a screenshot
Post the screenshot in comments.

Prizes
Redmi Note 7 F-codes (x5)
Mi Earphones (with in-built mic) (x3)

Winner selection
For F-codes, winners will be selected on the basis of the 7%, 27%, 67%, 77%, 97% of total no. of comments
Earphones, Winners will be selected on the basis of the 17%, 57%, 87% of total no. of comments

T&C's
The screenshot has to be clear and should not be repeated or copied.
A user can comment multiples times, but with different screenshots of the Themes/wallpapers/ringtones respectively.
If a user wins multiple times then the higher valued prize will be considered valid, and the next subsequent valid entry will be the winner.
Mi Community reserves all the rights to make any changes, at any given time, without prior notice.

Winner Announcement
Prize

Congratulations to all the winners! Please check your PM (messages) on Mi Community for details on how to claim the prizes. F-codes have been directly sent to you and other winners have been asked for the shipping address and other details.


Participate now!






Rate