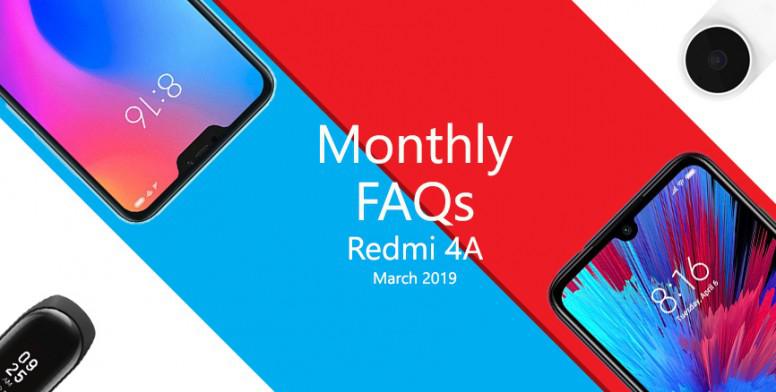 Hi Redmi 4A users,
We are introducing a Monthly FAQ thread in which we will include all those questions which are asked by many users with a proper answer. We will post these type of FAQ threads every month where we will take all the user queries and concerned (of that particular month) and will merge them together here with solutions.
Note: Please go through all the questions and let me know if there are furthermore queries in the comment below. Also please do not create threads again and again with the same queries which are already mentioned below :)

Q1. Will Redmi 4A get Oreo update?
Ans. It already got one major Android upgrade from Marshmallow to Nougat. And there is no official announcement regarding Android Oreo update.

Q2. When Camera2api will be available in Redmi 4A?
Ans. There is no official announcement when this feature will be available.

Q3. When Redmi 4A will get Portrait mode in back camera?
Ans. As of now, there is no official announcement regarding the Portrait mode for the back camera.

Q4. While updating MIUI, why the updater app is working abnormally i.e. showing percentage in negative or percentage greater than 100?
Ans. It is a bug of the updater app which will be resolved soon. You can download the update and this bug will not consume extra Internet Data.

Q5. Why mobile is hanging too much?
Ans. Since Redmi 4A is a three year old device, we cannot expect high performance from it, so clear the cache from the device using Security app and close the apps which are running in the background. It the problem still occurs then perform the Factory Reset.

Q6. How can I transfer apps to External Memory Card?
Ans. In the latest Android Devices, this feature isn't available.

Q7. When Redmi 4A will get Dual VoLTE feature?
Ans. No, Redmi 4A doesn't supports Dual VoLTE.

Q8. Why PUBG is lagging?
Ans. PUBG is a heavy game and to run the game smoothly the device should have the recommended requirements. As Redmi 4A is a budget-friendly device, there can be some lag in the game.

Q9. My Redmi 4A is not supprting otg?
Ans. Redmi 4A support OTG, Make sure your pen drive should be in FAT32 format. You can also try rebooting your device once.

Q10. Why I am facing too much battery drainage?
Ans. This issue is faced by many users in many devices. This issue is reported to the developers and they are working hard to resolve it soon.
You can perform battery calibration also. Charge your device fully and use it without charging until it switches off. When the device is switched off then charge it fully but don't switch it on and then see the battery performance. This method helped many users.

Q11. How can I enable full screen gestures on my Redmi 4A?
Ans. As of now, full screen gestures are only available on full screen devices which have on screen navigation keys.

Q12. My device is heating a lot. What could be the issue?
Ans. Don't use very heavy games and apps for long on your device. And even don't use your device while charging. If still, you face heating issues, post the device temperature along with apps usage graph and MIUI version.

Q13. What is the latest ROM for Redmi 4A?
Ans. Currently latest global stable ROM is MIUI 10.2.1.0 and the latest beta ROM is 10.9.3.14 Check your updater app for latest updates.

Q14. Does Redmi 4A support QC 2.0?
Ans.No, it doesn't support Quick Charge. It takes approximately 2 hours 30 minutes to charge Redmi 4A from 20% to 100%.



Hope you got the answers of the most asked question...

We will come with more answered questions next month

Till then Stay tuned to Mi Community!!