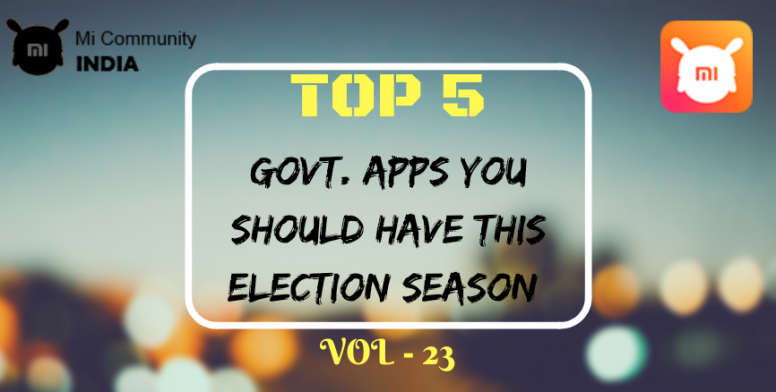 Hello, Mi Fans!!
Greetings and wishes to you all from App Review Team. Welcome to our one more App Review weekly roundup. Now we live in the smartphone era. And apps are the backbone of smartphones. From morning to night various apps help us to complete our work. We App Review Team are committed to delivering the best to you. Today, we have picked top 5 reviews this week so you can get them if you have missed it earlier. Let's get started!
[ART] Voter Helpline - #GoVerify Your Name in the Electoral Roll
Author -
Surya Prakash Gautam



Voter Helpline app taking forward its continuous efforts of building an active democratic citizenry in the country. Election Commission of India has undertaken a new initiative by designing a mobile application for developing a culture of avid electoral engagement and making informed and ethical ballot decisions among citizens of the country. The app aims to provide a single point of service and information delivery to voters across the country.



[ART] cVIGIL - App That Empowers The Voters



This app has been developed by Election Commission. The full form of the cVIGIL is Vigilant Citizen. With this app, voters can now report any Model Code of Conduct violations and election misconducts within minutes of witnessing them. The flying squads will navigate to the spot of incidence with the help of auto location to take prompt action. When you report anything on this app takes pictures with GPS so that it can be helpful to track the source of the report. So let's dig into the app and find out all the details.



[ART] PWD App - App That You Need For PWD Voters



This app has been developed by Election Commission of India for the PwD's. This will enable Persons with Disability voters to mark themselves as PwD and get doorstep facilitation and other facilities meant for PwD voters. They will get doorstep service of new registration and verification and also service in time of voting.



[ART] RTO Vehicle Information



RTO Vehicle Information app vehicle address and owner details may be very useful in the time you are planning to buy a two-wheeler or four wheelers. You can fetch the details of RC(Registration under RTO of respective state and city) of the vehicle and can decide your decision depending on the vehicle details. You can fetch the registration year, name of the owner, vehicle registration city and other important information. Best app for all India RTO vehicle registration details number search in RTO Vehicle Information app. Here you can find vehicle registration information of all India addresses in seconds.



Rate