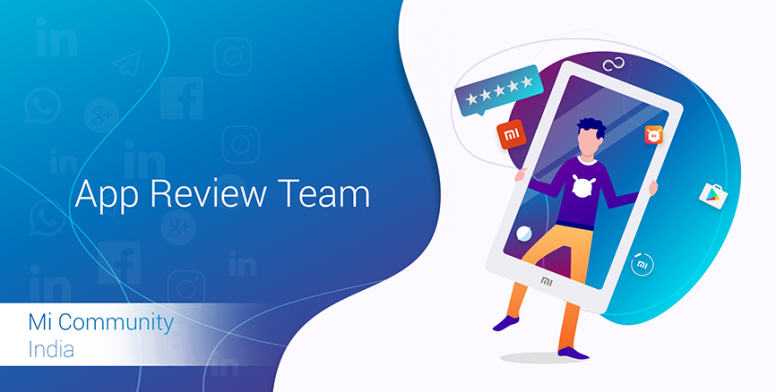 Hi Mi Fans!
Hey Everyone there, we are living in the era of tech and we all need best of tech. Tech nowadays, making our lives more comfortable and easier to live. When we feel bore, there's TV's for entertainment, and then it's also been getting the Power of Android, just take a look at the Mi TV series . Even From Fans to Camera, everything is getting the Power of A.I. now, so why not Ur phone? Let's meet the GOOGLE ASSISTANT which will surely help you as a friend and as well as act as a good helper too.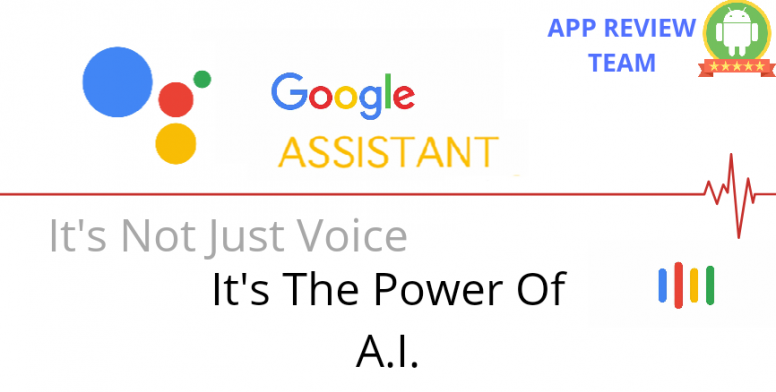 The Google Assistant, an smart A.I. powered assistant is provided by Google LLC for free on Playstore. The app is designed to provide you with the power of high A.I. capabilities and deep Machine Learning abilities to learn and know more about You. The app helps you in some basic tasks such as launching apps, turn on flash, and more. It doesn't stop at just doing simple tasks, but even it can act as a real human and can communicate with you, the app has humour to even make you laugh by some jokes. It even search the web for you, remember your name, your address and whatever you want your assistant to. Google Assistant brings A.I. at its best.
PREVIEW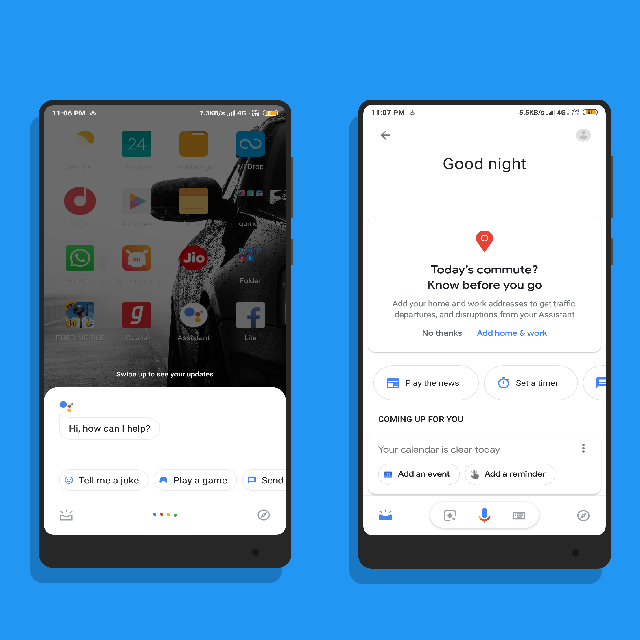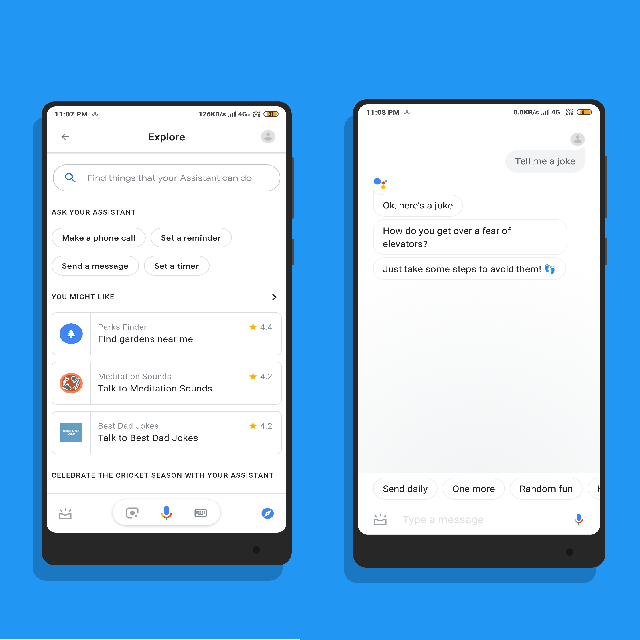 FEATURES
A.I. - High AI capabilities help the app do more for you. It has the power to do things on its on, such as telling a quick joke, a quick fact, launch apps and that too by just voice commands.
Machine Learning - With the power of machine learning, now your assistant got ability to learn from the experiences and remember things to tell it. Try telling him your name or birthday, it will surely remember it !
Entertainer - Your assistant can make you engage on conversations with him. Ask it questions and it will surely answer back with one of your expectated answers, or even may surprise you . He can crack jokes and tell you some more usefull info.
Your Reporter - Don't know about what's happening outside? Get to know news about the day and let you know if you need an umbrella today? Ya, The assistant even keeps you updated with weather , just ask it "What's the Weather today?" Or as you want to ask in your own style.
Play Games - The assistant being an helping hand, also packs some A.I. based text games which also comes with music although. The games are so surprising that you won't believe that it can do this also ! Enjoy with the Assistant !
Play Music / Videos - Feeling too boring? Or in a mood of something else, how about listening to your favourite track or watching some funny vids on YouTube ? Let your assistant do all the work, the only thing you have to do is Command !
Go Hands Free - Busy ? Don't have time to search the web by typing? Just say "Hey Google !" And tell it what you wanna find on the web. Now don't even fall short even if both your hands are not free from work and there's a call, command your assistant to pick up or even call back someone. Your assistant is even so smart that it can send text msgs to your contacts.
Set Alarm - Set alarms for mornings and whenever you want, so that you never wake up late .
Google Lens - Now Google Lens Integrated in the app. See the world through A.I. detection, know about the products and things around you easily !
Be a updated Traveller - Ask the assistant before about the road from which you will travel and be one step ahead from others. Get directions to your favourite places and more.

Pros And Cons
Pros:
High A.I. capabilities.
Can do simple and basic tasks for you.
Works hands-free and with voice commands.
Can be trained to recognise only your voice and it will only work on your voice commands.
Can remember everything you tell it.
Can entertain you.
Less size.

Cons:
Still can't perform many other tasks.
Sometimes doesn't meets the expectations.
Sometimes when asked a question, it search the web instead of giving answer.

MY Opinions
Though it needs some little work towards more perfection, it can still help you in many of your tasks, it can even calculate for you. I personally love using and Google assistant and I love lusty jokes and Facts from it.

*NOTE: If the app is present from previously on your device then you don't need to download the app again from playstore!
DOWNLOAD
Rate