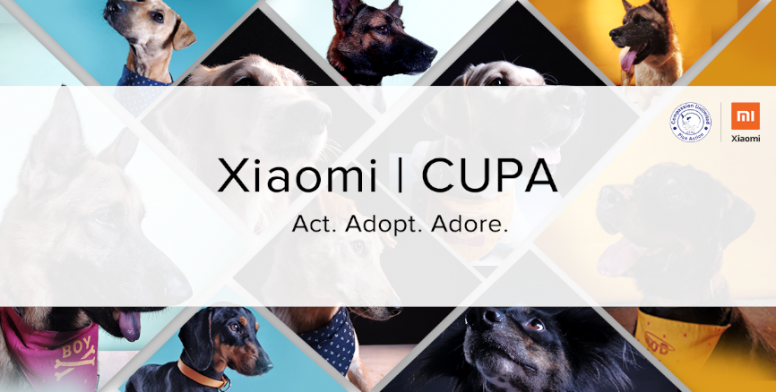 Mi Fans!
Each year more than 500,000 animals are abandoned in India and relegated to animal shelters. These abandoned animals do not have a home, and do not receive the love they deserve for no fault of theirs. In an effort to lower this number and help these animals find a loving home we, at Xiaomi, in collaboration with
CUPA (Compassion Unlimited Plus Action)
, are putting our initiative forward today.
Let's be more like animals and learn to love each other irrespective of color, size, shape, breed, race or name!
The joy in having a pet does not lie in buying him or her from a pet shop or a breeder. It doesn't lie in how much you paid or what your neighbors think either! Pets will always be kids, depending on us for everything – meals, walks, vet visits, love and cuddles – but sometimes even this becomes "inconvenient" for pet parents. CUPA receives multiple calls every single day about pet dogs (Labradors, Golden Retrievers, Pugs, Pomeranians, Saint Bernard's, Rottweilers, Great Danes and so on) seen on our busy streets obviously lost, confused and vulnerable from suddenly being yanked out of the safety of their former homes. Many of these dogs are picked up by CUPA and housed until suitable homes are found for them.
Indian dogs (yes, our very own streetie!) make perfect pets. They are as loving, smart, faithful and good looking as any foreign breed and definitely more strong and sturdy given their native roots! We have come to realize that only an enlightened and compassionate mind can see a streetie as "a breed apart!"
Active Adoption
There are multiple ways of finding a pet and becoming a pet parent. One of the ways that we want you to consider is Active adoption. Through active adoption, you can help us find a new home for a pet and in the process, you will find a companion for yourself.
Passive Adoption
If you have been considering to adopt a pet but the only thing holding you back is whether or not you will be able to take care of the pet all the time, you can now opt in for Passive adoption. It is an arrangement where CUPA looks after the well-being of your adoptee; you can always drop by and spend time spoiling him/her silly.
Xiaomi x CUPA Presents - Act, Adopt, Adore
Pet Adoption FAQs
What is the adoption procedure at CUPA?
The adoption procedure is very simple. It involves you visiting CUPA's premises, some background check, and bonding with the pet you want to adopt. Simple! Sometimes, one of our representatives may visit your home to verify your residential details. Our CUPA staff will be more than happy to assist you in this process.
How long does the adoption process take?
The adoption process can sometimes take minutes, more than an hour or even a month. It all depends on the pet you want to adopt, since we have many pets who need some time before they can form a bond with you.
How much does it cost to adopt a pet?
There are no charges for adoption. We only ask that you give a loving home to our pets.
Will CUPA support me after adoption?
CUPA will be glad to help you in anyway after adoption. We can arrange for regular visits by a vet (vet fees involved) or give you advice on the phone. Our staff are available to support you.
Are there regular checks after adoption?
Yes, sometimes. We want to make sure that our pets are well taken care of. We request you to send us a picture of the pet after a month, preferably with the family and then every three months. If you are unable to arrange for photos our staff will be happy to drop in for a quick visit too.


Can an adopted pet be returned? Are there any penalties for that?
Yes and there are no penalties. We only request that if you cannot take care of the pet please return him/her directly back to us. He/she should not be abandoned or put down in anyway.
What does "adoption" really mean?
In the context of our country, it means saving one of more than 500,000 dogs, cats or other animals who enter Indian animal shelters every single year. Adopting a pet is a special journey, and it means NEVER buying dogs, cats, birds, or any other living being from a pet store or breeder.
Let's say you really want to adopt a pet, however, you can't take them home; because of allergies, parents, or your job timings? You can passively adopt! It is an arrangement where CUPA looks after the well-being of your adoptee; we feed, walk, medicate and ensure that they are in the pink of health! You can always drop by and spend time spoiling him/her silly.
Have you adopted a pet already? Share your story and joy of adopting a pet with everyone down in the comments below, and yes we would love to see some pictures, so keep 'em coming!