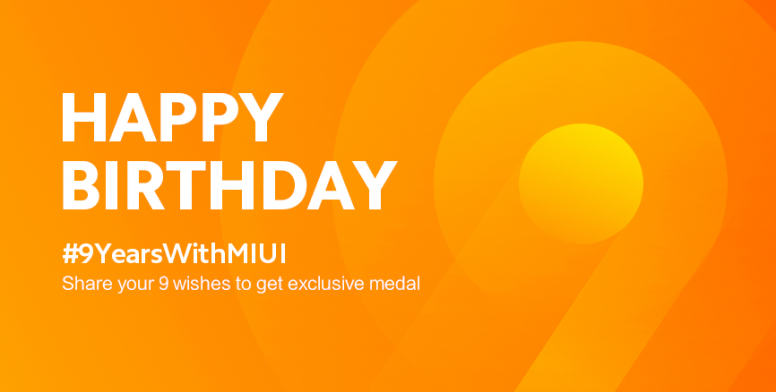 [update 23 Aug, 10:00AM]

Medal has been successfully conferred to all the valid replies, thanks for the amazing response.

------------

A long time ago far far away in a galaxy named Android... passion molded itself in a new avatar called MIUI.
It all started 9 years ago when we released the first-ever version of MIUI on 16th Aug 2010 based on Android Froyo, and have never seen back ever since. Times were different back then, hardware was restrictive tying the hands of creativity, Symbian was on its peak and Android was still in an infant stage, custom ROM was just a lesser-known name amongst the geeks, and in between all MIUI silently put its first foot forward, our first walk.
We have been restless ever since, releasing technological breakthroughs in the form of version iterations, year after year from MIUI V1 to MIUI V10 last year. Knowing that over time, our work results in the evolution of Android itself (let's talk about how MIUI had the official Android permission manager before the Android itself?) and being technology enthusiasts and geeks at the core, our heart just melts to see our solutions being adopted on Android as de facto standards and to have the family of 300 million happy monthly active users.
Of Course, we are not to put the full stop here, while we are still growing and preparing for the next iteration of evolution, adding one more chapter to our vividly vibrant story; today we are taking a pause, a deep breath to celebrate our 9th Birthday, marking another milestone, with you, our beloved MIUI Fans - without whom we couldn't have shaped our passion as one of the best UI in the Android Galaxy.
MIUI is turning 9 today! And all the users who are a fan of chronology can have a peek
here
to see the growth of MIUI at a glance and feel nostalgia.
On our 9th birthday, while you wish us a Happy Birthday, we want you to list out your 9 wishes from the next iteration of MIUI and let us know when you started using MIUI first ever. All the MIUIers who'll share their 9 wishes before 18th August, midnight, are to get the limited MIUI 9th Birthday medal to show off!
Medal preview