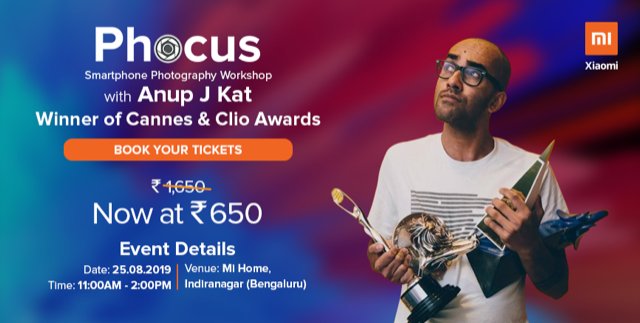 If you have often wondered, "How do I get those stunning images with my phone camera?", you're not alone. Smartphone technology has become so advanced that stunning images can be clicked with nothing but the ringer in your pockets. Now here's some great news! With Xiaomi Anup J Kat has designed a workshop to teach how to click amazing pictures with your phone. It is designed for those who want to derive maximum photography value from their phone cameras.
Workshop outline:
Know your camera and what it can do for you.
Learn how to set your phone cameras focus, pick out subjects, understand negative space, reflections,use ideal settings and employ grid lines to achieve perfect composition.
Who can attend? Any photography enthusiast.
What to bring? Your smartphone and lots of enthusiasm!!!
Venue: Mi HomeIndiranagar, Bengaluru
Date: 25th August'19 |Time: 11am to 2PM
Ticket Price: Rs 650
Buy Tickets here;