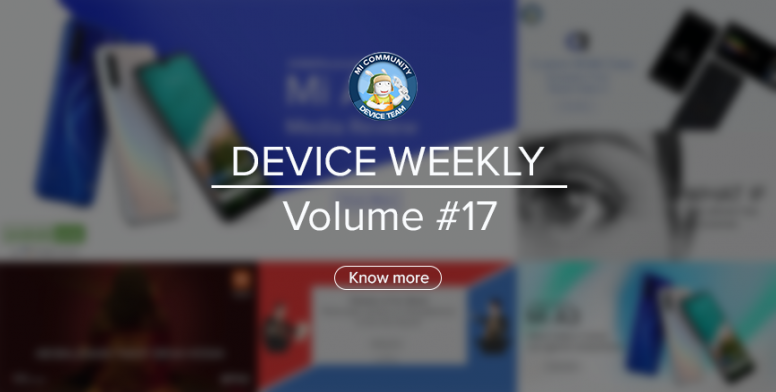 Hello Mi Fans,
Hope you all are doing great! Welcome to our Device Weekly Series. Here we share all the latest happenings and new device launches, be it smartphones, accessories, and ecosystem products. So here is the 15th volume of device weekly where we will talk about all the threads posted by Device Team during the last week. We would love to hear from you guys which threads you like the most and what we can do to improve it.
Mi A3: Why media can't stop praising this device?
Hi, Mi fans,

The 48MPAndroidOne is finally here. Xiaomi has launched the Mi A3 in India and the device is creating huge waves in the industry. Its one of the best Android One phones available in the market at a very reasonable budget. The device is powered by the powerful Qualcomm® Snapdragon™ 665 chipset. The phone packs everything a smartphone user needs and is designed accordingly as well. Its also the first A series device to feature a triple camera setup. Let's see what the media has to say about the Mi A3.



Ab balidan NAHI dena hoga! Bas meme banana hoga.
Mi fans,




Smarter Living 2020 is around the corner and we know a lot of you are as excited as we are. There are all kinds of surprises; BIG, small, smart, crazy, etc., that we've lined up for you. But you will have to wait till 17th September to know about them.




To read more: https://in.c.mi.com/thread-1963036-1-1.html
Do you think Periscope Cameras on Smartphones are the future?
Hello MI Fans,




I hope you all are doing Good. In last week's debate, we saw a majority of people would prefer under-display cameras in their smartphones over Pop-up Cameras, though we still have wait to get Under Display Cameras. This week lets discuss a technology that is already available in some phones " Periscope Cameras on Smartphone- Is this the future? " So, let's get straight into it.




To read more: https://in.c.mi.com/thread-1961392-1-0.html
#KeepEvolving with Evolution X for Redmi Note 4
Hello Mi Fans,

Welcome back to Custom ROM Class. After a long gap, I am here with a new Custom ROM "Evolution X ROM" based on Android Pie for Redmi Note 4.




To read more: https://in.c.mi.com/thread-1946583-1-0.html
What if? Your phone has Iris scanner
Hello Mi Fans,

Welcome to the What If? Series, in this series we will talk about technological advancements and/or latest innovations or new ideas that make you reconsider your thoughts. So let's get started with "what if? your phone has Iris scanner"



Mi A3: How it fares against competition?
Hello Mi Fans,




I hope everyone is doing great here..! Of late Xiaomi introduced it's new Android One-based device, called MI A3. The newly launched Mi A3 has received a massive upgrade over the Mi A2 - in all aspects be it design, hardware, cameras, battery, and others. But the question is what makes it unique among other Android One devices and how it makes a difference. Let's take a look at it in this thread.




To read more: https://in.c.mi.com/thread-1963012-1-0.html
All the credit goes to the respective authors and thanks for your hard work Which thread did you like the most? Please Vote and share your valuable feedback in reply so that we can improve.
Subscribe to our columns to Stay updated with interesting Debates, Polls, Tutorial and more from Device Team: