Hey MIUI fans
MIUI 11 features
In the following, Xiaomi has also published a list of features and functions that will be released soon or in the near future. For the most part, these will also be found under MIUI 10. Among them is the currently hyped "dark mode," which smartphones with AMOLED display will really benefit from: Instead of black writing on a white background, in dark fashion it is exactly the other way around, which should save a neat battery.

The following features will follow soon – the China ROM is first on, the Global ROM follows as usual a little later:

● Dark Mode
● New Sound Effects & Better Dolby Sound Effects
● Unlock: Fingerprint sensor and Face Unlock now simultaneously, waking up via voice command
● Info Screen with charging status
● Private albums for videos
● Better energy-saving features

You don't have to use all the new functions, of course, but can easily activate them in the settings if necessary. In the medium to long term in the coming months, MIUI will follow these features:

● Storage management: Local trash basket for images, automatic deletion of installed APKs
● Inadvertent touch inputs are further reduced
● View emergency contacts on the lock screen
● New animations when charging
● Stereo Bluetooth sound For Games
● Child Mode/Kids Mode
● Optimized Management of permissions of Apps
● 18:9 photo section

There will be also some pendent features coming with MIUI 11:

● Dual SIM: Standard SIM card for individual contacts
● New colors for the interface
● Accurate indication of the consumed data in hotspot mode
MIUI 11 supported devices list
According to the latest leaks, these Mi series smartphones will first receive the MIUI 11 update:

Mi series
Mi Mix series
Mi 6 series
Mi 5 series
Mi Note series
Mi Max series
Mi Play series
Mi tablets series
Mi 9
Mi Mix 3
Mi 6
Mi 5X
Mi Note 2
Mi Max
Mi Play
Xiaomi Mi Pad 4
Mi 8
Mi Mix 2
Mi 6X
Mi 5c
Mi Note 3
Mi Max 2
Xiaomi Mi Pad 4 plus
Mi Mix 2S
Mi 5s
Mi Max 3
Mi Mix 1
Mi Mix 2
Mi 5s Plus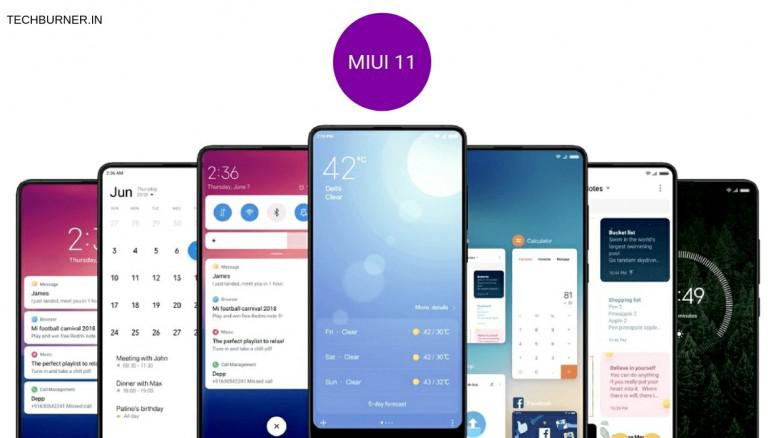 Then, the following Redmi devices will receive MIUI 11 update:

Redmi Note series
Redmi 6 series
Redmi S series
Redmi 5 series
Redmi 4 series
Redmi 3 series
Redmi Note 7
Redmi 6
Redmi S2
Redmi 5 Plus
Redmi 4
Redmi 3S
Redmi Note 7 Pro
Redmi 6A
Redmi Note 5A
Redmi 4A
Redmi 3X
Redmi Note 6
Redmi 6 Pro
Redmi 5A
Redmi 4X
Redmi Note 6 Pro
Redmi Note 5
Redmi Note 5 Pro
Redmi Note 4X
Redmi Note 4
There are so many Xiaomi devices will get MIUI 11 update, bur a few devices are remained outside, such as Xiaomi Mi 5, Mi 4, Mi 4S, Mi 4C and Redmi 3 Pro.

MIUI 11 release date

Presently, there is no official and reliable news about the release date of the MIUI 11. But according to the historical data, the MIUI 10 was released in May last year, so we may not have to wait for a long time for the new MIUI 11.and Android 10 Redmi K20 Pro an Poco f1 1st Update MIUI 11 Most likely, the MIUI 11 may be released in Oct 2019. By then, there will be more new features that the MIUI 11 will bring us. Let's stay tuned.