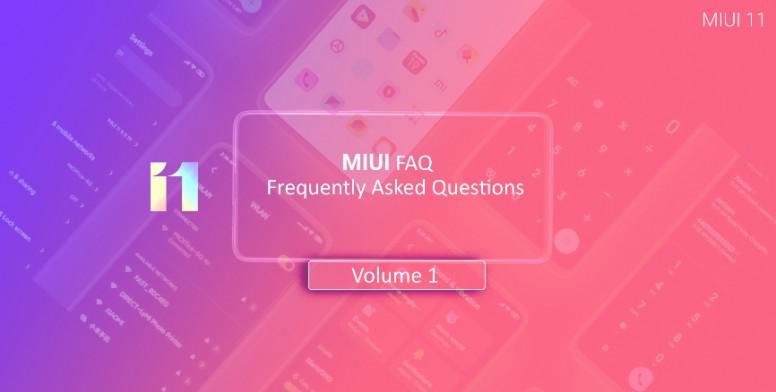 Hi MIUI Fans,
According to the IDC research, Xiaomi is the No.1 smartphone brand in India for 7 consecutive quarters. The majority of these smartphones are powered by MIUI, as its user base is tremendously increasing day by day. Currently, there are almost 80 Million active MIUI users. Along with the userbase and with newly launched MIUI 11, their questions and doubts too are increasing in proportion. As a home of MIUI fans, they head straight to Mi Community in search of answers to their questions. That's why we thought of coming up with a monthly collection of Frequently Asked Questions about MIUI 11 so that you don't have to search for answers anywhere else.

Know more about what's new in MIUI 11 here: https://in.c.mi.com/in/miui11/index
Check the full update schedule for MIUI 11 here: https://in.c.mi.com/thread-2025452-1-0.html



Frequently Asked Questions




Question 1: Mi Casting is not working properly with Mi TV?

Answer: Mi Cast feature is currently not working properly with Mi TV, it's unable to detect the TV even being on the same WiFi.




Question 2: Why is the update vanishing from my updater app?

Answer: Phased rollouts happen in batches for certain percentage of the total users, the full rollout may take a few days to weeks to complete depending upon the number of devices for that model as well as the feedback obtained from updated users, therefore if you have not updated the updates passes on to another user.




Question 3: Themes are not supported/not getting changed?

Answer: Most of the current themes are designed or optimized for MIUI 10 and prior versions, to make those themes fully compatible with MIUI 11 Theme developers need to optimize the themes to the new version.




Question 4: My font hasn't been changed to "Mi Lanting Pro".

Answer: "Mi Lanting Pro" font is not yet available for the devices in initial MIUI 11 versions, it may be available in future updates of MIUI 11, please do stay tuned to the new updates.




Question 5: Why Ultra power saving mode is not available on my phone?

Answer: Ultra power saving mode is not yet part of MIUI 11 global ROM, stay tuned to Mi Community | MIUI section for information on new features.




Question 6: Why there is no Always on Display feature in my device?

Answer: As announced before this feature is only supported on Amoled screen devices, currently only Redmi K20 series supports this. (Breathing light, Ambient display are all part of Always on Display feature)

Please Note: Do not use any modifications to get this feature on your device as it may badly hurt your battery backup and display may get screen burn too.




Question 7: Dark mode is not applied in some options or sections in my phone!

Answer: This feature is available only for devices running Android Pie and above.

Even after applying dark mode, some settings page appear in the normal white mode as they are not yet compatible with the dark theme, also 3rd party app support is required for dark. Dark mode will be better with further with updates


✒ Bug Reporting Method: If users face any issues or bugs, they are required to submit it via Mi Feedback App. For further details about reporting, refer here! Please send your suggestions too via the Feedback app to make MIUI more interesting.


Please Note: There are many features that require Android Upgrades or the Hardware is not compatible enough. Therefore all such features will not be available for all devices.
Banner Credits - Nikunj


Where to download the MIUI 11 ROM?

Do you have anything else to know? In case you feel something remain unanswered, please do reply here.
Rate