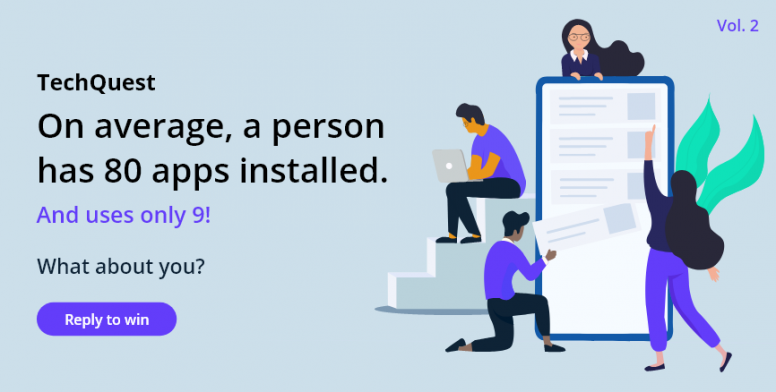 Hi Mi Fans,
We are back with yet another iteration in our weekly series that goes by the name of TechQuest. TechQuest is an initiative by Techie Team of Mi Community that is focused to have a deeper engagement with all our Mi Fans out there. This series is here to boost up your technical information in an interactive yet rewarding way. We will discuss more on the contest, but first, let's discuss our topic for today:



Apps: The medium for completing your daily tasks efficiently

Apps are available for so many tasks that we do on our mobile devices. Every time we turn around, the app pool is expanding and offering us new news tasks and abilities. As the saying goes, "There's an app for that". Just about anything you want to do on a mobile device can be done with an app.



They have game apps galore to keep the gamers happy.
There are music apps that handle any way you want to listen to music be it through MP3s or live streaming.
Everyone likes to watch videos, and you can do that through a YouTube app or an assortment of other video apps.
Productivity apps can help you do your work on the fly whether it's writing or keeping up with spreadsheets.
And of course, there is a number of photo/gallery apps to go along with that handy camera app on your device.




Now the TechQuest of the day!

How many apps do you have on your smartphone

and how many do you actually use?

Tell us in the comments below!


Prizes
Every valid reply will get 50 Mi Community credits and the top 3 interesting replies will get 500 Mi Community credits.

While we are at it, check out some fun facts about Apps:
1. The number of smartphone users worldwide will top 3B in 2019.
2. Consumers are expected to download 258.2B mobile apps in 2022.
3. Global app downloads across the Apple App Store and Google Play surpassed 113B in 2018.
4. The cumulative number of apps downloaded from the Apple App Store reached 180B in 2017.
5. There were about 3.2M apps available for download in the Apple App Store by July 2018.
6. There were over 2.6M apps available for download in Google Play in December 2018.
7. There were about 450K mobile apps available for download in the Amazon Appstore in Q3 2018.
8. The top 3 apps stores in terms of the number of apps available in Q3 2018 were Google Play, the Apple App Store, and the Windows Store.
9. Gaming comes out to be the most popular of all categories with more than 7.21B downloads.
10. As the trend is changing more and more peoples prefer mobile apps instead of websites as they feel it a more interactive and secure way to perform any operation. (Source: Statista)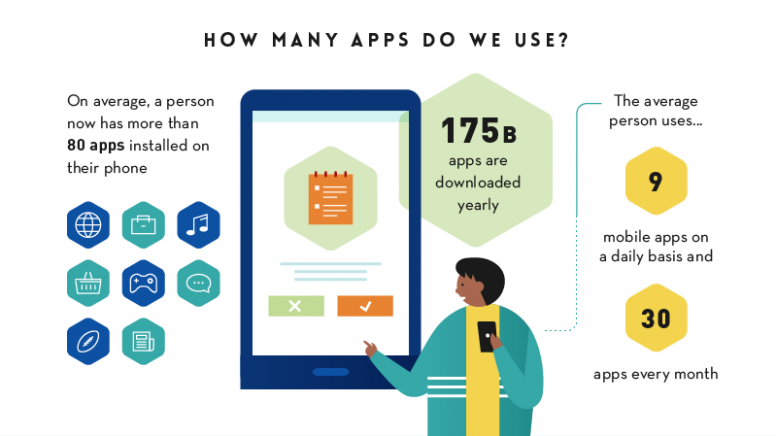 As per a report, an average person has more than 40 apps installed on there smartphone. I personally have more than 52 apps installed on my smartphone.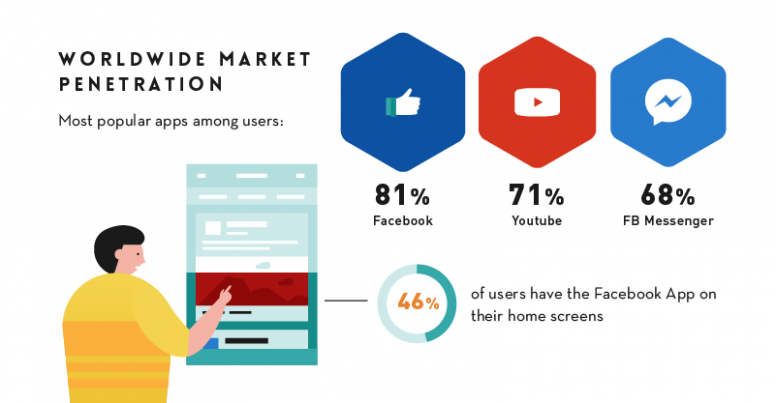 As per reports, 46% of users have the Facebook App on their home screens. Do you even have it?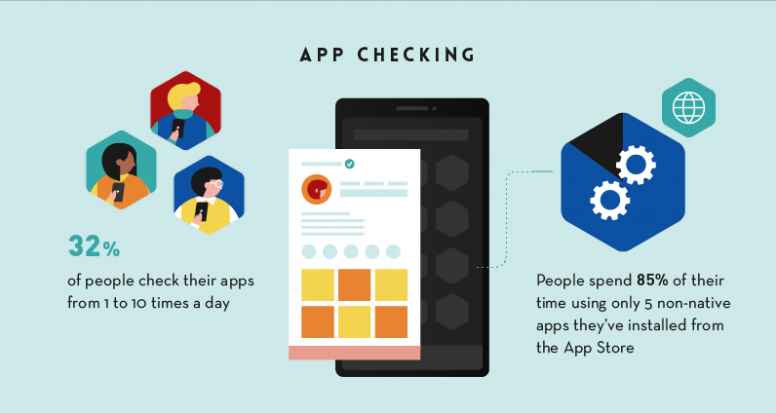 32% of people check their apps from 1 to 100 times a day, how many times do you check?
Reply and participate now!