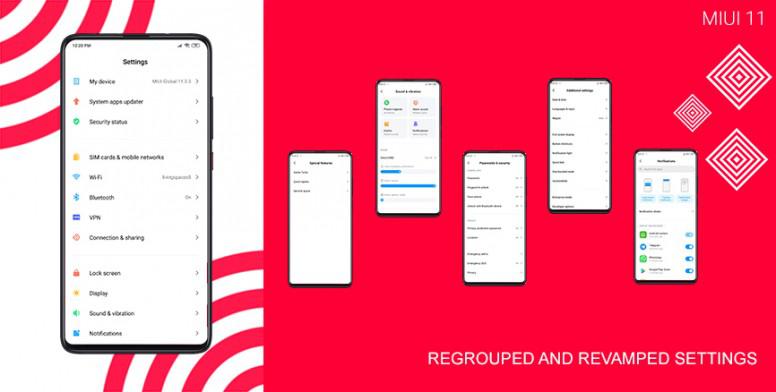 Hello MIUI'ers,

MIUI 11, has brought a completely revamped and regrouped Settings page, for better and faster accessibility to settings. Making the Settings page more colorful by adding icons, design, and colors. Now you can easily reach your desired settings quickly without any difficulties. MIUI contains a lot of customizations and discovering them is quite overwhelming. Some useful features were placed after two or levels, making it harder to know that they exist but with the new interface, users will be often prompted with options.




Let's quickly discuss the Revamped Settings in brief:


✒ About Phone & Security:

About Phone: Know more about your device and Backup & Reset settings.
System App Updater: Check for System App Updates.
Security Status: Know more about the Security Patch level.

✒
Connection & Networks

Sim Cards & Mobile Networks: Manage everything related to the calling and Sim Card settings.
Wi-Fi: Manage your Wi-Fi connections.
Bluetooth: Manage your Bluetooth connections.
Connection & Sharing: Other connection features such as Casting, Printing, Sharing & tethering.

✒
Customization & Design

Lock Screen: Manage your lock-screen with Info, Carousel, Clock formats & Double Tap.
Display: Manage your brightness & darkness, Colour contrast, With Notch size and Fullscreen mode.
Sounds & Vibration: Set & adjust your ringtone and manage other sounds and vibration.
Notifications: Manage your Notification shade, Floating notifications, badges, and style.
Home Screen: Choose your launcher, manage blur apps and other related functions.
Wallpaper: Choose your favorite wallpaper.
Themes: Customise your device with different themes.

✒
Security & Performance

Password & Security: Secure your device with different locks and set Emergency SOS and alerts.
Battery & Performance: Check battery performance and manage.
Apps: Set Applock & permissions and manage the system and dual apps.
Additional Settings: Buttons, Notification light, Quick Ball, Set your date, manage your input and region and much more.

✒
Special Features

Digital Wellbeing: Supported by Google to check your daily stats of mobile usage and helps in efficiently controlling.
Special Features: Game Turbo, Quickreplies, Second Space & Front Camera effects

✒
Manage Accounts

Mi Account: Manage your Mi cloud and related devices.
Google: Manage your Google Account.
Accounts & Sync: Sync in data through apps.

✒
Feedbacks

Services & Feedback: Find out Beginner's guide and report bugs.

I hope you all will love the new Settings Page.
Please share your valuable comments and views in the comments below.
Regards,
MIUI 11 Moderator,
Apiyush265
Related MIUI 11 Threads:-