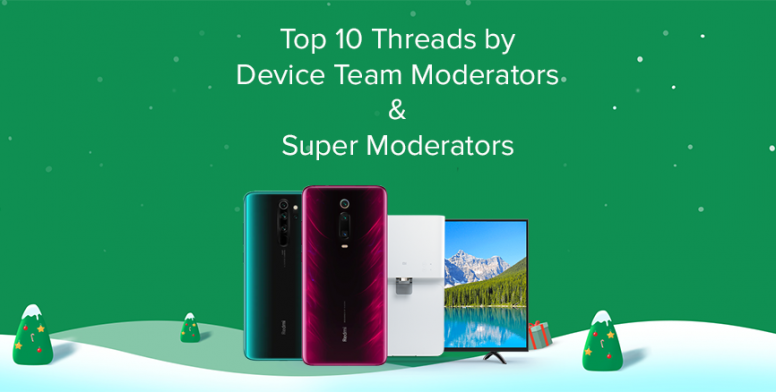 Hi, Mi Fans,
2019 is coming to an end and it was a great year for us with many product launches and also we were gifted with a lot of amazing authors. Each and every member of the Device Team Moderators and Super Moderators have contributed a lot to our Mi Community this year. Let us see a few great threads by our team.
Redmi 7 unboxing and hands-on review
by Amal muralee

Here is Redmi 7 - the ultimate all-rounder. Redmi 7 is the first device in the Redmi series to feature Qualcomm® Snapdragon™ 632 Mobile platform. Apart from the Dot notched display with 19:5:9 aspect ratio, Redmi 7 features a full-screen 6.3-inch FHD+display, 4000mAh battery, AI Dual camera and much more! This smartphone has a unique Aura smoke design and new aspect truly gives a premium hand feel. Take a look at the unboxing pictures in this thread.
Redmi Note 8 Pro, a world's first, with a powerful 64MP quad camera array
by Naman Mishra

Are you the one who craves to marvel at photography be it day or night? Powered by MediaTek Helio G90T, Redmi Note 8 Pro is a world first to sports a powerful 64MP quad-camera array. A great device with an impeccable quad-camera allows you to capture incredibly detailed photos and night-shots with the best low-light performance ever. The device comes up with a 4500mAh high capacity battery that allows you to shoot pictures and videos for a longer time.
Avengers Custom Firmware for Mi Band 3
by DSR

Xiaomi is the No. 1 wearables company by shipment volume in Q1 2019, according to IDC and Mi Band 3 achieved the great success.
As you all know that only 3 screens are available by default in Mi Band 3 but you can flash Custom Firmware to change the theme.
In this thread, I reviewed Avengers themed Custom Firmware and also mentioned how to flash it. So. let's get into it.
Why type-C USB in Redmi 8A matters to you as a user?
by Robin_Richard

Xiaomi India has launched the successor of the bestselling "A" series which is the #DumdaarRedmi8A. The Dumdaar display is having a massive 6.22" screen with Dot Notch Display protected by gorilla glass 5. The Redmi 8A splash-proof P2i coating which is resistant to dust and accidental water spills. The device is powered by a whopping 5000Mah battery. You might be thinking it might take longer for it to charge. But Redmi 8A has got the type C port along with fast charging support for up to 18W. Surprisingly, a budget segment Device has type C port, which no other smartphone brands offer in this price range or even higher price range. Today let's see why Type C-USB matters to users with the Redmi 8A.
Mi A3: Why media can't stop praising this device?
by Sourav A K

The 48MPAndroidOne is finally here. Xiaomi has launched the Mi A3 in India and the device is creating huge waves in the industry. Its one of the best Android One phones available in the market at a very reasonable budget. The device is powered by the powerful Qualcomm® Snapdragon™ 665 chipset. The phone packs everything a smartphone user needs and is designed accordingly as well. Its also the first A series device to feature a triple camera setup. Let's see what the media has to say about the Mi A3.
A massive 5000mAh battery of Redmi 8A: Dumdaar backup for days!
by Mayank #1

Xiaomi released its damdaar Redmi 8A with damdaar features last week. It has got tons of upgrades and improvements like the bigger display, better camera with flagship-level Sony IMX 363 sensor, 8MP AI camera, Gorilla Glass 5 protection, P2i coating, and 18 W fast charging support. The most amazing part of the smartphone is its massive 5000 mah battery.
Today, we will talk about the battery of the Redmi 8A.
Witness the all-new Redmi Note 8, a stylishly crafted device to suit modern Indian users
by Avinash Gupta :D

The most anticipated and speculated all-rounder the Redmi Note 8 is here. Recently, the device was introduced at a launch event in India, and I was fortunate enough to get a chance to unbox the device. Before unboxing, let's get through the specs in brief. Powered by Qualcomm® Snapdragon™ 665 Mobile Platform, Redmi Note 8 comes with a 48MP Quad Camera setup, 13MP Selfie camera, 16cm (6.3) Full High-Definition+ Display, and 4000mAh high-capacity battery. So without further ado, let's go through all the images to find out what is there inside the box.
Redmi 8A: Know More About Dot Notch Display
by Ketan Kr

Well, you've obviously heard of Redmi A series, India's favourite smartphone series, last week the latest addition to the series Redmi 8A was launched. Every phone launch in this series has been a Dumdaar hit and that's with good reason because we strive to get the latest in technology to our mi fans before anyone else, So let's get started with brand new Redmi 8A " Smart Desh Ka Dumdaar Smartphone ".
#SmartDeshKaSmartphone: All you need to know about Redmi 7A
by Runal

Xiaomi India has recently introduced Redmi 7A on July 4th with the slogan "Smart Desh Ka Smartphone" the successor of last year Redmi 6A. Redmi 7A comes with massive upgrades 5.45" HD+ Display with an aspect ratio of 18:9, 4000mAh high-capacity battery, 12MP Sony IMX486 AI Rear Camera, and many more.



Identifying Genuine v/s Fake Mi In-Ear Headphones.
by Ankit Varshney

Recently, we have seen copies of different Mi Products, particularly Headphones and Power Banks. We'll talk about the equivalent for Mi In-Ear Headphones in this thread.
There are different sellers both offline and online who are selling copy Mi Headphones at costs as low as 1/fourth or 1/fifth of the original cost. These sellers aren't approved by Mi India and the items they sell are duplicate ones.
We'll go through this thread to distinguish Fake and certified or Genuine Mi Accessories step by step.
All Credits go to the respective thread authors.
Thank you a lot for your amazing contribution and we wish everyone a
Happy New Year!

Subscribe to our columns to Stay updated with interesting Debates, Polls, Tutorial and more from Device Team: