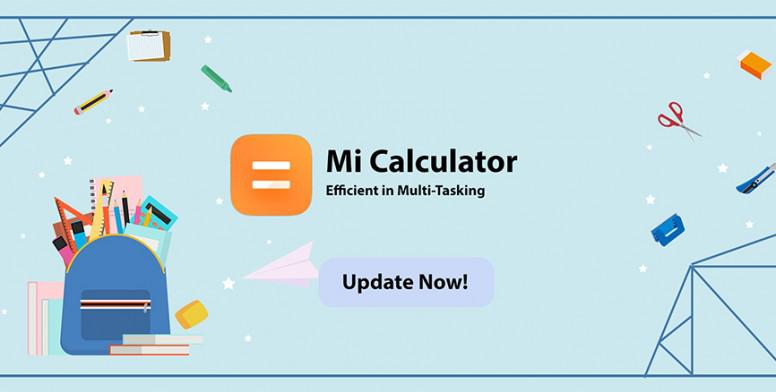 Hello Mi Fans!
With so much to calculate and having so much less time to do it the old way, The Floating Calculator App is your handy app on the go! MIUI 11 has added new charms to the app with a variety of support and upgraded new look. Mi Calculator will do the math for you. All new all-in-one calculator for you. Regular, scientific, and mortgage calculators, as well as currency and unit converters and much more, are all here in one place.

Well, your favorite Mi Calculator app just got an update to v11.0.8 with a set of new calculation methods.
Let's quickly summarize them:


Basic calculator: Edit history and view previous results in the regular calculator.
Scientific calculator: Find trigonometric functions, logarithms, and more additional features in the scientific calculator.
Currency converter: Daily updated exchange rates in the universal currency converter.
Mortgage Calculator: Know the exact amount of the next installment with the loan/mortgage calculator.
Converters: Freely convert units of length, area volume, speed, time, and mass in the unit converter
Age calculator: Calculate your age accurately and know more details about the birth date
GST calculator: Get the GST you are paying for your goods (For India)
BMI calculator: Stay fit by knowing your BMI
Discount Calculator: Know the exact discount amount you are going to get
Percentage calculator: Precisely calculate the percentages with ease
Date Calculator: Find the difference between two dates
Split bill: Split the bills among friends and know the amount payable


✒ What's new in this update? | Changelog

[Optimization] Reduced App Size
[Optimization] UI Improvements: Adapted to MIUI 11
[New] Numeral System Calculations




[New] Numeral System Calculations




✒ Where to update?

Do leave your comments and suggestions in the feedback below! Did you take part in your Favourite Mi Calculator debate:
Join in Now!
Rate