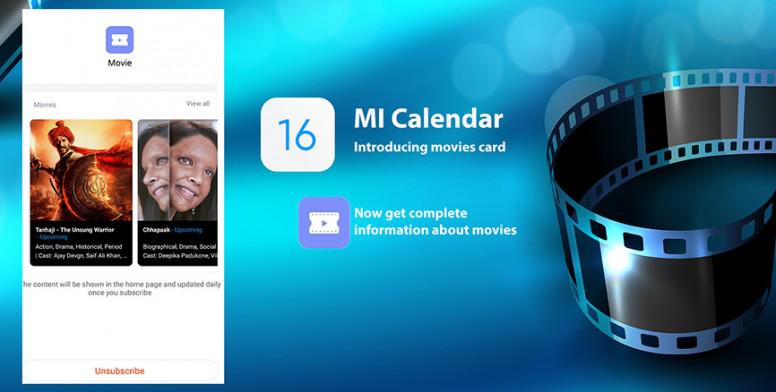 Hi Mi Fans,
"Fill your life with as many as many moments and experience of joy and passion as you humanly can. Start with one experience and build on it."

Entertainment is an integral part of one's life and to facilitate and recreate the joyous moments! Mi Calendar is a complete package of all your social needs. It serves you with Panchang & Horoscope, Joke card, Whatsapp status, Cricket Schedule and now is equipped with the Movies Card where now we all can get the latest update about your favourite movies.

Your consistent feedback and suggestions have helped the developer to foster and improve the app as you need, from Holiday Information till the planning of long holidays, there has always been a dynamic implementation. Not just it ended here, the integration of the Mensuration Cycle and Tasks feature makes the app more dynamic. To meet the expectations for MIUI lovers the app has been customized in a beautiful way.

Presenting the Top features of MI Calendar App:

Reminders
Long Holidays
Calander Holidays
Task Integration
Calendar Language
Panchange & Horoscope
Health & Fitness Tips
Today In-History
Daily Whatsapp Status and many more...

Movie Card is indeed a very important and your money-saving feature?
Wondering How?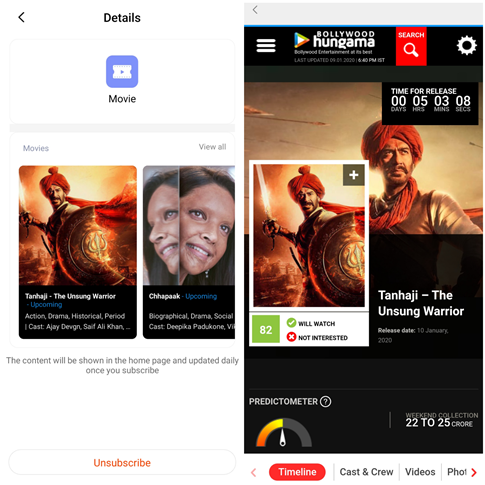 The Movie card gives the schedule of all the upcoming movies, their schedule, timeline and also their ratings! Instead of searching and getting an inquiry from the browser, Mi Calander makes it easy for MIUI'ers.
The card presents forth the Movie Synopsis, related photos, and videos of promotional activities and Trailer. It also provides a timeline of the movie-related activities that are on the news or gossips and adds up with other masalas before presenting to the users. Brief information about Crew, Music, Articles and the most importantly the Reviews are presented!
Thus, if you are the one who loves to do some research before spending or some analysis a simple tap will guide you whether you should actually spend your money in the Theaters or wait for the showcase on Television and helping you to save on your movies.



"Just browse, Have fun. Enjoy the movie."


Do leave your comments and suggestions in the feedback below!
Let us know how much did you like the new card.


Please Note: The feature is present on V 11.0.1.4 & above.

Related MIUI Threads:



Popular Columns across Mi Community:










Rate