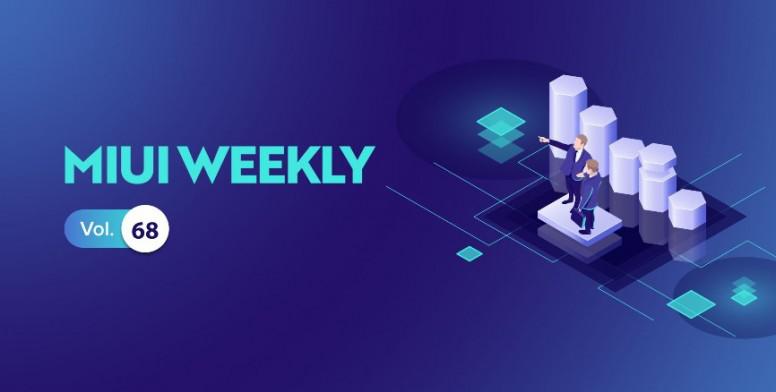 Hello Mi Fans
If you've been busy last week and couldn't keep up with the updates from our MIUI team, then MIUI Weekly is the right place for you. This is indeed where we bring you the best of MIUI threads you might have missed. Keep reading!





Mi Weather Vs Yahoo Weather: Fight for Accurate details!

by

Apiyush265



I hope you have been experiencing the climate, which is really unpredictable! You may never guess when it will rain or when it will be a hot sunny day.To solve this issue this app helps you track the real-time information of the current location or of some other place.Yes, It's your Mi Weather App that serves you with real-time weather information and comes with facilities and ...r

ead more
A Complete Guide to Control Your Notch and Status Bar



While the Android smartphone landscape in recent years has moved from a very big, on your face notch design to an almost non-intrusive dot notch design to house that selfie camera, we all can agree to the fact that even to this date some like it and some don't. But at the same time the software has also progressed to have the solution for all, keeping the customization spirit of Android alive...r

ead more
[Mi Calculator] Calculate & Share your age from Mi Calculator - Check it now!
by
Soumyajit
Hope you are all well this winter season. We will be discussing a new feature introduced in the Mi Calculator in this thread. Mi calculator app is different from all other calculators available in the market. It comes with an array of functionalities like Currency Converter, Unit Converter, Trigonometric Calculations and more...read

more
[#MIUI11Themes - Series 1] New Designs With New Colors | MIUI 11 Themes | Reply & Win
by
Wrony1119




Your wait is over and we share the first series of MIUI 11 Themes. Theme developers always try to create the best themes for your Xiaomi devices and we serve best out of best to you all. MIUI supports changing themes depending on personal choices. It has a dedicated Themes store application that comes packed with MIUI in Xiaomi Phones. These all-new design themes add some glow on the face of your devices...r

ead more
Mi Calendar: The Panchang feature | Look up Traditional festival dates



We often prefer those stuff which is indeed right for our needs and lifestyle. MIUI Calendar App keeps our day following smoothly, the right calendar which stays on the top to view the appointments, holidays and celebrations, Jokes, Status and entertainment in a better fashion. Let's start this beautiful morning with a curated new feature for the...r

ead more
[TOTW #94] Immovable | Tell the Hills that you've visited and win!
by
Manvesh

With this beautiful thought welcome back to your own theme of the Week Series. If there are any memorable moments you had spent on the hills and still you would like to recreate those moments here's a perfect theme I have come across with. Today we'll be trying out a very similar mid-week hilly experience theme right away...re
ad more
That's a wrap up for this week. I hope to see you all with another new compilation next week. But for now, I would like to thank all my fellow MIUI Mods for contributing their time and efforts to share these amazing threads for our Mi Fans. Don't forget to vote for your favorite threads and share your thoughts about this volume in the comments section below!
About MIUI Weekly:-
MIUI Weekly is an initiative taken by team MIUI to connect with Mi Fan's even better. Through this weekly series, we bring out different features of MIUI and ask your opinion on how things are and how they should be. This helps us gather information about user preferences and make MIUI even better from a user's perspective
Vote for the best thread below and help us improve!