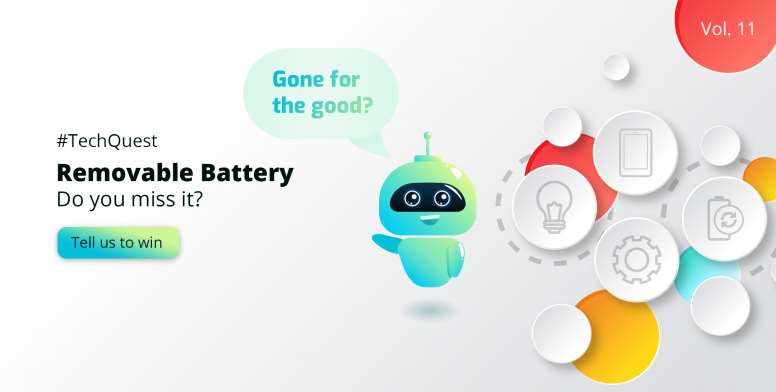 I hope you all are having a great time at 'Mi Community' with the amazing content served to you on a daily bases. To be honest I don't have any news app installed in my device as this awesome 'Mi Community' fulfills all the needs and greeds that one could have regarding the technology. It serves as the platform where strangers with a common passion for 'Xiaomi' meet and become an extended family. Let me get back to our main topic for today or I will keep talking about 'Mi Community' the whole day.
If you're looking at buying a new phone you've undoubtedly, at some point, come across the debate between removable and non-removable battery types. For most people, it will be an inane question rather low on the list of specifications, but for a number of consumers, it can be a huge sticking pint. Phone buyers have had a love-hate relationship with their mobile batteries. From the bricks that would last days to the sleek one-day-use units we see in modern phones, removable and non-removable battery packs have also split or annoyed users for decades.
Removable Batteries
Removable batteries can be easily taken out or replaced whiles non-removable batteries are in-built can't be taken out. This is not to say non-removable batteries can't be taken out. You just need special tools and experience to do so. Or you could take it to an expert to do it for you. Both do have some advantages and disadvantages.
Advantages Of Removable Batteries
Here is a list of rewards associated with using a smartphone with removable batteries
Hard restart. The old adage "Have you tried turning it on and off again" is often the fix for many of the world's tech problems. Although whipping your battery out at the first sign of trouble if not often the best idea this 'hard restart' method is proven to work when all else is frozen and the manual restart won't work.

Easy to dry. If you do happen to get a little too much water on a phone, removable batteries have a slight advantage over their sealed counterparts as you can try and get the said battery out before it has time to short. You can then dry the separate component and pray to the god of tech for kindness (Just Kidding).

Replaceable. Unfortunately, batteries don't last forever, and frankly, modern batteries don't last that long at all so buying a replacement is a good fix for when your old power source is just not holding its charge.



Non-Removable Batteries
Built-in batteries or non-removable batteries get rid of the need to have joints on the phone body, this means more premium designs can then be easily achieved. We're talking beautiful unibody shells like the one we can see in Xiaomi devices. Not having to provide openings on the phone shell means we can now achieve higher levels of water-resistance and waterproofing. A removable battery uses up more physical space within the already tightly-packed boundaries of a smartphone.
Advantages Of Non-Removable Batteries
Waterproofing. When it comes to buying a smartphone, waterproofing is an important part of that decision. Nobody wants their phone to get damaged by water. In order to achieve waterproofing certification, smartphone makers are making their designs compact by not adding removable parts and keeping devices intact.

Compact design. The compact design has become an important part of the success of any product. Smartphones with compact designs are selling like hot cakes than the ones with a bulky or inconsistent design. The reason is simple, people are obsessed with well-designed products. The smartphone makers are focused on making their smartphone compact packed with more features, but to achieve that, they had to make sacrifices, and in this situation, they had to fix batteries.

Lightweight devices. No doubt that removable batteries were useful for the users, but non-removable batteries are way more beneficial than the removable ones. The non-removable batteries allow manufacturers to make lightweight devices. Non-removable batteries have enabled device makers to produce thinner, lightweight devices. Removable batteries also require an extra layer of protection which adds more weight and chunk in the smartphone.



To Remove Or Not To Remove That Is The Question?
Now, as you all have come across all the benefits and limitations associated with using removable and non-removable batteries. Tell us your opinion on this battle of ages.
That takes us to the '#TechQuest' for today
Do you really miss Smartphones with removable batteries?
Tell us what do you think about and win!
Prizes
Every valid replay will get 100 credits and the top 3 interesting replays will get 1000 credits
!! So, try to be creative while replying to have a better chance of winning 1000 credits!!
About #TechQuest
TechQuest is an initiative by Techie Team of Mi Community that is focused to have a deeper engagement with all our Mi Fans out there. This series is here to boost up your technical information in an interactive yet rewarding way.
Rate