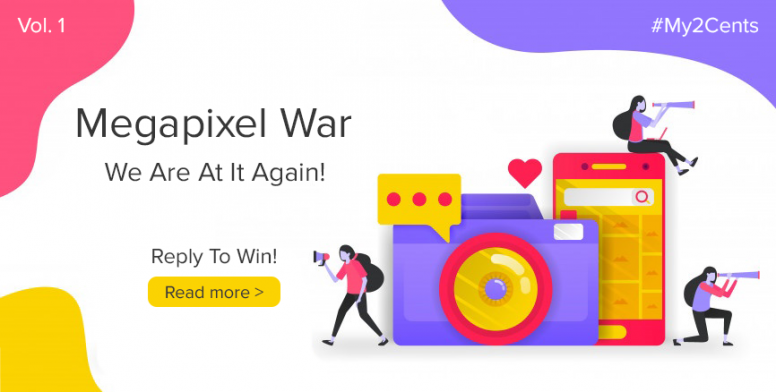 Hello Mi Fans,


Every day we see a lot of new trends coming and the old ones making their way back. No matter what is happening in the tech world, we tend to form an uninformed opinion. This made us come up with a new series, titled #My2Cents, backed my facts to make you an informed decision. But this doesn't end here, we would like to listen your thoughts on the particular subject. Also, let us know - what should be the "next topic" on our bucket list?

Here are #My2Cents of Vol. 1: The ever-increasing megapixel counts on our smartphones

This is not the first time we are seeing devices launching with higher megapixel cameras, we used to have devices with 1.3MP Cameras which eventually increased to 5MP then 8MP, 13MP, 16MP but it seemed like for a while that every organization had put the megapixel race to the end and major OEMs sort of decided on 12MP being the standard. Now that we have smartphones with 48MP/64MP and even 108MP sensors, it seems to be the right time to raise the question, "Why"?

Whenever there is a discussion about smartphone cameras the thing that we almost immediately ask is " How many megapixels are there?", Because having a phone with a higher megapixel camera doesn't ensure the camera is good.

Nimish Dubey tweeted a while back saying, "You know what is interesting? Almost every damn flagship out there is toting a 48 megapixel sensor, EXCEPT for the ones that are supposed to have the best cameras - the iPhones, the Galaxy S and Note and them Pixels. Go figure!"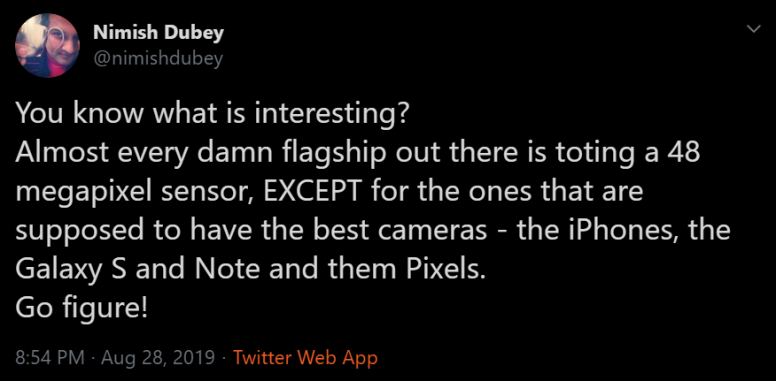 This reminds me of an event when I was at a smartphone store with one of my friends (let's call him X) to help him buy a device with a better Camera. We were intervened by the Salesperson saying, " Sir, Brand A device is better than X's current device Redmi Note 5 Pro because it had a camera with higher megapixels". That was certainly not the case.
The same was mentioned by YouTuber
MKBHD
in a Vlog, titled The 108-Megapixel Smartphone Camera?!
Megapixels alone don't carry the weight of how good a camera performs, it is as simple as this, higher megapixel is easier for companies to market and online stores/retail shops to sell. Check out any smartphone comparison and you will hardly find any website mentioning aperture, pixel size or even the types of lens used. This is a bit troublesome as many consumers depend on these websites to compare phones and make a well-informed decision before buying a device, but Caveat emptor should be our motto and as buyers, it is our responsibility to always do our due diligence before buying any item.
No one is saying having a smartphone with higher megapixels is bad, on the contrary, it is good. After all, higher megapixels help capture more information, as per Huffington
post
" Benefit of having a higher count of megapixels is digital zooming, Several brands combine this with software to get what they call "lossless zoom"
, allowing users to zoom to an extent without the usual loss of quality." but at the same time sensor, aperture, lighting and how images are processed matter because all these together produce the best images.
This is why even though on paper two smartphones can have almost identical Camera setups, but their image quality differs. So, as a consumer to be safe rather than buying a device based on just the megapixel power it boosts will not be a wise decision, to be safe always do your research to find differences between various cameras, go to the stores nearby and try to check out the device first hand if necessary.
Comparison: Smartphones Lens size vs DSLR Camera Lens size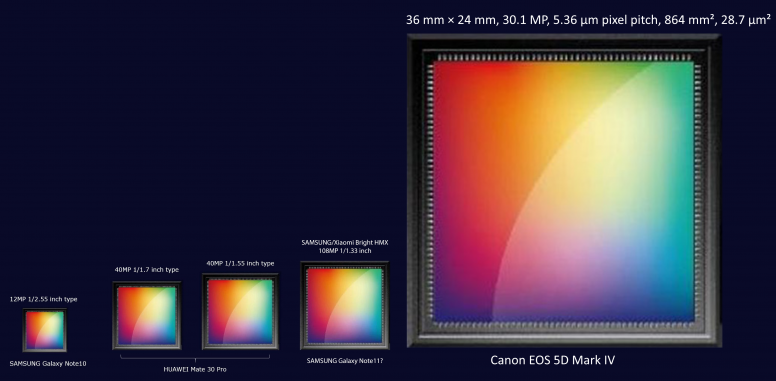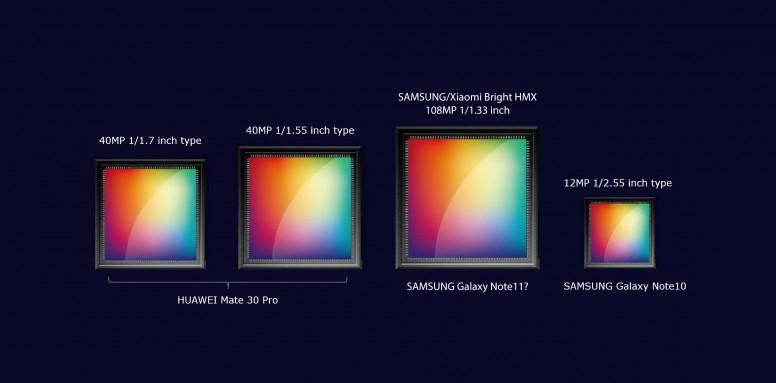 Xiaomi partnered with Samsung to bring a 108MP camera which is a lot of megapixels, and with Qualcomm now supporting cameras up to 192MP on many of their processors, we can safely assume the megapixel race is far from over. Qualcomm's Judd Heape reportedly told Indian journalists, "We updated the specifications to show what the world's largest image sensor that can be connected to Snapdragons", So, its safe to assume the megapixel war is just beginning.
Reportedly, Huawei's Honor brand is likely to focus on larger pixels instead of megapixels for its upcoming flagships. According to
Xda Developers,
" Honor's Kailang Shen stated on Weibo that the brand won't be following other device makers that have either released phones with 108MP cameras or are about to release such phones. He said that achieving 108MP can only be done by going with a 0.8μm pixel size.
"The company, however, believes that the 1μm pixel size is the smallest that can ensure "flagship sensitivity and image quality requirements". Therefore, Honor will be forgoing 108MP primary cameras on its 2020 phone launches, and will instead go with large pixels rather than higher megapixels."
It's as simple as this guys if only megapixels mattered when it comes to the camera, we would have had DSLR's AND flagship devices boosting it long ago. It is a given megapixel count is also important, but what makes a camera great is a combination of megapixels, type of camera lens used, pixel size, and software, though at the moment it doesn't look like this trend is slowing down anytime soon. Still, we can hope we will see improvements in other aspects of the cameras as well.
Prizes
5 interesting replies will get 500 credits!
Deadline
20th February 2020
How to Participate?
Just reply with your opinions about the Megapixel War and 5 best replies will be winning 500 credits!
So, what are your thoughts on the ever-increasing megapixel count on smartphone cameras, I would love to know your opinions too guys, tell me in the comments below!
We would love to hear.